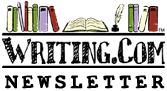 Romance/Love





This week: Ain't Love Grand

Edited by: Andy~2021 has to be better
More Newsletters By This Editor



1. About this Newsletter
2. A Word from our Sponsor
3. Letter from the Editor
4. Editor's Picks
5. A Word from Writing.Com
6. Ask & Answer
7. Removal instructions







You know you're in love when you can't fall asleep because reality is finally better than your dreams.



~~Dr Seuss~~



| | |
| --- | --- |
| ASIN: B01DSJSURY | |



I'm Andy~2021 has to be better
and I'm your guest editor this week. Romance is not my favourite genre to write in, in fact I've probably written about as much romance as Stephen King has, but I do love reading romance.

When we think about love/romance gestures and themes to include in our stories and poems, we almost exclusively think about traditional Western ideas - pink hearts, boxes of chocolates, candle-lit dinners, or maybe a fat little cherub with a bow and arrow.

There is a whole world out there, both real and fictional, of love and customs for you explore and write about. Here are just some of the more interesting I've come across.

The Wife-Carrying World Championships: What better way to show your wife how much you love her than by heading off to Sonkarjävi, Finland, and entering in this annual contest. With your wife (or partner, marriage is not required) slung over your shoulders like a sack of potatoes, you will need to defeat numerous challenges. And what do you win for coming in first? Why your partner's weight in beer! Surely, this must be the top choice for any newly-wed's honeymoon?

Juliet's balcony We all know how hard it is to plan that perfect moment when proposing to someone. Do you go to a fancy restaurant? Do you go back to the place where you had your first date? Do you head off to Paris? Or like thousands of people every year, you could head to Casa di Giulietta, a 14th-century house in Verona, Italy, that is believed to have belonged to the Capulets. Star-crossed lovers have been visiting the balcony for decades adding their own amorous declarations of eternal love to the very place where Romeo wooed his Juliet (just nobody tell all these people that Romeo and Juliet are fictional characters!).

Whale's tooth So what gift do you give to the woman you are proposing to? Do you go with a bunch of red roses, a box of chocolates, maybe a little something-something from Tiffany's? Or how about the traditional gift given in Fiji, not to the woman, but her father? Yep, just like in days of yore, the suitor has to win over his soon-to-be father-in-law, and not his soon-to-be blushing bride. The man has to present his prospective father-in-law with a whale's tooth. What's not entirely clear, is if the man first has to go ten rounds, Marquess of Queensberry style, with a live whale hoping to land a lucky right cross!

Museum of Broken Relationships When you think of somewhere to go for a weekend getaway with your partner, you might think of Niagara Falls, Paris, New York, Venice, but you may not immediately think of Zagreb, Croatia. Yep, home to the Museum of Broken Relationships. You and your husband/wife/partner can spend a lovely afternoon browsing items that people have donated after their relationship went the way of the dodo. You can explore this treasure trove, and perhaps even start thinking about what precious item of yours you'll add to their collection if the day comes!

Courting huts All around the world, there are parents who are very strict about how old their children can be when they start dating, and who they can date, and when they'll stop needing a chaperone. Then there are those parents who are little more relaxed in their approach and will allow their children a degree of unsupervised time with their boyfriend/girlfriend, perhaps at the cinema or in a mall. And there are the ultra-relaxed (and possibly terrifying to some) parents in regions of Africa and Cambodia who build their daughters a courting hut. The girls are permitted to use the hut to spend time with a boy they like completely away from the view of their parents, as the youngsters explore the potentials of a relationship. It is also not unusual for a girl to invite numerous boys into her courting hut while she tries to find Mr Right.

Fracturing a clavicle: And not to leave out the world of science fiction. In the TV series Star Trek, in the Klingon culture, it is considered a blessing on the marriage if one of the newly-weds fractures their clavicle on their wedding night. Quite how or why this is considered a blessing, has never been expounded on.

These are just a sampling, but you should check out for yourself such practices as graveside weddings in Russia, the blackening of the bride in Scotland, love padlocks in Italy, and the Chinese bridesmaid blockade.






Have an opinion on what you've read here today? Then send the Editor feedback! Find an item that you think would be perfect for showcasing here? Submit it for consideration in the newsletter!
https://Writing.Com/main/newsletters/action/nli_form



Don't forget to support our sponsor!




| | |
| --- | --- |
| ASIN: B07P4NVL51 | Toy |



Why not invent your own romance/love/wedding custom (the more bizarre the better), and write a poem or short story about it.

Submit it to this Newsletter by the end of the month, and my favourites will receive a little something from me.


| | |
| --- | --- |
| ASIN: B083RZ2C5F | Kindle |



To stop receiving this newsletter, click here for your newsletter subscription list. Simply uncheck the box next to any newsletter(s) you wish to cancel and then click to "Submit Changes". You can edit your subscriptions at any time.