Printed from https://www.writing.com/main/newsletters/action/archives/id/8370-The-Romance-Years-Later.html
Romance/Love: July 05, 2017 Issue [#8370]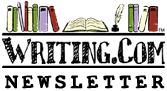 Romance/Love





This week: The Romance Years Later

Edited by: Dawn Embers
More Newsletters By This Editor



1. About this Newsletter
2. A Word from our Sponsor
3. Letter from the Editor
4. Editor's Picks
5. A Word from Writing.Com
6. Ask & Answer
7. Removal instructions





Romance/Love Newsletter by Dawn


A look at romances later in the relationship with couples that have been together for a while instead of seeing how things got started. Beyond falling in love.



| | |
| --- | --- |
| ASIN: B07YJZZGW4 | Kindle |



Relationships have a lot of potential to create stories. Many stories are about how they begin, when the characters meet and the falling in love. However, the end isn't always the end for the characters. Sometimes we are left wondering what happens later. Can the romance last? What happens later on in their life? This can work in both a short story, novels and in particular series.

Even if there isn't that first meeting and initial question of will they get together, the later in the relationship story still has potential for conflict. Some options:

Years without getting married
Not everyone is interested in the concept of marriage and some take time before they decide it's an action they want to take within their relationship. My stepsister and her now husband were together for years before getting engaged. For a couple years people were asking them when it would happen. Other people can have certain expectations and influences, creating situations that can cause conflict for the couple, thus making a story that others might want to read. And there are also things one of the characters might say or do, mistakes made and the big one: miscommunication. Many stories in the genre are built on problems in communicating.

The Married Couple
Even after the ceremony, which has its own story potential, there is plenty of room for romance and love. When couples are together for a long time, things are going to happen and they won't always see things eye to eye. And some just have that sort of dynamic. There can be tension/problems throughout a relationship and things can still work out in the long run. So, don't forget that just because a couple of characters are married and been together for years, that doesn't mean there isn't potential for stories to be told.


Overall, this is a quick look but there is plenty more one can discuss with relationships. It's not always the start, the puppy love, the honeymoon, though they all have potential for creating fiction or nonfiction items. Whatever characters come, there is a place to tell that story here on WDC. Get writing!



A Romance Contest ~~ reopens March 2021 (13+)
A short story contest for the Seasons of Romance:
#

1892844

by Osirantinous
The LGBT Writing Contest - reopens 2021 (18+)
Bi-monthly contest (with great prizes) for LGBT characters.
#

1980539

by Osirantinous
Paranormal Romance Short Story Contest (13+)
A Monthly Romance Contest -- a 2016 Quill Award Winner/2020 Quill Nominee
#

2089860

by Jim: "Happy St. Patty's Day!"
The Weekly Quickie Contest (18+)
Can you excite in 690 words? Month: February Theme: Love
#

1355442

by Dawn Embers
CLOSED - Tales of Seduction (18+)
Stories of Erotica, Romance, or Love, wherever your muse takes you!
#

1702029

by QPdoll
The Blind Man and the Ghost (13+)
Medieval Japan: a blind storyteller meets a ghost, falls in love, and discovers the truth.
#

1007039

by Kotaro
Obsidian Eyes (18+)
Sometimes the mirror doesn't tell the truth...
#

2126399

by textual
World on Stilts (18+)
Is he a god, a ghost, or a figment of her imagination?
#

2103910

by K Renée



Have an opinion on what you've read here today? Then send the Editor feedback! Find an item that you think would be perfect for showcasing here? Submit it for consideration in the newsletter!
https://Writing.Com/main/newsletters/action/nli_form



Don't forget to support our sponsor!




| | |
| --- | --- |
| ASIN: B07P4NVL51 | Toy |



How long have your characters been together?

Check out some contests and maybe some long term couples can get some time in the light.




| | |
| --- | --- |
| ASIN: B07YJZZGW4 | Kindle |



To stop receiving this newsletter, click here for your newsletter subscription list. Simply uncheck the box next to any newsletter(s) you wish to cancel and then click to "Submit Changes". You can edit your subscriptions at any time.



Printed from https://www.writing.com/main/newsletters/action/archives/id/8370-The-Romance-Years-Later.html