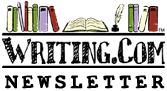 Poetry





This week: Poems Are Everywhere!

Edited by: Fyn
More Newsletters By This Editor



1. About this Newsletter
2. A Word from our Sponsor
3. Letter from the Editor
4. Editor's Picks
5. A Word from Writing.Com
6. Ask & Answer
7. Removal instructions



Poetry is when an emotion has found its thought and the thought has found words. ~~Robert Frost

I would define, in brief, the poetry of words as the rhythmical creation of Beauty. ~~Edgar Allan Poe

Now I think poetry will save nothing from oblivion, but I keep writing about the ordinary because for me it's the home of the extraordinary, the only home. ~~Philip Levine


| | |
| --- | --- |
| ASIN: 1542722411 | Book |

I saw a poem yesterday, lying on the ground. A mourning rose, having recently burst into bloom was now shedding its petaled gown. A Carolina Wren snatched that piece of soft crimson and flew off to its nest in the eave. And returned. Again and again, to line her nest, carefully poking the petals into the branch and vine woven nest. Her eggs would hatch in a bed of roses.

I tripped over a poem on the kitchen floor. My husband, in his infinite wisdom, had chosen the kitchen to rebuild some contraption or another --I have no idea what, exactly. Because where else would one cobble together something new from spare parts? A goulash of wires, bolts and springs and whatever it is that is currently soaking in the kitchen sink.

I drove through a poem as the sky turned greenish-black. Marbled ice hailed down, like some giant children's game went foul or the gods had knuckled down to shoot their aggies and I was the mibbs. Leaves blustered about, cluttering the playing field, obscuring the road. A curve then leaving the trees behind for brilliant beams of sun to shoot and illuminate the cornfield, crowning it in colored arch.

I danced through a poem as my husband swung me into a country song over the plywood floor of our unfinished screen room. Barn-like, the room, echoed as our feet two-stepped to 'Chattahoochee' --a far cry from the sway and drums of our Maui room to be. Some neighbors, pulled by the music, had wandered over. We were oblivious. The round of applause had me blushing and remembering I was still wearing pajamas covered in owls.

I swam through a poem where turquoise waters bled clear to reveal sea turtles cavorting. Further away, distant shadow of dolphin flipping by. A circus of clown fish danced between lime and lemon streamers, while in the center ring, a curious sand shark grinned and slowly finned away.

I flew through a poem of gauzy skies where the stars were, indeed, within reach. Where lightning bugs sparked and flashed and the clouds drew down beneath the thunder. Even as the rain began, bits of light danced on the lawns.

I ate my way through a poem last night as 'Hubby-made' ice cream sundae was delivered with several flavors of creamy goodness buried in bananas, whipped cream and sprinkles! We spooned on the couch while the pup fired lasers daring us to eat every drop.

I huffed through a poem as a friend complained she could think of absolutely nothing to write about. Layered excuses floundered in illogical arguments. "Look around you," I suggested, but she, looking blindly could see nothing. I thought of weeks with bandaged eyes and felt little sympathy.

I listened to the poetry of children's voices that never have heard the term 'indoor voices' and smiled at uninhibited giggles erupting over the antics of a five year old little man wrestling with a pooch. He got quite a licking. Verses sang echoing 'please, Mommy?' and 'Awww, do we gotta go home?' There was poetry too, in the silence after they left.

I resisted writing my newsletter in true poetic form. Actually, no. I didn't.



A petal falls into your hand. Will you keep it alive?


Or, let it wither?

Twister (E)
Poetry Descriptions Are Pointless
#

2127782

by Poetry Ghost
Invalid Item
This item number is not valid.
#

2127561

by Not Available.
Invalid Item
This item number is not valid.
#

2113437

by Not Available.
Random Precision (E)
When you numb one emotion, you numb them all.
#

2127747

by Danial Lucas
Invalid Item
This item number is not valid.
#

2127734

by Not Available.



Have an opinion on what you've read here today? Then send the Editor feedback! Find an item that you think would be perfect for showcasing here? Submit it for consideration in the newsletter!
https://Writing.Com/main/newsletters/action/nli_form



Don't forget to support our sponsor!




| | |
| --- | --- |
| ASIN: 0995498113 | |

LinnAnn hanging in there
says: The hat couldn't have been a total reject, lol, a lady was wearing it. Sounds cute. Yes I know what a dork is. But for some reason I can't stop calling idiots 'dork'. lol I enjoyed your letter. thanks for the effort you put into it.
love, LinnAnn




| | |
| --- | --- |
| ASIN: B01MQP5740 | Kindle |



To stop receiving this newsletter, click here for your newsletter subscription list. Simply uncheck the box next to any newsletter(s) you wish to cancel and then click to "Submit Changes". You can edit your subscriptions at any time.