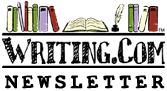 Drama





This week: Getting Published Isn't Everything

Edited by: Kittiara
More Newsletters By This Editor



1. About this Newsletter
2. A Word from our Sponsor
3. Letter from the Editor
4. Editor's Picks
5. A Word from Writing.Com
6. Ask & Answer
7. Removal instructions





Many writers would love to get published. Sadly, some companies take advantage of this. Be careful out there.

This week's Drama Newsletter is all about what to avoid when you seek a platform for your writing.

Kittiara

| | |
| --- | --- |
| ASIN: B07N36MHWD | Kindle |



Once upon a time, in my early days as a writer, I picked up a leaflet at my local library. It was for a poetry competition. The winning poems would become a part of an anthology and that appealed to me – if I managed to make it through the judging process, I'd be a published poet! Right? Well, sort of...

I did make it through. Imagine my joy when I received the letter! Except, if you wanted a copy of the anthology you'd have to pay a not insignificant amount of money for it. And whilst this was during a time I didn't have the Internet as I was between country and house moves, once I did get online I discovered that the company behind the competition had figured out that there were many naive poets just like me, overly keen to get published, so they'd basically publish anything whilst counting on a good percentage of newly "published poets" to hand over a nice amount of cash to see their name in print.

Looking back at that poem, it genuinely was terrible. There's no two ways about it. To add to my embarrassment, before I realised what was what I'd told my old high school English teacher about my success, and he'd asked for the poem, and yeah...

That company was dodgy, but there are many others who will make use of the same eagerness writers can feel to get their work out there. Some are well-established newspapers. They'll offer writers a platform to get their name out there, and people will go for it because you never know. You never know who might see your writing. You never know if big opportunities are waiting around the corner. What it comes down to, though, is that you end up working for free whilst the company makes good money out of you. And you still have the deadlines and the pressure that paid writers experience.

Then there are those who do pay some money for your pieces, but you lose editorial control over your work. I've been there and done that, writing political comment for a big publication. It was an interesting experience, but an annoying one, too. Once I had submitted my item I'd be told whether or not it would go out. Then they'd edit it and sometimes it'd turn into a terrible read, sometimes my points would get twisted, sometimes evidence I'd included to support my case would be removed and what would be left would be what suited the publication's agenda – every newspaper has one, all across the spectrum. I wouldn't like the end result, yet it still had my name attached to it and I would be the one receiving horrible comments and even threats from some of the readers. All for $100.

But even that experience is not as bad or soul-destroying as those sites where you get paid pennies for producing writing for companies. The demands are often complicated and highly technical, and sometimes you have to bid against others to get the work, driving payments down even more. You end up with a few dollars for writing quite a lot of work, to difficult deadlines and unreasonable expectations. And sometimes they don't even pay. A couple of my friends have tried this route, and it's not good.

It is natural to want your work to be read. But not at all cost. Ask yourself... would you take on any other job for a company making millions of dollars a year, for free? I'm not talking charities here, where you're doing good and it's all non-profit. I'm talking big corporations. Would you take on any other job where the products you create get turned into something ugly yet get sold under your name? How about an unsatisfying job where they pay far less than the minimum wage for your efforts? I don't think so. It doesn't make sense to do it. Just like it doesn't make sense for us writers – just because we're in the creative field doesn't mean that these things do not apply.

Writing is a work of love and passion and dedication. It's worth more than a pittance. It deserves respect.

You deserve respect. It's important to remember that. When you are looking for a place to publish your work, look at how the company treats it writers. If it's anything like the above, my advice is to stay well clear. The time will come when you'll find somewhere that suits you.


Kittiara



Here are some contests that might inspire you. Some of them only run during Birthday Week!
The Pink Fluffy Unicorn Contest (E)
The greatest writing challenge on WDC! PINK FLUFFY RESULTS NOW OUT!!! :)
#

2113126

by Robert Edward Baker
What Have You Learned On Writing.Com? (13+)
A contest to show off your new skills. For Writing.Com's Birthday Week.
#

2093196

by Kittiara
Write from the Heart - Poetry (CLOSED) (E)
Write a heartfelt poem based on the prompt and form provided.
#

2093224

by Lilli ☕
Write From the Heart - Story Contest (E)
Write a story that pulls on the heartstrings based on the given prompt.
#

2121278

by Purple Princess
My First Week at Hogwarts (13+)
You're off to Hogwarts. A one week blogging challenge.
#

2111898

by Andy~2021 has to be better
Zodiac Contest/CONTEST CLOSED (18+)
Create a character using personality traits from a Zodiac sign.
#

2115893

by GeminiGem🐒
The PET NEWS CONTEST (E)
CLOSED
#

1986337

by GeminiGem🐒
Spirits At Lighthouses Contest (E)
Do you have what it takes to write about a Haunting?
#

2128856

by Beacon-Light Forever



Have an opinion on what you've read here today? Then send the Editor feedback! Find an item that you think would be perfect for showcasing here? Submit it for consideration in the newsletter!
https://Writing.Com/main/newsletters/action/nli_form



Don't forget to support our sponsor!




| | |
| --- | --- |
| ASIN: B07N36MHWD | Kindle |



The Drama Newsletter Team welcomes any and all questions, suggestions, thoughts and feedback, so please don't hesitate to write in!


Wishing you a week filled with inspiration,

The Drama Newsletter Team.


| | |
| --- | --- |
| ASIN: B000FC0SIM | |



To stop receiving this newsletter, click here for your newsletter subscription list. Simply uncheck the box next to any newsletter(s) you wish to cancel and then click to "Submit Changes". You can edit your subscriptions at any time.