Printed from https://www.writing.com/main/newsletters/action/archives/id/8497-The-Reason-For-Action.html
Fantasy: September 13, 2017 Issue [#8497]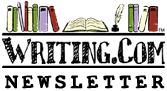 Fantasy





This week: The Reason For Action

Edited by: Dawn Embers
More Newsletters By This Editor



1. About this Newsletter
2. A Word from our Sponsor
3. Letter from the Editor
4. Editor's Picks
5. A Word from Writing.Com
6. Ask & Answer
7. Removal instructions





Fantasy Newsletter by Dawn

A look at the motivations of the main character when it comes to the things they have to do in a story. It's not always easy to find the answer and it may not sure for a part of the story, but sometimes we have to ask ourselves why when it comes to how our characters act.



| | |
| --- | --- |
| ASIN: B083RZ2C5F | Kindle |



There are many things we consider when writing a novel. Some of it is world but a main force has to do with the main character and how they approach the conflict created within the world. As a reader/watcher, I am a big fan of focusing on the character. I tried watching a certain animated tv show, for example, and while the story has some interesting elements with decent conflict, fun ideas and a character that has potential. However, I got lost near the end when we got a little information about the main character's motive. I've yet to watch episode two.

Few reasons are involved of course, but one of the big ones for me is the character's motive in the particular setting. While I don't have to always really like or root for a main character all of the way through, as the reader, I need a little something at least to make me keep going. And this is just one element.

In one of my own novels, I also have a little situation. In planning out an epic fantasy, the one that I've wanted to write for over 10 years for no other reason than I really want to write it, has a slight issue when it comes to motivation. I have an elf that is putting himself in danger, going to a fort to help humans who aren't all that friendly to fight against an attack from the villain (yeah yeah, I know about the similarities). The big question that comes into play is: why?

It is an important question to ask for any novel, whether fantasy or not. Why does the main character want to become a knight? Why go on the space ship? Why keep the weird shell that the ocean gave her? So many things and all have the same question. Why take up the task that shall not be named? Just why?

Which means it can also be useful. What we know as the writer and what we show or when we show it within the story all help create tension. Once I come up with a reason for the elf and his actions, I can still keep the question in relation to the story with some of the other characters involved. Adds a little tension in the group when someone has to ask why for actions being taken.

There might even be times when it's okay not to know. Sure, it helps but that shouldn't stop you from writing the story either. Think of it as something to consider because we don't often do things for absolutely no reason (though on occasion maybe) so the characters probably don't either.

With that said, I leave you with one obvious question...

Who? Just kidding. Show us the why for your main character and get writing.



Invalid Item
This item number is not valid.
#

2087380

by Not Available.
A Romance Contest ~~ reopening in 2021 (13+)
A short story contest for the Seasons of Romance:
#

1892844

by Osirantinous
Supernatural Writing Contest (18+)
No prompt! Old or new! Stories and poems accepted!
#

1771874

by Shaye
Thrice Prompted (E)
This is now reopened. this is for everybody who joins, or wishes to join our group.
#

2016845

by David the Dark one!
WEIRD TALES CONTEST (18+)
A Contest Inspired by the Old Pulp Fiction Covers of Weird Tales Magazine
#

2083492

by W.D.Wilcox
Invalid Item
This item number is not valid.
#

2134280

by Not Available.
Invalid Item
This item number is not valid.
#

2133589

by Not Available.
Starting Over (E)
The dawn of a new civilisation.
#

2133149

by the Wordy Jay



Have an opinion on what you've read here today? Then send the Editor feedback! Find an item that you think would be perfect for showcasing here? Submit it for consideration in the newsletter!
https://Writing.Com/main/newsletters/action/nli_form



Don't forget to support our sponsor!




| | |
| --- | --- |
| ASIN: B07K6Z2ZBF | |



What is your main character's reason to act?


Last time I discussed different terms and phrases in order to showcase the world. A couple of comments were sent in over the topic:

Comment by Azrael Tseng

Thank you for featuring my World Weaver entries in your newsletter! I'm actually looking forward to revisiting this world and polishing up the novel.

- No problem. Good luck with the world and novel!


Comment by Write 2 Publish 2020

What great admonition. While we tend to write using current vernacular, the thought to make up comments using the genre or setting is one I'm going to write down and remember. I don't normally write out of style but I do write in the past. I do try to use old verbiage.

- Style is fun to develop with the different stories. I'm sure you do great with your own choices in vernacular.




| | |
| --- | --- |
| ASIN: B004PICKDS | |



To stop receiving this newsletter, click here for your newsletter subscription list. Simply uncheck the box next to any newsletter(s) you wish to cancel and then click to "Submit Changes". You can edit your subscriptions at any time.



Printed from https://www.writing.com/main/newsletters/action/archives/id/8497-The-Reason-For-Action.html