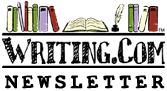 Drama





This week: Music in the Dramatic Scene

Edited by: Samberine Everose
More Newsletters By This Editor



1. About this Newsletter
2. A Word from our Sponsor
3. Letter from the Editor
4. Editor's Picks
5. A Word from Writing.Com
6. Ask & Answer
7. Removal instructions



Greetings! I'm your guest editor this week, and I would like to thank all the beautiful people here in this wonderful WDC community for all their generosity in helping and teaching us to grow as a writer. Special thanks to BFF Bobby-The prodigal son returns 2020. for reviewing my work first, before I let it go for publishing. I wanted to go public because it's such an honor to be part of this official WDC newsletter. Sharing my opinions and views through my articles (and other humble bits) is a privilege that I truly appreciate.

This newsletter will contain my opinion or thoughts about how music can always be a source of inspiration and can influence too the way how can we dramatize more the scene of our characters for our novels or stories and even poetry.


Certain situations demand dramatic music. Now you have it!

Get it for Apple iOS, Android or Kindle Fire.
Creative fun in the palm of your hand.

Music has always played an important role in our everyday life, especially in terms of our creative endeavors.

Music can lift us up with the power of its inspirational rhythms, as well as free our creativity to fashion anything we might desire. In terms of sketching, painting, drawing, and in particular, writing, we are able to explore our true creative potential.

An additional outcome of listening to music while we produce our various works of art, sometimes depends on the kind of music that we happen to choose -- while fully engrossed in our most creative moods and modes.

For instance, if we try to draw or paint an abstract theme or subject, it might be better to hear some hard rock tunes from bands like Bon Jovi, Tommy Shaw, or Avril Lavigne -- than to fall asleep listening to opera.

If we like to write about romantic love stories, or "feel" the heavy drama of one or more scenes in our novel or short story, the background music could well be the ballads of Jim Brickman, Dan Hill, or Taylor Swift.

Creating an emotionally charged scene in our short story or novel, will flow with even more intensity when we make musical selections that stir in us, the "juices" of excitement or arousal; imagine a ballet or theatrical film with little or no musical accompaniment. Whether in the dance studio, or a movie theater, at work or in the home, melodic notations are such a huge part of our lives that artistry without music is like an orchestra without instruments.

Whenever my muse whispers to me, in some sentimental way, in some kind of deeply mournful way, in a way that makes me feel the need to cry -- my mood is then filled with a melancholic sadness that beckons to me. During such times, I always like to put pencil to paper and make drawings about what I'm feeling while "in the moment". Or I may choose instead to write about my emotions, putting them to paper. And, along with the appropriate choice of background music, letting my words carry me aloft, my emotions gushing as if they represented the same flow that, at the same time, came from one of my imaginary characters.

At other times there is often a difference in the mood or drama of a written scene, when a character flows, like a leaf upon moving water, to the melodic rhythms of purely instrumental music. For example, a classical orchestral piece by Beethoven that might well inspire us to pen a single scene (or an entire chapter) filled to overflowing with poignant mysteries, with the blood, sweat, and tears of our own making. Perhaps another classical work, this time by Mozart, may push us to choreograph, in words only, a quiet scene of young and tender romance.

So choose your music well, my friends. Do so with as much passion and thoughtfulness as you might use when brushing paint to a canvas or sketching into a paper. As is frequently the case, the "sound" of peace and quiet is, more often than not, the tuneful notes strumming from headphones or a couple of stereo speakers. Good music can and will cause you to lose track of time. Something not all that different from how any restless passion might easily do the same.

So the next time you're in the mood to get crazy and creative with your writing, and decide to let your emotions write their own words -- without your brain getting in the way -- drop what you're doing and stay awhile. Follow your bliss and your passion into the dramatic world of your characters; become who they are, feel what they feel, stop being an author and instead be as one lost in the woods, looking for a way out of the wilderness.

and Write On!



Here are some of my favorite pieces that I captured within WDC site that has a dramatic touch of music.
An Irrelevant Note in July (13+)
Take it with you when you go
#

2127104

by ♥HOOves♥
Invalid Item
This item number is not valid.
#

2136708

by Not Available.
TIME (E)
A Very Short Story From A Loooong Time Agoooooooooo...
#

2036806

by Angus - Go 49ERS!!!
A Truer December (E)
Love departs and hopefully returns even stronger.
#

1169493

by Brian 20/20 Hindsight
Freefall (13+)
On the other side of the world is the perfect place for me to skydive.
#

1985374

by Moarzjasac
Music as Inspiration (18+)
or why I choose the music I do for my creative endeavors (2017 Quill Award Nominee)...
#

2109191

by Jim says Happy Valentines Day!
Contest for you to try on to test your skill in the dramatic scene with music.
Shadows and Light Poetry Contest (E)
Do you love the challenge and creativity of free verse poetry? This contest is for you.
#

1935693

by Angels in my Ear
Musical Drabble - SUSPENDED FOR NOW (13+)
A Flash Fiction contest based around a given song prompt
#

2085951

by Spacecat
Poetic Traditions Poetry Contest (E)
Test your skill and talent in the art of traditional poetry in this monthly contest.
#

2055137

by Brenpoet
Write from the Heart Poetry Contest (E)
CONTEST CLOSED
#

2093224

by PurplePrincess
Write From the Heart Story Contest (E)
CONTEST CLOSED
#

2121278

by PurplePrincess



Have an opinion on what you've read here today? Then send the Editor feedback! Find an item that you think would be perfect for showcasing here? Submit it for consideration in the newsletter!
https://Writing.Com/main/newsletters/action/nli_form



Don't forget to support our sponsor!




Thank you for reading.
Don't hesitate to send me question or if you like to add an opinion,
You can send it through our mailbox below.




To stop receiving this newsletter, click here for your newsletter subscription list. Simply uncheck the box next to any newsletter(s) you wish to cancel and then click to "Submit Changes". You can edit your subscriptions at any time.