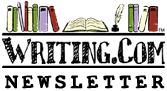 Horror/Scary





This week: Urban Legends ~ Myth or Not

Edited by: Kate's cauldron of words
More Newsletters By This Editor



1. About this Newsletter
2. A Word from our Sponsor
3. Letter from the Editor
4. Editor's Picks
5. A Word from Writing.Com
6. Ask & Answer
7. Removal instructions





Greetings, and welcome to this week's edition of the WDC Horror/Scary Newsletter.



Here we are, trapped in the amber of the moment.
There is no why.
Kurt Vonnegut Jr.

All that we see or seem is but a dream within a dream.
Edgar Alan Poe






Our art prompt generators use various mediums, time periods, art styles, colors, sketches, genres and words, unleashing an endless supply of fantasy to fuel your muse. Now you can have instant artistic inspiration and ideas right at your finger tips, whether online or off!

Get it for Apple iOS.
Creative fun in the palm of your hand.



Greetings,

As autumn morphs to winter in the north and night comes sooner, and holiday shoppers take to malls and stores to shop, carrying about packages (some items are more fun to buy live), we're cautioned to look underneath the car, check the back seat before getting in the car. Urban legends offer images of the stalker ready to slice an unaware Achilles tendon, or remove the life force of the driver with a sharp implement through the driver's seat, perhaps dressed as a clown? These tales, along with that of the body of a traveler found pinned to the hood of a car, are urban legends. A fictional story that's told as if it really happened. And the story need not be in the city or suburbs, consider campers lost, one goes off to find help or gas, and doesn't return, but in the morning his body falls onto or rolls off of the hood of the car.

Urban legends are found in all cultures; and cover almost any subject, from food to politics to weddings to funerals. Some deliver a moral or lesson while others are told for comic relief. Some do have truth underlying them. The time and place of urban legends vary, but they each have a few things in common, and most people have heard, and believe, at least one.

Consider some of the following familiar ones: the sewer alligator that grows to monstrous size (or the pet snake that returns supersized through the sewer system to bite the 'hand' that flushed it). Some alligators have grown to large proportions and several have been documented, but do they really return to payback the hapless mortals who commended them to their fetid habitats?

Or maybe you remember the legend of Mary Mary and the mirror, and if you do, you won't say "I do believe in Mary Worth" nine times while gazing into one in the dark, lest she appear in the room to do you harm ~ I mean, it's just a story, but just in case.

One legend with moralistic undertones is The Hook, meant to discourage late night back-seat 'activities.' The story begins with an illicit engagement by a couple of teens in the back seat of a car when the news comes on that an escaped lunatic is on the loose in that area. Apparently the escapee has a hook for a hand and the news announcer urges anyone who sights him to call the police immediately. The teens hear noises from outside the car. Then the story can go one of two ways, one with the teens driving away, scared, only to find a hook embedded in the side of the car when they get home. The other, darker version ends with the boy getting out of the car to investigate the noises - only to never come back. The girl, hiding in the car, hears banging noises on top of the car and later, when the police come and drive her away, she looks back to find her boyfriend's dead body on the roof.

Now, you also can weave an urban legend, modify an old one to make it your own maybe-believable story to tell.


Choose a theme that's familiar, weave an obvious, though devious, plot.


.Create three-dimensional characters from the people involved in the original urban legend, including victims, unknown killers and/or supernatural characters -- even if these characters' roles are ambiguous.


Determine your setting and customize your plot so the setting becomes important to the story itself. The idea is to turn the legend into a real horror story. Remove your story from the realm of the urban legend, where the setting is unimportant, often ambiguous and generalized.


Add original elements to the legend. You want to use the urban legend as the basis for an original horror story. This means you create material that gives your urban legend an origin as well as an original twist. You might even add new characters to help dramatize the history of the legend.


Consider tying the legend to a real life historical event - a massacre, a plague, witch trials?


Leave the urban legend itself intact and recognizable. Since you're writing a horror story based on an urban legend, you want your readers to have an overall sense of familiarity as well as a feeling of being introduced to something new. Don't completely disregard the legend ~ expand upon it. Combining the old and new will leave your readers satisfied.

Write On!
Kate
Kate's cauldron of words

Before you leave to weave your own, check out these tales woven by members of our Community, stop in for a moment and perchance leave a review.
The Hook (18+)
Flash Fiction, Horror, Urban Legend with a twist, 492 words.
#

2080197

by DJGRIFWRITES
You Get What You Pay For (13+)
Stephan learns the true price of tattoo removal.
#

2138158

by Sin Surly Me
Nature's Gallows (18+)
An urban legend to be disproven
#

2016785

by Nicola Nicolai
The House (13+)
What lies beneath the foundations maybe more than just an urban legend.
#

2009106

by InkSpout
You Get What You Pay For (13+)
Stephan learns the true price of tattoo removal.
#

2138158

by Sin Surly Me
Night's Annex (E)
Within the forest awaits night's menaces & only payment could entice Gavin to face them.
#

2014834

by InkSpout
Earth Lights (13+)
Urban legends and ghost lights in the Florida swamps of Oviedo
#

1508610

by L.L. Zern
SCREAMS!!! (XGC)
A Daily Contest Of Horror And A Two Time 2016 Quill Award Winner!
#

2020439

by FrANGUStein



Have an opinion on what you've read here today? Then send the Editor feedback! Find an item that you think would be perfect for showcasing here? Submit it for consideration in the newsletter!
https://Writing.Com/main/newsletters/action/nli_form



Don't forget to support our sponsor!






Thank you for this brief respite in the safety of your virtual home. Now, as we leave the safety of these walls, be alert and aware, there's a hook or maybe a once-baby alligator waiting for a momentary lapse of attention


Be safe, have fun

Write On *scorpoin*

Kate
Kate's cauldron of words



To stop receiving this newsletter, click here for your newsletter subscription list. Simply uncheck the box next to any newsletter(s) you wish to cancel and then click to "Submit Changes". You can edit your subscriptions at any time.