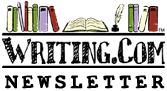 Spiritual





This week: Nikolaus

Edited by: Octobersun
More Newsletters By This Editor



1. About this Newsletter
2. A Word from our Sponsor
3. Letter from the Editor
4. Editor's Picks
5. A Word from Writing.Com
6. Ask & Answer
7. Removal instructions





I am Octobersun
, and I will be your guest editor for this issue.



Certain situations demand dramatic music. Now you have it!

Get it for Apple iOS, Android or Kindle Fire.
Creative fun in the palm of your hand.

December 6th is Nikolaus in Germany
Who is Nikolaus, and is he related to Santa Claus?
On the evening of December 5th, German children put their shoes in front of the door. This could be the house door or simply the door to their bedroom. On the morning of December 6th, they wake up to find nuts, chocolates, oranges, and other goodies in those shoes. That,
at least, used to be the tradition until commercialism transformed it into Christmas light with the presents ranging from small toys to other items that could have a significant monetary value.

The story we heard as children, was that Nikolaus was a sort of helper for Santa Claus who checked in on kids a few weeks before Christmas to make the time to wait for the big present-receiving holiday shorter. When I heard that story in elementary school for the first time, I thought, "Way to go encourage materialism over enjoyment of a holiday."

So, in German lore, Nikolaus and Santa Claus are not the same figure.

When I got older, I heard a different version why December 6th was a day to receive small gifts. Nikolaus, as the story goes, was an old rich Russian man found out that another Russian man was about to sell his three daughters into prostitution. So, he went to their house at night and left three balls of gold so that the father didn't have to sell his daughters. The three daughters were able to get married and live happily ever after. While it certainly wasn't appropriate to tell us about human trafficking in elementary school, it was an eyeopener when I heard the other story as an adult, and kind of ruined my enjoyment of Nikolaus from then on.

As story tellers, the take away is that audience counts. Who do you write for? Are the holidays you use in your book (invented or observed) something positive and fun like making the time shorter, or something dark and scary, like the fear of girls to be sold into prostitution? And how does all this tie into faith?

Faiths are the major driving forces behind observed holidays. Sure, there a few other holidays like Labor Day or such that are more modern and not rooted in faith, but they are also kind of boring when it comes to their lore. You'll get more emotions writing about faith based holidays than practical holidays.

Invalid Item
This item number is not valid.
#

2141439

by Not Available.
For Mothers & More (13+)
Memories from an event on May 13, 2017.
#

2123228

by Thankful Jess
Lost Within (13+)
A tale about finding what we will all find - whether we want to find it or not.
#

1927506

by Malister
"Love Thy Neighbor" (E)
a view of our world and what is needed, what is wrong with it. snapshot! quills winner
#

2087706

by Lisa Noe~Kittylove
The Quest for Home (E)
Quest, the little bear, spends many years looking for home with his father, Casa.
#

2139449

by Jay O'Toole
Stop Breath and Listen (E)
Training the mind to focus on the breath helps to quiet self so we can hear Divine.
#

2142110

by Carmela Snelbaker
Jailtor's Task (13+)
A look behind the curtain.
#

2116475

by J. Lynn Lindsay



Have an opinion on what you've read here today? Then send the Editor feedback! Find an item that you think would be perfect for showcasing here? Submit it for consideration in the newsletter!
https://Writing.Com/main/newsletters/action/nli_form



Don't forget to support our sponsor!







To stop receiving this newsletter, click here for your newsletter subscription list. Simply uncheck the box next to any newsletter(s) you wish to cancel and then click to "Submit Changes". You can edit your subscriptions at any time.