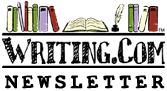 Romance/Love





This week: Giving with Love this Christmas

Edited by: Samberine Everose
More Newsletters By This Editor



1. About this Newsletter
2. A Word from our Sponsor
3. Letter from the Editor
4. Editor's Picks
5. A Word from Writing.Com
6. Ask & Answer
7. Removal instructions



Merry Christmas to all! I'm your guest editor this week in the Romance/Love Topic. First, I will not be tired in saying "Thank you" to all the beautiful people here in this wonderful Writing Dot Home community for all their generosity in helping and teaching us to grow in our writings, and it's always such an honor to be part of this official WDC newsletter. Sharing my opinions and views through my articles (and other humble bits) is a privilege that I truly appreciate.

This newsletter will be about my opinion and thoughts about the spirit of Christmas which is Giving with Love and some traditional ways on how can we show or give our love to our love ones this Christmas.



Our writing prompt generators use current events, scene elements, words, sketches, colors, genres and writing types, unleashing endless random bits of fantasy to fuel your muse. Plus, we've included our database of 600 creative writing prompts so you've got them right at your finger tips!

Get it for Apple iOS, Android or Kindle Fire.
Creative fun in the palm of your hand.

Dear Reader,

Yay! It's already 5 days more to go before Christmas day, but I think Christmas day celebration already begins when the "ber" months (September to December) begun, Am I right?.
Here in the Philippines, the day when we already begin celebrating Christmas is when we started in counting on the 100 days before Christmas and after Christmas, there is still the counting of days before new year, so celebration here in our country will be until January 6 to celebrate also the three kings.

Everyone is waiting for Christmas because this always reminds our fun as well as it's the time of Giving. For kids, it's the time to receive many gifts from their Ninongs & Ninangs (Godparents), and for me, it's the best time to shop because there are lots of new kinds of stuff that will be On Sale, ( I will not deny then that I am a shopaholic)
. So I wonder if you already prepared and ready to distribute your gifts and be ready to receive gifts as well.


It's also the month where all the members of the family will be gathered together, visiting and coming home to have a reunion, have a long vacation with the family, as well as with friends too. It's the great time to forgive our enemy, to have peace with them, it's the best gift that we can give for them. So, in other words, everyone: adult and kids will receive many kinds of gifts and have its own meaning in celebrating this all-time favorite festive.

Here in the Philippines we have our traditional dining or banquet before Christmas eve which we call it the "noche buena" after the "Simbang Gabi" or the mass at 4:00 in the morning from December 16 to 25 and the mass before the Christmas eve, every family will be gathered together to eat the foods that were prepared after a thanksgiving pray, and then follows by the traditional exchange of gifts of every members of the family.

We have also the traditional mistletoe kissing. Our elders believe that whoever couple that will hold hands or kisses below the mistletoe that hang on the header of the door will last forever, so mostly married couple or some young lovers like teenagers like to invite their boyfriends/girlfriends and even try it.

All these ways in celebrating Christmas not only here in the Philippines but throughout the world reflect and remind us the true essence of Christmas, for Giving shows our true love to others, but Giving without our love is useless, it's like doing things in fake or plastic.

as the writer in the 1 Corinthians chapter 13 verse 2 said:
" I have the gift of prophecy and can fathom all mysteries and all knowledge, and if I have a faith that can move mountains, but does not have love, I am nothing."

So do everything with Love, give Gifts with Love.

But don't forget friends why we really celebrate Christmas, it reminds us the birth of our savior Jesus Christ in which the best Gift that God gave to us and we should really celebrate it.

And through our writings my dear friends we can always show our love to others. The traditional sending a card with a simple quote or a warmth greetings can lighten up a weary soul, writing an inspiring and sincere messages through poem or short story will always encourage a lost one and bring them to Light and Life and most of all we should be always inspired by the love that we give and receive from the people surrounds us, these are all ways that shows true love already to feel the spirit of Christmas not only on the exact day but to be in everyday.

Do you also have some traditional ways of celebrating Christmas that reflects Giving with Love in your home or country?

Why not Write it On and Share!


Below are some eye catchy pieces that I've picked while strolling around in the community


Klaus' Flight in April (13+)
Is there a place for giving hope 365 days of the year? What is the purpose of this life?
#

2119764

by Jay O'Toole
Season of Peace (E)
Christmas Song to the tune of "Simple Gifts"
#

2104216

by Lostwordsmith
Invalid Item
This item number is not valid.
#

2142113

by Not Available.
Make It Count (E)
A rhyming poem about making one's life meaningful.
#

2132924

by Harry



Contest that will test your ability to spread inspiring words and messages this Christmas.
Invalid Item
This item number is not valid.
#

2113126

by Not Available.
Holiday Short Story Contest (E)
Write a short story based on an obscure holiday with the prompt provided.
#

2142083

by Chief Coffee Elf, Lilli
A Romance Contest ~~ CLOSED (13+)
A short story contest for the Seasons of Romance:
#

1892844

by Osirantinsel
Memories Of Christmas (18+)
A Christmas contest
#

2142652

by Spacecat
Verdant Poetry Contest (E)
NATURE-themed quarterly contest.
#

2000001

by The Choco & The Ivy
Secret Santa 2019 (18+)
A fun way to get in the holiday spirit!
#

1494614

by Legerdemain



Have an opinion on what you've read here today? Then send the Editor feedback! Find an item that you think would be perfect for showcasing here? Submit it for consideration in the newsletter!
https://Writing.Com/main/newsletters/action/nli_form



Don't forget to support our sponsor!




Readers Respond from my "Drama Newsletter (November 29, 2017)"
I love comments!

Hey! That's a cool tip, to let music play in the head to create a scene. I hadn't thought of that before!
~ Thankful Sonali fa-la-la-la!

Thank you for reading.
Don't hesitate to send me question or if you like to add an opinion
You can send it through our mailbox below.

Until next time.



To stop receiving this newsletter, click here for your newsletter subscription list. Simply uncheck the box next to any newsletter(s) you wish to cancel and then click to "Submit Changes". You can edit your subscriptions at any time.