Printed from https://www.writing.com/main/newsletters/action/archives/id/8662-The-Devil-is-in-the-Details.html
Noticing Newbies: December 20, 2017 Issue [#8662]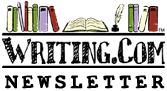 Noticing Newbies





This week: The Devil is in the Details

Edited by: I like big books #2233315
More Newsletters By This Editor



1. About this Newsletter
2. A Word from our Sponsor
3. Letter from the Editor
4. Editor's Picks
5. A Word from Writing.Com
6. Ask & Answer
7. Removal instructions




The Noticing Newbies Newsletter's goal is to make the newer members feel welcome and encourage them with useful information and/or links to make navigating Writing.com easier. Writing.com members of all ages and even veteran members can find useful information here. If you have specific questions, try visiting "Writing.Com 101"
and/or "Noticing Newbies"
.

Meet The Noticing Newbies Full-Time Newsletter Editors

| | |
| --- | --- |
| ASIN: B01IEVJVAG | |




"The truth of the story lies in the details."
― Paul Auster, The Brooklyn Follies



Have you ever taken one of those "be the detective" tests where you look at the picture then it disappears and they ask you questions to see what you can remember? (I'm terrible at them!
) This type of exercise can be very helpful in writing a scene, especially in a detective story. Did you see the block of knives on the counter? Was there one missing? What about that key shining on the floor over near the table leg? Could the killer have accidentally dropped that? These small details can be an amazing addition to your story.

How important is choosing the setting for a dramatic conversation? Is there a specific place in your house people seem to gather? How about that scene we have experienced in movies and tv where the wife says "Can I see you in the kitchen?" with a tense look on her face? Rooms can have a personality just like people sometimes. Kitchens can be warm and be inviting or they can be angry dangerous places. After all, kitchens are full of sharp objects, right? How many can you think of?

While the characters are the most important part of your story, the setting and resulting details can often place a close second. The scene in which you place your characters is extremely important. Make sure you take the time to create the perfect setting and describe enough details to make sure your scene feels real. With that said, readers don't need to know exact temperatures or exactly how many miles per hour the wind is blowing unless it has a direct bearing on the story. Share enough details to make us see and possibly feel the scene though. Does your character feel a chill in the air? Make sure your reader does as well.

Why not try writing a scene involving a room in your own house. You're familiar with the setting so it should be easy, right? It can be the kitchen or bedroom or anywhere you feel a good scene would take place. Perhaps you're a detective and find a clue, or maybe you're just a teenager waiting for a close friend to get home and you find something you didn't expect to find. Try writing a detailed scene of a visual you just had reading that passage. Share it with me in the comments below. I'd love to read it!

Write and Review on! ~ Brooke




How about checking out some new authors? I also slipped an amazing writing challenge in there just to see if everyone is paying attention. :)





~
~
~
~
~
~
~
~
~
~
~
~
~
~



Have an opinion on what you've read here today? Then send the Editor feedback! Find an item that you think would be perfect for showcasing here? Submit it for consideration in the newsletter!
https://Writing.Com/main/newsletters/action/nli_form



Don't forget to support our sponsor!




| | |
| --- | --- |
| ASIN: B07YJZZGW4 | Kindle |


I received some wonderful feedback to my last newsletter [#8614] "13 Years"
and I'm proud to share it with you.

From Elfin Dragon-finally published
author of "See My Words"
[E]
Brook, I agree with you wholeheartedly that this is more than just a social site. Come January, I will have been with the group for four years now. I have grown leaps and bounds as a writer with the help of the friends I've made and the support of everyone.
I love it.

That's awesome! I am so glad you found a home here like I did.


From bellowsface
author of " first writing dusted off and reworked"
[13+]
Great newsletter. I too have been a member for a while (10 years). I have been mostly inactive due to a bad experience from a, particularly harsh review. Like you though I could not keep away and in the last two months have made a serious effort to get involved. I doubled my portfolio contents. Fair enough I did only have four items in the first place, I have nine now. I am actively reviewing others and thoroughly enjoying it. The plus side is I have received more reviews myself and all of them have been filled with detailed feedback on how I could improve. Basically what I am getting at is, I have made the effort to get involved more and I am getting benefits from it as well as being introduced to new friends.



That's terrific! Sometimes it's hard work but it pays off in the end. :) I'm glad you're back!



From Lilli ☕️ 🧿
author of "My thoughts from the ledge..."
[GC]
This newsletter is great and the links led to some great reads!
Thank you!!!

Thanks! I appreciate you taking the time to let me know what you thought.


From Jeff
author of "The Gold Rush"
[ASR]
Happy WDC Anniversary! Welcome to your teen years!
Aww, thanks! I'm happy to have you there to cause trouble with!

| | |
| --- | --- |
| ASIN: 1542722411 | Book |



To stop receiving this newsletter, click here for your newsletter subscription list. Simply uncheck the box next to any newsletter(s) you wish to cancel and then click to "Submit Changes". You can edit your subscriptions at any time.



Printed from https://www.writing.com/main/newsletters/action/archives/id/8662-The-Devil-is-in-the-Details.html