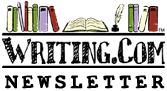 Fantasy





This week: Questions of Originality

Edited by: Dawn Embers
More Newsletters By This Editor



1. About this Newsletter
2. A Word from our Sponsor
3. Letter from the Editor
4. Editor's Picks
5. A Word from Writing.Com
6. Ask & Answer
7. Removal instructions





Fantasy Newsletter by Dawn

Speculative fiction is known for the creative elements often found within its creation and yet still, as authors we face questions of how original our stories, world, characters and ideas are in general. Sometimes we have to face those questions and make decisions.



Writing.Com presents "Character Prompts", an exciting twist on traditional writing prompts... Generate billions of unique character profiles!

Get it for Apple iOS, Android or Kindle Fire.
Creative fun in the palm of your hand.



It is a new year. As the last year ended, I pondered some of my novels and the goals I've had for the past couple of years that I haven't always reached. And in doing so, I once again faced a problem that I need to make a decision on in order to move forward with one of my series. That is a question of originality.

For our genres, fantasy and any other under the speculative fiction umbrella, it's an important question that we all have to face. Okay, all writers in general probably have to face such but still, this is the fantasy newsletter so let's pretend for a moment and focus on our genre and not the originality of any other story. When coming up with a spec-fic story, we will often be faced with the question of whether or not it is original enough. This question can be about the whole story over all, the individual characters, the main conflict, the world and many other features involved.

How original is your story? How original is your world?

Truth is, we do often have influences. Or as the saying goes: there is no new story. Maybe it says that, I can't quite remember anymore but still, the general idea is the goal really isn't to be 100% different from everything already out there. It's not going to be the exact same either. There is a big difference between a copy and having similarities.

The question becomes how much of an influence is involved and are you okay with the connections readers will make even if you weren't as influenced as they might assume. What do I mean? Well, I shall ramble a little about what I'm facing to help explain.

I have a series that involves characters who have abilities due to genetic mutation. It was the first novel I attempted for NaNoWriMo back in college in 2007 (long time ago). The first book in the series has been rewritten and edited but an issue still remains. While I didn't know much about X-Men, the movies or anything else within the franchise, many are going to question or assume a connection to the more popular and known stories. Some of the characters do have similar powers, for example. Though fire and ice are the same person in my world, it is still something similar. And in truth, just using genetic mutations pretty much means an automatic connection to X-Men, which gets amplified by the fact they are fighting against government oppression/control. There isn't a secret school or anything like that but still. I can't get away from the question of whether my own idea is original enough due to the use of mutations and calling the characters mutants.

So, I am questioning if it is original enough. Do I stick with the genetic mutation or do something different? I might actually change it, to be honest. Not that I don't think mutation is taboo from everyone due to the success of X-men and the recent marvel show ummm Runaways or something. I don't have tv right now so haven't had the chance to check what all has come out. However, for this particular series, I might have a way to make it even better. And it requires not much changing of the first already written book.

It's okay to have influences and get inspiration from the word around us. It also, is good to reach out for ways to create elements that make our stories original. This is just another part of the process we face. And what works for one story won't work for others. I might be changing the world of a series due to the question of originality for one but I've got a cinderella novel and a story with elves that will never escape issues of influence that won't be changing. Do what you want and get writing those stories.



The Monthly Reading Challenge (13+)
The Monthly Reading Challenge - Come share your targets and success!
#

1945699

by ~Minja~
WEIRD TALES CONTEST (18+)
A Contest Inspired by the Old Pulp Fiction Covers of Weird Tales Magazine
#

2083492

by W.D.Wilcox
The LGBT Writing Contest: Open (18+)
Bi-monthly contest for LGBT characters. Great prizes and reviews.
#

1980539

by Os the Capricorn
A Romance Contest ~~ Open for Winter (13+)
A short story contest for the Seasons of Romance.
#

1892844

by Os the Capricorn
Character Flaws Contest (E)
Come yarn me a tale about a flawed character!
#

2144029

by Genipher-gone fishing!
Nothing here (E)
A solar system has an unusual structure
#

2142602

by BrokenPen
Grief (E)
My entry for the Science Fiction Short Story contest, we are in need of good sci-fy.
#

2141513

by Mariella Stift
Chapter: A Mis-spelled lesson (E)
Entry for Fluffy Unicorn contest. Young unicorns get a lesson that is unexpected by all.
#

2144626

by eyestar~Celebration RAID!



Have an opinion on what you've read here today? Then send the Editor feedback! Find an item that you think would be perfect for showcasing here? Submit it for consideration in the newsletter!
https://Writing.Com/main/newsletters/action/nli_form



Don't forget to support our sponsor!






How do you deal with issues of originality when writing?

Last month, I rambled about decorations used within fantasy. No responses were sent in over that topic, but there was a question sent by a user that could be the topic for many newsletters. Here is what they asked:

Comment by Vajner

How to write a fantasy book/novel? For the first time...

This is an interesting question and quite broad in scope if you think about it yet can have a simple answer. For the first time, I suggest taking the nanowrimo approach. Not necessarily the time frame used for November but the general idea of not letting any doubt get in the way. You just need to start writing. That will work for many, unless you are someone who really needs to have lots of outlines and/or the world fully developed beforehand. Not everyone is going to have the same method and part of the learning process with the first book (or second, third, fourth, etc) is learning what works best for you. Think about it a little then get to work and write. Editing and rewriting will come later. First, I say it's okay to just write.






To stop receiving this newsletter, click here for your newsletter subscription list. Simply uncheck the box next to any newsletter(s) you wish to cancel and then click to "Submit Changes". You can edit your subscriptions at any time.