Printed from http://www.writing.com/main/newsletters/action/archives/id/8686-New-year-new-crimes.html
Mystery: January 03, 2018 Issue [#8686]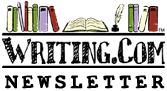 Mystery





This week: New year, new crimes

Edited by: Gaby
More Newsletters By This Editor



1. About this Newsletter
2. A Word from our Sponsor
3. Letter from the Editor
4. Editor's Picks
5. A Word from Writing.Com
6. Ask & Answer
7. Removal instructions



Poverty is the mother of crime.
~ Marcus Aurelius

Writing.Com presents "Party Prompts", the iPhone app with an endless supply of dinner party conversation starters and inspirations!

Get it for Apple iOS.
Creative fun in the palm of your hand.

Hello and welcome to the new 2018! The page is blank, pencils sharpened. Are you ready to begin?



First off, let me say Happy New Year and all that good stuff that goes along with it. I won't ask you for your new year's resolutions, the plans you might have for this year, things you might want to change. Mostly because a year is a long time and most of us tend not to stick with our best intentions - or perhaps I'm just talking about myself.


Writing is still part of us, it runs in our veins, invades the daily thoughts, which means that sooner or later, we'll start a sentence and go with it. Considering how many different stories there are out there, is it even possible to come up with something new? Something that will catch the readers attention? Extraordinary even?

Don't answer that now. Just consider it for a moment. All of us have something to say, a good story to write, but there are so many different mysteries out there, at times it feels impossible to create the next amazing crime story. It is possible. Think about the fact that whatever happened last year is behind you and what's in front of you hasn't been written yet. That means that you have the opportunity to explore every possible venue there is. Nothing is set in stone and I bet, over the past year, your writing has improved quite a bit. Take a chance. No risk, no reward.

'Til next time!
~ Gaby

Invalid Item
This item number is not valid.
#

2144605

by Not Available.
Stringin' a Gumshoe (18+)
Dick Casey's first action-packed t.v. show!
#

2144758

by Genipher
Ghost Tent (Screenplay) (13+)
A ghost, in the present, is searching for his way back, to continue the life he had.
#

2144832

by Don Fern
DNA (18+)
I stood, looking down at my own head on a metal slab, very much alive.
#

2047094

by Night of the Living Lorraine
The Masquerade Mask (13+)
two friends buy a cursed mask
#

2139841

by 🕸 Lilli Munster ☕️
Case File #114 (18+)
a Del Delaney, P.I. mystery...
#

2058508

by It's the Great Pumakin!



Have an opinion on what you've read here today? Then send the Editor feedback! Find an item that you think would be perfect for showcasing here? Submit it for consideration in the newsletter!
https://Writing.Com/main/newsletters/action/nli_form



Don't forget to support our sponsor!







To stop receiving this newsletter, click here for your newsletter subscription list. Simply uncheck the box next to any newsletter(s) you wish to cancel and then click to "Submit Changes". You can edit your subscriptions at any time.



Printed from http://www.writing.com/main/newsletters/action/archives/id/8686-New-year-new-crimes.html