Printed from https://www.writing.com/main/newsletters/action/archives/id/8707-Language-Barrier.html
Comedy: January 17, 2018 Issue [#8707]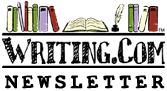 Comedy





This week: Language Barrier

Edited by: Annette
More Newsletters By This Editor



1. About this Newsletter
2. A Word from our Sponsor
3. Letter from the Editor
4. Editor's Picks
5. A Word from Writing.Com
6. Ask & Answer
7. Removal instructions



Dear readers of all things funny, I am Annette
, and I will be your guest editor for this issue.

| | |
| --- | --- |
| ASIN: 1945043032 | |

Language Barrier
As a reader, I don't really like it when a writer choses to have a character speak in such thick dialect that I can't understand what they say. But what if it's intentional?

Think of the fun you can have when you write a deaf grandmother or grandfather who keeps hearing the wrong thing. Each time your character says something, the deaf person repeats it, but with one or two words that sound similar, but mean something else entirely.
It might be a fun exercise to come up with phrases that are commonly used in a household setting, but can also get corrupted easily by something that sounds similar, but means something else.

What is will mostly amount to a harmless misunderstanding in a household setting can have dramatic consequences in a work setting. Think people talking over loud machine noise or wearing noise cancelling headphones while trying to give one another orders.
If you work in an environment that requires a certain way to speak from you, are there ever times when you wonder if you heard right or if the other person heard you right?





Danger Dog and the Bunnies of Doom (E)
Bad dreams and giant bunnies can make a super hero's job a nightmare.
#

2012608

by GeminiGem🌻
Invalid Item
This item number is not valid.
#

1569451

by Not Available.
Barking up the Wrong Tree (E)
Thrice Prompted: Happily Never After
#

2145775

by Genipher
Oh, Brother! (E)
Beating Insomnia can be tricky!
#

2142979

by Genipher
Dear Diary (E)
Captain Squito and his crew buzz around the mysterious Black Planet.
#

2143409

by Genipher
ALLITERATION STATION (18+)
Saving My Funny (to me) Creations From My Chaplin In and Out. Satire Will Out, I Reckon
#

2125037

by ♥HOOves♥
Invalid Item
This item number is not valid.
#

2135997

by Not Available.
Invalid Item
This item number is not valid.
#

2119236

by Not Available.
Sunshine and the Strawberry Stand (E)
Poppy has too many strawberries this year and Sunshine comes up with an idea to share them
#

2055609

by Sewcrazy Again 🤗
Three Word Mayhem! (13+)
Mayhem is afoot!
#

555590

by Jay (*still* away for a while)



Have an opinion on what you've read here today? Then send the Editor feedback! Find an item that you think would be perfect for showcasing here? Submit it for consideration in the newsletter!
https://Writing.Com/main/newsletters/action/nli_form



Don't forget to support our sponsor!




| | |
| --- | --- |
| ASIN: B01FST8A90 | |

For my last comedy newsletter "Fun With Fear"
, I received these replies:

Quick-Quill
wrote: Deliverance is a classic scary movie to many. My daughter, now in her mid 40's, saw the movie and told me it wasn't scary and didn't see the big hype. Its a all about the base line (not bass) I think movies with the scary music build up is worse than any book written.I thought Stephen King's early book were scary and I loved them. After Pet Cemetery I quit reading his books. Now its harder to Scare people these days. I think its about the story. Well written is bette than just scare tactics.

gingerlyme wrote: Ha! Alien and Friday the 13th sure take me back.
I've been having lots of fun with horror stories this month. Thanks for the reminder that Fun and Scary can play together well.
Thanks, too, for featuring my short story, Dead Banking!

GingerlyMe

| | |
| --- | --- |
| ASIN: 1945043032 | |



To stop receiving this newsletter, click here for your newsletter subscription list. Simply uncheck the box next to any newsletter(s) you wish to cancel and then click to "Submit Changes". You can edit your subscriptions at any time.



Printed from https://www.writing.com/main/newsletters/action/archives/id/8707-Language-Barrier.html