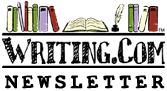 Drama





This week: A Passionate Entourage

Edited by: Samberine Everose
More Newsletters By This Editor



1. About this Newsletter
2. A Word from our Sponsor
3. Letter from the Editor
4. Editor's Picks
5. A Word from Writing.Com
6. Ask & Answer
7. Removal instructions





Hiya! I'm Samberine Everose your newsletter guest editor again this week in the Drama Topic. First, I am expressing my thankfulness again to all the wonderful people here in Writing Dot Com for their generous support and encouragement to all of us in order to grow in our writings.

Our topic this week is turning drama not only to be an emotional piece but also to be inspirational.



Setup as a game show for your brain, Sketchy Memory helps you test and train your memory with a variety of challenges. In each, you'll need to remember what you see.

Get it for Apple iOS.
Creative fun in the palm of your hand.


Greetings!

Mostly, when we think about drama, we are reminded of scenes which are full of emotional words that made us pour our blues too, and that sometimes made us think that Drama is boring and we often chose the comedy genre to make us laugh and that will make us be young and inspired. Filipino people especially woman ages teen to golden age are drama lovers, after doing their household chores, they were stuck in their couches and glued on to watch television to follow drama episodes until midnight, maybe, because mostly dramatic stories reflect our day to day life in where we can sometimes extract situations where we can link it to our own lives and learn something, as well as found some few solutions especially when we are facing life circumstances, so drama in its literal meaning is been a part of our life,it surrounds us, whether we like it or not.

I wonder if the drama can encourage us. If we just not only limit ourselves to capture its main reflection and try seeing drama in its deeper sense, we can transform it to make us be inspired every day. We can change and turn down the basic impression of drama blues and make it as an inspirational and encouraging to our lives.

We can turn On the drama to be more relaxing and inspiring in the moment that we open our eyes and glance through our window, and behold the beauty of sporadic changing of the sun rays rising from faint halo becoming an energetic light as the time goes by or when we listen to the chirping of birds which creates a melodic song, it refreshes us, signifying that there's always a new day begins. When we enjoy the smell and the taste of the sweet aroma of our coffee while reading writing dot com newsletter in our cell phones or laptops, until its time to go to our work to accomplish something for the day until we reach again the dramatic setting of the sun in the afternoon and witness its magnificent color spectrum turning from golden yellow to orange and red. Isn't that beautiful? The Creator of all already creates wonderful drama in everything that we see which surrounds us every day in which we can always be enlighten and inspired. Drama is already there and always been a part of our everyday life.

Observe drama in the architecture sense, from an open space for structures to built by engineers and architects to give us more comfortable in our living. Observe and feel the blending of the lines that were used, shape and mixture of different colors and the emotions that stir in us when we are inside or viewing that building, isn't it beautiful? there's already on artistic drama within those structures. Likewise, the way how the painter creates a 3-dimensional painting is more realistic and different than a plain sketch.

Drama is like a passionate entourage that makes mundane to be more beautiful and extraordinary to give us inspiration and encourage us as the recipients to say that life is always been beautiful, simple and yet challenging.

Though emotions are the most obvious to be shown in our writings especially when we scribbling drama in our poetry but consider also the way how those words stir on emotion in us as readers that not only on what the author intended to reflect, but we should try to find the drama in its inspirational sense.

So, tomorrow my friends will be the first day again of the season of hearts, don't just say I love you to your beloved, show it, make a passionate entourage on it, and try to be inspirational.


Some pieces by awesome WDC members for you to read that you can find its dramatic sense to be an inspirational.
A Golden Sunset (18+)
a nature inspired poem...
#

2087592

by Jim Hall
Mosaic (E)
Traditional Poetry entry - a morning view of the sky
#

1513119

by 🌙 HuntersMoon
These Are My JOTtings... (E)
We live much of life amid unique choices. Joy is anchored in The One beyond our life.
#

2101955

by Jay O'Toole
Where Can I Find Happiness? (13+)
Where to look for happiness
#

1303572

by Gunny
Snow Arrives (E)
After six long years snow arrives in south Georgia, USA. The experience is exhilarating.
#

2146596

by Jay O'Toole




Contest for you to try on and make drama or emotional writings to be more encouragement and inspirational

.


Dear Me: Official WDC Contest (E)
What are *your* goals for the new year? Think it over, write a letter and win big prizes!
#

597313

by The StoryMistress
Holiday Short Story Contest (E)
Write a short story based on an obscure holiday with the prompt provided.
#

2142083

by Lilli
Poetic Traditions Poetry Contest (E)
Test your skill and talent in the art of traditional poetry in this monthly contest.
#

2055137

by Brenpoet
Write from the Heart Poetry Contest (E)
CONTEST CLOSED
#

2093224

by ∞Purple Princess∞
Verdant Poetry Contest (E)
NATURE-themed quarterly contest.
#

2000001

by Choconut ~ Emporium Catch-Ups
Oriental Poetry Contest (E)
Poetic forms from the East. New challenges twice a month.
#

2106425

by Chris Breva - Is grateful!
Search for a WDC Heart Throb Poet (E)
A contest for the heart season- (Poetry Contest)
#

2110571

by Samberine Everose



Have an opinion on what you've read here today? Then send the Editor feedback! Find an item that you think would be perfect for showcasing here? Submit it for consideration in the newsletter!
https://Writing.Com/main/newsletters/action/nli_form



Don't forget to support our sponsor!




Feedback from our readers in my "Romance/Love Newsletter (December 20, 2017)"
I love comments!


Clark Kent, Iron Man and any super hero. We put them on a pedestal because they have flaws but they see the good in our heroine. He will save her now matter what. Why? because to him she is worth saving. Look at Gotham. I don't watch it any more but the first few episodes I fell in love with the homeless curly haired girl that came to Bruce's aid. I wanted her to be his side kick and help him grow. Thats not the way its written, but I liked who she was at the beginning. If this were your story, you could have them develop a love relationship. ~50K in 29 days

Excellent newsletter and great info! Thank you!~Lilli

Thank you all for reading.
Don't hesitate to send me question or if you like to add an opinion or an item to be featured in my next newsletter.
You can send it through our mailbox below.

Until next time.



To stop receiving this newsletter, click here for your newsletter subscription list. Simply uncheck the box next to any newsletter(s) you wish to cancel and then click to "Submit Changes". You can edit your subscriptions at any time.