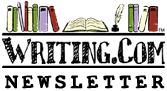 Short Stories





This week: The Power of Seeing Yourself

Edited by: Jay (away for a while)
More Newsletters By This Editor



1. About this Newsletter
2. A Word from our Sponsor
3. Letter from the Editor
4. Editor's Picks
5. A Word from Writing.Com
6. Ask & Answer
7. Removal instructions





This issue:
The Power of Seeing Yourself
A little bit of memoir about how one little short story had a big impact on me.



| | |
| --- | --- |
| ASIN: B07N36MHWD | Kindle |



I don't often write purely personal essays for this column, but it felt necessary, given.

Ursula K Le Guin passed away last week at the age of 88. She was a literary legend, and a lot has been said about her already, so this isn't a long remembrance or anything, but a little thing that's stuck with me over the years. I read the Earthsea books and a bunch of other things as an early library-card-carrying book lover. In my tweens and teens I could be found scouring the spinner racks of paperback science fiction and fantasy novels on a weekly basis.

On one such week in my early teens, I found a copy of the 1995 Year's Best Science Fiction and in it was a story from Ursula K Le Guin! I was only familiar with her stories for a younger market and I remember being fascinated that she also wrote for adults.
(Yes, I learned quickly after that!
)

In my early teens in particular, I struggled a lot with finding my place, socially. I didn't have the language or the social capital to really understand my own identity at the time; I lived in a small town where being Other than what was considered "normal" was a real problem. As a chubby, awkward, bookish person, I already drew a lot of ire from bullies of all stripes. A common bullet point in the list of things I was bullied for was my queerness. We didn't have the vocabulary in a small Pennsylvania town in the '90s to accurately describe me, but I feel like most children drawn to participate in bullying have a sixth sense for finding the weak points in someone's identity and exploiting them, and in my case it usually involved all the normal slurs.

So imagine my surprise when I get my library books home that particular day when I sprinted off to my loft in the attic and started to read.

The short story from Ursula K Le Guin in that collection was a little piece called "Coming of Age in Karhide." It didn't matter to young me that it was a tie-in story to one of her bigger series (the Hainish Cycle, which began with Left Hand of Darkness)--what mattered to me was that it was a loving and careful depiction of a young adult who was confused and struggling with their own identity and feeling like none of the available options was acceptable to them.

The story explores the social dynamics of a planet where none of its people have a fixed gender identity, and instead have temporary periods of fertility, during which they can be either male or female. To early-teen me, the remote possibility that I was gender-nonconforming was still an unknown possibility, but to see the difficulties of this written so eloquently and with so much thoughtfulness was heartening. This story has stuck with me for decades now and was part of how I learned to see myself as I grew up. I owe her a debt of gratitude for that story alone, much less the rest of her wonderful stories and books.

I'm still but fledgling in my efforts to write things for a wider audience, but I think the best compliment most of us can hope for is to be in inspiration to someone else through our work, and Ursula K Le Guin was that, and more, for a lot of us. I'm grateful we got to share this planet, for a time; a time in which I really needed it.


Until next time,
Take care and Write on!
Jay





This Issue's Picks!















Have an opinion on what you've read here today? Then send the Editor feedback! Find an item that you think would be perfect for showcasing here? Submit it for consideration in the newsletter!
https://Writing.Com/main/newsletters/action/nli_form



Don't forget to support our sponsor!




| | |
| --- | --- |
| ASIN: B07N36MHWD | Kindle |



Feedback from "The "Rules", Part Three"
vada
writes:
Thanks for a great newsletter, Jay. Very timely. I try very hard to always enjoy the process of writing, regardless of whether I ever sell another piece I've written.

I feel like it's the only way to keep your head above water in this business! Or, at the very least, it helps, anyway.

Joy
writes:
Great NL, Jay!

I think the problem lies within the how-to-write courses and some of the teaching books that bring out the need-to-be-published desires in writers rather than emphasizing on producing decent manuscripts. True that wanting to be published may encourage writing but it shouldn't be the only reason.

Too true, Joy! The other problem is that for some reason, there are people who seem to believe publishing is a fast business, and to that, I do not know whether to laugh or cry.
Quick-Quill
writes:
I went with an Indi publisher. I thought I had covered the questions and got affirmative answers. First thing that happened, their proofreader got sick and couldn't proof it, so my novel didn't get a final once over to correct simple mistakes. It took a year to get the bookmarks they promised right away, They emailed a pdf of my poster to the book store owner who was then expected to get it printed and pay for it, for my book signing. That didn't happen. For all the work they said they did, I felt my fan base provided the sales. When I terminated my contract I didn't get the manuscript they used to upload for the e-version and the printed version. Now I have to try to recreate it. That being said, I was told that during the two years they had it, my book outperformed any of the other books by the Indi publishers in their conferences. Yea Me!


That sounds like quite the roller-coaster to me! I'm glad you are able to move on from that but wow, that sounds like a frustratingly unprofessional experience.

GabriellaR45
writes:
Nicely put, Jay. I appreciate your reminder to become our own best source of pride and achievement. Over time, I've become my own critic,
sticking with a poem until I'm proud of it after much writing and rewriting, I have learned how much it matters that I am genuinely pleased with
my work. There is nothing that can trump this.
Thanks for your fine essay, Jay.

That's a really important life lesson, and it's important to remember it's distinct from improvement: we can all strive to improve! But it's important to recognize when we are doing our best.

Connieann loves to write!
writes:
Great advice, Jay. Something I seem to have to learn over and over.

Me too, to be honest! I am terrible at taking my own advice.
but I don't know many people who aren't.
Robert Edward Baker
writes:
Thank you very much for plugging my story in your newsletter. It is much appreciated. :)

Anytime, Robert!


And that's all for the mailbag this time around. Don't forget, if you have a burning question about the rules of the ol' writing road, drop me a line! I am trying to come up with some more "rules" to debunk or address in upcoming issues!


| | |
| --- | --- |
| ASIN: B01IEVJVAG | |



To stop receiving this newsletter, click here for your newsletter subscription list. Simply uncheck the box next to any newsletter(s) you wish to cancel and then click to "Submit Changes". You can edit your subscriptions at any time.