Printed from http://www.writing.com/main/newsletters/action/archives/id/8741-Withdrawal.html
Comedy: February 07, 2018 Issue [#8741]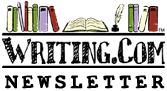 Comedy





This week: Withdrawal

Edited by: Robert Waltz
More Newsletters By This Editor



1. About this Newsletter
2. A Word from our Sponsor
3. Letter from the Editor
4. Editor's Picks
5. A Word from Writing.Com
6. Ask & Answer
7. Removal instructions





My parents said that sitting at home playing video games all day won't bring you anywhere in life.
-PewDiePie

Video games are bad for you? That's what they said about rock-n-roll.
-Shigeru Miyamoto

I don't play video games because I know that if I ever started, I'd never be able to maintain a career again.
-Jeff Lemire



Writing.Com presents "Party Prompts", the iPhone app with an endless supply of dinner party conversation starters and inspirations!

Get it for Apple iOS.
Creative fun in the palm of your hand.



My laptop died.

I was engrossed in my favorite activity - gaming - at the time, and it suddenly went dark. No amount of tinkering made it shine again.

I'm tech-savvy and not stupid (except for my jokes), so I tried a few things, all the while thinking about the game and wanting to get back to it.

Hour 1: Still dark. Power supply fine. Simply won't turn on.

Hour 2: On phone with customer support.

Hour 3: Still on phone with customer support. Guy's from Costa Rica. Costa Rica is warm. Where I am, not so much.

Hour 4: Probably a fried motherboard. Heart failing. Mouse fingers starting to itch. Must wait for technician. Could be days. Weeks. Shudder. Okay, I can make it.

Hour 5: Newsletter deadline looming. Time to fire up the old Windows XP machine that never had a fried motherboard.

Hour 6: Still trying to get XP machine to work.

Hour 7: There's a reason Microsoft stopped supporting XP.

Hour 8: Vision blurring. Need a nap.

Hour 10: Woke in cold sweat. Was dreaming about game. Cat woke me. She thought my twitching mouse fingers were an actual mouse.

Hour 11: Windows XP machine on, making funny noises. Must test memory, hard drive. Found old copy of Civ IV.

Hour 16: DAMN MONTEZUMA AND HIS ARTILLERY.

Hour 17: Tried to get browser working. Stuck on update screen.

Hour 18: Rebooted. Twice.

Hour 19: Browser updating. Finally. Went to bed. Kicked cat out when she started eyeing my mouse fingers hungrily.

Hour 24: Woke in cold sweat again. Started to sit at laptop. Pressed power button. Remembered the motherboard was fried.

Hour 27: Cat fed. Room (relatively) clean. Checked progress of browser update. Went out for breakfast.

Hour 28: Apparently they don't serve breakfast at 4 pm. Who knew?

Hour 29: Tried to use phone to connect to WDC to write newsletter. Phone keyboard, screen too small. Right hand shaking.

Hour 30: Rebooted XP machine again. Browser working. Yay! Unsure if I can get newsletter in on time.

Hour 36: Woke in cold sweat. Right hand atrophying. Cat continues to eye it.

Day 3: Still no word from technician. Montezuma still thorn in side. I really, really hate February.

Day 4: How long can this go on? Life empty struggle. Hope is lost. All is darkness. Only gloom is real. Went grocery shopping. Found something worse than Christmas music: sappy love songs piped in for Valentine's Day.

Day 5: Technician arrived! Interminable wait for laptop fix commences. Nothing to do but play Civ again.

Games? Pfah. I can quit anytime I want. But why would I want? I will take my revenge on Montezuma! Right after I submit this newsletter.



Some funnies to while away the time:




Have an opinion on what you've read here today? Then send the Editor feedback! Find an item that you think would be perfect for showcasing here? Submit it for consideration in the newsletter!
https://Writing.Com/main/newsletters/action/nli_form



Don't forget to support our sponsor!




Last time, in "Food Fight"
, I talked about being healthier.

Lilli
: Great NL, Robert! Funny and kinda gave me the munchies... my favorite line:

"So anyway, striking a balance between staying healthier and not having an eating disorder such as veganism is important to me."

Good luck with your continued "healthy eating' efforts!!

Happy New Year, Lilli

Thanks!


Mumspie!
: You can do it! Although I do wonder how quinoa and flaxseed burger over spinach could be delicious . . .
Sorry for getting you off track with the whole eating healthy thing while you were visiting!
We didn't do TOO badly ... *cough* right?
It's the latkes that do me in.
Editing is BLUE
: You are right about one thing. Some of the newsletters are blogs. I like to read the newsletters hoping to find inspiration, help and ways to improve my own writing. If I wanted blogs I'd go read them in their own home.
I figure anything that's funny (to someone) is a lesson in comedy writing.
Monty
:

Sounds healthy but has it worked?



You know, the best thing about being a pessimist is that if you're wrong, something good happens; and if you're right, you get the satisfaction of being right..


And that's it for me - if I survive the Great Laptop Blackout of 2018, I'll see you next month. Until then,



LAUGH ON!!!






To stop receiving this newsletter, click here for your newsletter subscription list. Simply uncheck the box next to any newsletter(s) you wish to cancel and then click to "Submit Changes". You can edit your subscriptions at any time.



Printed from http://www.writing.com/main/newsletters/action/archives/id/8741-Withdrawal.html