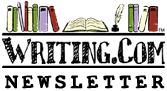 Fantasy





This week: Fantasy is the Essence of Science

Edited by: Kate ~ NaNo Team Pink
More Newsletters By This Editor



1. About this Newsletter
2. A Word from our Sponsor
3. Letter from the Editor
4. Editor's Picks
5. A Word from Writing.Com
6. Ask & Answer
7. Removal instructions





Greetings, and welcome to the Writing.Com Fantasy Newsletter, where this week we explore science fantasy.




"Deep in the human unconscious is a pervasive need
for a logical universe that makes sense.
But the real universe is always one step beyond logic."
(Dune) Frank Herbert





Writing.Com presents "Party Prompts", the iPhone app with an endless supply of dinner party conversation starters and inspirations!

Get it for Apple iOS.
Creative fun in the palm of your hand.



Science Fantasy ~ it's real, think about it
yes, it's real ~

It's a blended genre combining elements from both science fiction and fantasy, under the common umbrella of speculative fiction. Science fantasy is open to creative interpretation and I believe, is still evolving, The Encyclopedia of Science Fiction states that as a genre, science fantasy "has never been clearly defined."

Rod Serling claimed that the science fiction was "the improbable made possible" while fantasy was "the impossible made probable". As a combination of the two, science fantasy gives a scientific veneer of realism to things that simply could not happen in the real world under any circumstances. Where science fiction does not permit the existence of fantasy or supernatural elements, science fantasy explicitly relies upon them.

The label was first used after many science fantasy stories were published in early pulp magazines (think Robert Heinlein). These science fantasy stories deliberately applied techniques and attitudes of science fiction to traditional fantasy subjects. The form gained popularity in the 1950s and 1960's (think reruns of those 'B' movies of spaceships landing on and coming into conflict with fantastical beings weaving magic).

Science fantasy takes several known forms:


Dying earth with apocalyptic and post-apocalyptic fiction are sometimes classed as science fantasy because the cosmology used is not compatible with that of classic science fiction. Supernatural events may cause the downfall of civilization or perhaps they are the means by which civilization survives after science has been misused to cause catastrophic events.


Otherworld adventures set on a planet with native life forms, cultures, offering a broad scope for science fantasy, in the sense of fantasy being rationalized by reference to science-fictional conventions. Think Edgar Rice Burroughs (John Carter of Mars series). Alien life forms may also be magical, or live in a parallel universe, magical elements barely rationalized, at odds with pseudo-scientific machinery (i.e., not yet available to us today, as far as we know), The otherworlds often have a social system different from Earth's and their weaponry is either archaic (i.e., swords) or futuristic (i.e., invisible rays) and along with magic there is machinery. In a post-apocalyptic Earth, perhaps think Steampunk meets mutated magicians or magically evolved mortals.


Science fantasy is also a popular subject for online or video role-playing games, that use fantasy elements in a dystopian or futuristic world. Or, back in the day, Dungeons and Dragons. Anime and manga also rely on science fantasy, where aliens, robots and high technology often exist with supernatural concepts like gods, demons and magical manipulation.

I hope you've enjoyed this exploration - If you've a science fantasy story ready to venture into the world of print, Mythic is accepting submissions through February 28th. For your convenience, here is a link to their guidelines:
http://www.mythicmag.com/p/submissions.html

Write On
Kate
Kate ~ NaNo Team Pink

Travel the between world of science and fantasy, explore the possibilities and engage the probabilities with a review perchance? and create one of your own
exiting the company of the future (E)
in-between time is in-between a company
#

2124289

by lucifer very very very 1st
Invalid Item
This item number is not valid.
#

2147981

by Not Available.
A Change of Life (13+)
Henry needed a change of life but buying a new timeline didn't turn out as he had expected
#

2144169

by Deano
Quantum Realm (ASR)
A library book makes for an interesting adventure.
#

2067017

by Jatog the Green
The Hand (E)
A sci-fi prose short short story
#

2038430

by Poet4775
Into the Light (ASR)
The yellow light has been all but forgotten, but she will see it again.
#

2053992

by Medie Joined the Rebels
The Antidote (E)
Dr. Koch felt confident he'd found the cure. Stan couldn't wait.
#

1703239

by BScholl
The Gravity Bean (E)
The properties of new technology.
#

1999592

by Don Two
Thrice Prompted (E)
This is now reopened. this is for everybody who joins our group.
#

2016845

by David the dark one



Have an opinion on what you've read here today? Then send the Editor feedback! Find an item that you think would be perfect for showcasing here? Submit it for consideration in the newsletter!
https://Writing.Com/main/newsletters/action/nli_form



Don't forget to support our sponsor!






Thank you for this respite in your virtual home. Until next time

Thought for the week,


If nothing is improbable then nothing is impossible.


Write On!
Kate
Kate ~ NaNo Team Pink



To stop receiving this newsletter, click here for your newsletter subscription list. Simply uncheck the box next to any newsletter(s) you wish to cancel and then click to "Submit Changes". You can edit your subscriptions at any time.