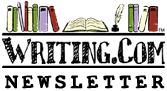 Spiritual





This week: Happiness is being Thankful

Edited by: Samberine Everose
More Newsletters By This Editor



1. About this Newsletter
2. A Word from our Sponsor
3. Letter from the Editor
4. Editor's Picks
5. A Word from Writing.Com
6. Ask & Answer
7. Removal instructions



Hello everyone, I'm Samberine Everose, and I'm here again your guest editor this week in the Spiritual Topic of the WDC Newsletter, and just like I've been saying before, I will not be tired in expressing my thankfulness to all the beautiful people here in this wonderful community of writers for not only helping us to improve our writings but giving us also encouragement, and inspiration every day.


Everybody wants to be happy, right!. So, would you like to know some secrets on how to achieve true happiness?.

Certain situations demand dramatic music. Now you have it!

Get it for Apple iOS, Android or Kindle Fire.
Creative fun in the palm of your hand.



Dear Friends,

Greetings!

What makes you happy? being famous? being rich? being a somebody? Are you sure? I know everyone likes to be happy, right? but sometimes, because of life busy-ness,- worrying about tomorrow, busy thinking our problems, our works, and deadlines that we forget some simple things in life where we can find true happiness also.

I remember the movie Trolls that I've watched this weekend, it's about a traditional belief of Bergen creature, that they can only be happy if they will eat something or they depend their happiness in eating a Troll, in other words they will not be happy throughout their lives if they can't eat even one Troll, the ending part is the Bergen creature realize through a young Troll girl name Poppy- that true happiness is already inside us and sometimes we just need others to see that happiness because sometimes its within some simple things in life.

When we woke up this morning, have we already thanked God that we are still breathing, opening two of His gifts, our two beautiful eyes wherein we can see His magnificent wonderful creation outside our window- the sky, birds, trees, people, giving an inspirational sight, and uplifting us, as well as our loved ones too who always surrounds us.

When I see my love ones especially my little one in every morning I say thanks to Him for giving me these treasures, though I/we may lack material things like mansion house, maids to serve us, cars, I don't have car, honest, I spent 10Php fare for every ride in a tricycle, going to my work as a regular employee, and sometimes I walk, but giving thanks to Him seeing my love ones every morning, it inspires me all ready to walk and face the day challenges.

How about our parents who caring us since birth, our friends, have we ever thanked them for all their encouragement, for their simple note and greetings especially when our mind is full of some business out there, that sometimes we neglect to see them, always there beside us, extending their love.

The two simple "thank you" words from us are not expecting by these wonderful people who are filling us love every day but it's a way that we can say our appreciation for them and love all those things they've given. Aside from we can also help to boost to produce more oxytocin and dopamine also- two of those happy chemicals from our brain and in them too.

How about our problems, and failures, our mistakes our uncertainty, do we say thanks for them?
It's so hard to think, but we should learn to thank these negative things that whether we like it or not its a part of our life. These are challenges that will make us grow, we can learn from our mistakes. God the Father above who created us and knew us, knew our abilities. He will not let these problems or failures to come to us if there's no good purpose in our life.
By saying thanks for everything, its an act of humility, accepting of what we are and we have, we are assuring Him to be in charge of everything.

The Lord is my shepherd; I shall not want. Psalm 23:3

Having a thankful heart even how small or simple the act and gift that has given to us, or how bad or good is it brings to our life is an attitude that will remind us of being secured to Him, appreciating all these things is a one way of tuning ourselves to stay positive and an acceptance of what we are and we have and that is true happiness and contentment.


Pieces by awesome WDC Authors for you to check On.!
These Are My JOTtings... (E)
We live much of life amid unique choices. Joy is anchored in The One beyond our life.
#

2101955

by Jay O'Toole
Breath Away (E)
I composed this poem years ago. Inspired while I was doing a breathing exercise. :)
#

2035716

by Candy praying 4 Adrie
Leaves (E)
Seemingly simple leaves.
#

2096398

by Have a Kerri Christmas!
Psalm 23; Revisited (E)
The Lord is My Shepherd - paraphrased.
#

2087222

by ~MM~
You're a Beautiful Person (E)
Hoping to make the hearts happy and put smiles on faces.
#

2150454

by Loonuh
Contest for you to try On to be inspired and share true happiness in the simple things.
The Lighthouse Poetry Contests (E)
Contests With A Christian Theme
#

1742964

by LegendaryMasK❤
Poetic Traditions Poetry Contest (E)
Test your skill and talent in the art of traditional poetry in this monthly contest.
#

2055137

by Brenpoet
Write from the Heart Poetry Contest (E)
CONTEST CLOSED
#

2093224

by ∞Purple Princess∞
Verdant Poetry Contest (E)
NATURE-themed quarterly contest.
#

2000001

by Choconut ~ Emporium Catch-Ups
Oriental Poetry Contest (E)
Poetic forms from the East. New challenges twice a month.
#

2106425

by Chris Breva - Is grateful!
Search for a WDC Heart Throb Poet (E)
A contest for the heart season- (Poetry Contest)
#

2110571

by Samberine Everose



Have an opinion on what you've read here today? Then send the Editor feedback! Find an item that you think would be perfect for showcasing here? Submit it for consideration in the newsletter!
https://Writing.Com/main/newsletters/action/nli_form



Don't forget to support our sponsor!




Feedback from our readers in my "Comedy Newsletter (February 14, 2018)"
I love comments!

I did something like number one. She was very pleased. ~ Monty

Thank you all for reading.
Don't hesitate to send me question or if you like to add an opinion or an item to be featured in my next newsletter.
You can send it through our mailbox below.Until next time.



To stop receiving this newsletter, click here for your newsletter subscription list. Simply uncheck the box next to any newsletter(s) you wish to cancel and then click to "Submit Changes". You can edit your subscriptions at any time.