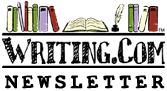 Romance/Love





This week: Our Identity being a Romance Writer

Edited by: Samberine Everose
More Newsletters By This Editor



1. About this Newsletter
2. A Word from our Sponsor
3. Letter from the Editor
4. Editor's Picks
5. A Word from Writing.Com
6. Ask & Answer
7. Removal instructions



Hello everyone, I'm Samberine Everose, and I'm here again your guest editor this week in the Romance/Love Topic of the WDC Newsletter, and just like I've been saying before, I will not be tired in expressing my thankfulness to all the beautiful people here in this wonderful community of writers for not only helping us to improve our writings but giving us also encouragement, and inspiration every day.


Are you aware of your identity being a Romance Writer?
If you already establish your Identity, are you sure that you are making a good identity to your readers?
Find out more here.


Writing.Com presents "Writing Prompts", the app with an endless supply of creative inspiration for writers!

Get it for Apple iOS, Android or Kindle Fire.
Creative fun in the palm of your hand.


Dear Friends,

Greetings!

Every individual has its own identity if you really knew a person you can distinguish his/her own identity and you can differentiate him/her from others.

Sometimes, authors can become a different person when they write, but we should think that when we write there is always a part of identity in us that is being poured to our writings even if we are trying to hide our real identities.

We always found a unique identity of every author, which is much more different when they are in their real selves, just for being a writer in the Romance Genre already, we can always recognize authors, through their unique touches within their characters or the way how their story goes. So usually some author use a pseudonym in their writings to cover up their real identity in person and will not limit them in their writings.

Yes, we can always be infinite in our writings, we can make our characters to be in any role that we like them to be, but we should also take into consideration the image or our images that we are building to our readers through our writings.

Like for instance if we are writing Romance story that is full of dramatic sequence and have tragedy ending like the way how Shakespeare wrote- then we will be considered to be a romantic but a tragically love storyteller.

In the Philippines, my latest favorite Romance Writer is Rose Tan making the sequence of her Romance Stories to be playful and her characters are funny but romantic.

But my favorite classic Filipino Romance writer Francisco Balagtas in his Florante and Laura classical love story, wherein the story is common, simple and yet very romantic because he expressed it in the poetical and epic style. He used Tagalog classical words and it gave sophistication when you read it.

We can always create our own identity being a Romance Writer to our readers, and we can choose the image that we like readers to comprehend in us.

But, don't forget my friend, we have to choose finely and properly our Identity as a Romance Author,
so that our readers will never forget us, we will stay there in their hearts, even just only a piece of us- our writings.

So Write On and spread those Love!


Pieces by awesome WDC Authors for you to check On.!
Claddagh Rings & Gossamer Dreams (E)
Winner in Samberine Rose's Contest for I Write in 2018
#

2148921

by ♥holiday tHiNg♥
Invalid Item
This item number is not valid.
#

2148044

by Not Available.
Eternity in Your Eyes (E)
Poem about romantic love, inspired by my amazing husband
#

2149827

by PWheeler ~ love ~ joy ~ peace
Love Caught Me Off Guard (E)
Love is in the air on Valentine's Day. This poem is written on a true life experience.
#

2149187

by Jeannie
Contest for you to try to show more your identity as a Romance Writer.
Quotation Inspiration: Official Contest (ASR)
Use the quote provided to write a story and win big prizes!
#

1207944

by Writing.Com Support
Adaptive Writers Contest (ASR)
This contest intends to challenge writers to write outside of their comfort zone
#

2150828

by Slime-J~Has given up
Poetic Traditions Poetry Contest (E)
Test your skill and talent in the art of traditional poetry in this monthly contest.
#

2055137

by Brenpoet
Pond Poetry - ON HIATUS! (ASR)
A monthly poetry contest sponsored by The Talent Pond. Come on by!
#

1341392

by ~♥~Krysha~♥~
Verdant Poetry Contest (E)
NATURE-themed quarterly contest.
#

2000001

by Choconut ~ Emporium Catch-Ups
Oriental Poetry Contest (E)
Poetic forms from the East. New challenges twice a month.
#

2106425

by Chris Breva - Is grateful!
Holiday Short Story Contest (E)
Write a short story based on an obscure holiday with the prompt provided.
#

2142083

by Chief Coffee Elf, Lilli



Have an opinion on what you've read here today? Then send the Editor feedback! Find an item that you think would be perfect for showcasing here? Submit it for consideration in the newsletter!
https://Writing.Com/main/newsletters/action/nli_form



Don't forget to support our sponsor!




Feedback from our readers in "Spiritual Newsletter (February 28, 2018)"
I love comments!

Lovely post on being thankful, even with things that are hard to give thanks for. Every day we wake up is a blessing and another day to enjoy God's blessings.

Morningstar

Thank you for reminding us we don't need anything to be happy other than who we are as individuals. And I always have loved that particular Psalm.


Elfin Dragon - poetry fiend

A wonderful newsletter on thankfulness. We really need to add this to our writing to give the reader some satisfaction. When a character shows this trait it can connect with a reader. It doesn't have to be in their face "I'm so Thankful!" but their actions toward others and the situations will show if this is in their heart.

Write 2 Publish 2020

One great suggestion is that each new day is a gift from God. All we need to do is untie the ribbons.
Zeke

Zeke

Thank you all for reading.
Don't hesitate to send me question or if you like to add an opinion or an item to be featured in my next newsletter.
You can send it through our mailbox below.Until next time.



To stop receiving this newsletter, click here for your newsletter subscription list. Simply uncheck the box next to any newsletter(s) you wish to cancel and then click to "Submit Changes". You can edit your subscriptions at any time.