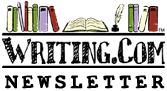 Noticing Newbies





This week: Struggles in being a Newbie

Edited by: Samberine Everose
More Newsletters By This Editor



1. About this Newsletter
2. A Word from our Sponsor
3. Letter from the Editor
4. Editor's Picks
5. A Word from Writing.Com
6. Ask & Answer
7. Removal instructions



Hello everyone, I'm Samberine Everose, and I'm here again your guest editor this week in the Noticing Newbies Topic of the WDC Newsletter, and just like I've always been saying, I will not be tired in expressing my thankfulness to all the beautiful people here in this wonderful community of writers for not only helping us to improve our writings but giving us also encouragement and inspiration every day.


I will never forget being a newbie here in WDC.

It's fun because all are new, and you are excited, but take note its not always been easy.
Find out here what is sometimes newbie are struggling for.


Writing.Com presents "Party Prompts", the iPhone app with an endless supply of dinner party conversation starters and inspirations!

Get it for Apple iOS.
Creative fun in the palm of your hand.


Dear Friend,

Greetings!

Sometimes I've missed being a newbie. Newbies are those babies in WDC, in other words, they are those new members who are 6 months old and less, so when you reach 7 months old already you are no longer a newbie, but an oldbie?
and when you become 5 years old like me and above you will already an agedbie? and what if those 10 years and above? classbie short for classy or classic.


I remember when I was still a newcomer or newbies here in WDC, I'm so very much excited because it made me remind my passion in writing and WdC helps me to return back to my first love, and I almost got thrilled when those poems I've created were beginning returning to my mind like a dripping of a fine rain in summer.

But, though even if I am so much excited then, there are always things that I struggled for.

Here are some, that I know some newbie are aware of it, and oldbies like me would like to consider.


1. Doubts and shyness

- It took many times for me to think before I let my writings to be shared here in public.
So I started only writing in few lines.
Yup!, that is always true, because being an ESL (English Second Language) and knowing that English is the main language that is using here, I have doubt and fear to share my writings thinking that they will not understand what I am trying to say, other than I don't use English language in my everyday real life so it made me uncomfortable to use it here. But, being here and log on every day, it made me familiarize, to improve, learn from WDC mentors and be confident to use this language, it's true that practice makes perfect every day.
Suggestion-

if you are still not yet ready to share your writings with the public, there is the tool that tells about access restriction wherein you can choose: "keep private for your eyes only," wherein in there, only you can see it, and you can edit anytime you like.
2.

Direction-

WDC is a huge place but interesting and wonderful when you find its different secret tools that encourage you to create. When I was still new here and excited to create but don't know how to create those different interesting things, there is the WDC Manual 101 "Writing.Com 101"
, other than you can also find some created static direction by some kind members here that are willing to share and direct you on navigating WDC.
Suggestion:


1. Read the main WDC manual - "Writing.Com 101"

2. You can email any member here especially the oldbies, agedbies or even the classbie they are all willing to help because they've been a newbie before, they knew what it feels to be a newbie, other than you can gain also a friendship from them as your bonus.

3. You can post in the WDC Newsfeed.
Newsfeed can serve as the emergency 911 here if you already lost between the pages, many will immediately respond, I am very sure on that.


Here are some forum that offers great help to newbies.
"What Should I Do First?"

"Newbie Help And Support Group on hiatus"

"Wandering through Writing.Com"

"Invalid Item"


3.
Membership

- I know that being a newbie you are still limited in resources, especially for having a membership fee. But WDC will not totally limit you in writings just for membership. There is a free membership that WDC offers, it's automatic once you become a registered author, where you can start on to find your voice and deciding what are the things you really like before aiming to have a higher membership.
Suggestion:

Did you know that WDC world has hidden exciting treasures, there are ways on how you can save your own membership fee.
Just by reviewing already, for every 250 characters you gave in the comment or opinion box, you will gain gift points
, entering a contest, creating forums and there is also some forum here that gifts and give membership like "Request An Upgrade From RAOK"
. The only thing you will do is to become active in writing and reviewing, in that way yourself especially in writing will not only improve and you gain confidence but also you can win friendship.

4.
Socialization

- If you are a timid person like me, and anti-social you always have doubts and fears before entering a forum or group. But we always need it for relaxation as well as to share our opinion and learn too from others.

Suggestion

- Try entering Contest, Activities and Groups. Most members here are kind and friendly, they are always been grateful and willing to share their talents. So as a newbie don't be shy to try the contest, forums and enter groups, that is where we can learn and gain confidence, other than winning friendship.

Being a baby or a newbie are sometimes not easy, but as long as there are kind elder members that will help to direct newbies, struggles will not be bitter but always a challenging to beat.

So beat the struggles, Write and Review On!


Pieces by awesome WDC Newbie Authors for you to check On.!
The Fifth Season (E)
The seasons of love. It was written well over a decade ago for a high school competition.
#

2157438

by H.C.Chaunteur
In God's Great Hands (E)
Rondeau poem celebrating God's powerful love
#

2146469

by PWheeler ~ love ~ joy ~ peace
Invalid Item
This item number is not valid.
#

2157415

by Not Available.
Contest you want to try On.
Invalid Item
This item number is not valid.
#

2147990

by Not Available.
Word Pictures Contest (13+)
Share your lyrical worlds here and receive a review just for entering!
#

2149424

by Ray Scrivener
Twisted Traditional Poetry Contest. (13+)
A bi-weekly contest that challenges traditional norms and puts creativity to the test.
#

2156513

by CJ
The Newbies + Open Poetry Contest (18+)
Poetry contest for Newbies + anyone in first year at WDC. Won 2016 Quill Best New Contest.
#

2085863

by Sally
The Daily Poem (13+)
Think you can write a contest winning poem in 24 hours? Back for April only!
#

2133562

by Shaye
Good Deeds Get CASH! (E)
Write reviews to win cash prizes!
#

1908150

by Writing.Com Support
Short Shots: Official WDC Contest (E)
Use the photo to inspire your creativity. Write a short story and win big prizes!
#

1221635

by Writing.Com Support
Adaptive Writers Contest (ASR)
This contest intends to challenge writers to write outside of their comfort zone
#

2150828

by Slime-J~Has given up
Pond Poetry - ON HIATUS! (ASR)
A monthly poetry contest sponsored by The Talent Pond. Come on by!
#

1341392

by Krysha-More Testing, Scared
Verdant Poetry Contest (E)
NATURE-themed quarterly contest.
#

2000001

by Choconut ~ Emporium Catch-Ups



Have an opinion on what you've read here today? Then send the Editor feedback! Find an item that you think would be perfect for showcasing here? Submit it for consideration in the newsletter!
https://Writing.Com/main/newsletters/action/nli_form



Don't forget to support our sponsor!




Feedback from our readers in "Comedy Newsletter (May 9, 2018)"
I love comments!

Much thanks for this information. ~ dog pack:saving4 premium renew
Thank you all for reading.
Don't hesitate to send me a question or if you like to add an opinion or an item to be featured in my next newsletter.
You can send it through our mailbox below.Until next time.



To stop receiving this newsletter, click here for your newsletter subscription list. Simply uncheck the box next to any newsletter(s) you wish to cancel and then click to "Submit Changes". You can edit your subscriptions at any time.