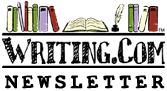 Romance/Love





This week: Finding The Real One

Edited by: Samberine Everose
More Newsletters By This Editor



1. About this Newsletter
2. A Word from our Sponsor
3. Letter from the Editor
4. Editor's Picks
5. A Word from Writing.Com
6. Ask & Answer
7. Removal instructions



Hello everyone, I'm Samberine Everose and I'm here again your guest editor this week in the Romance/Love Topic of the WDC Newsletter, and just like I've always been saying, I will not be tired in expressing my thankfulness to all the beautiful people here in this wonderful community of writers for not only helping us to improve our writings but giving us also encouragement and inspiration every day.


With so many trendies today that makes life easy. I wonder, if how can we determine now which one love is true and real if everyone will be now as easy as the thumb ticks.




| | |
| --- | --- |
| ASIN: 0996254145 | |



Finding the Real One

Communication is just only a pick and tick nowadays. If you miss your family living even a thousand kilometers from where you are standing now, pick your gadget and tick fb, then you can already see their faces and hear their voices instantly.

As well as to long distance relationship too, unlike before that mostly they are using a snail mail or a recorded voice or tape, now it was easy, just face your gadgets and you will be with him/her already.

With these different trendies that makes life easy. I wonder, if how can we determine now which one is true and real if everyone will be now as easy as the thumb ticks.

Like for example, in just finding already the real one, during the olden times they said, when there's a certain feeling, it was demonstrated, there's an act or test to show in proving if that feeling is true, there will be a challenge and it will take time. But now as long as the diff parties involved will like each other, no more test or challenge, and even no more eyeballs or meetings, we'll just say yes even if we don't know what we are in favor for.

I am not saying that I hated this high tech and gies today and wishing to return back and live in the times when snail mails and serenades are the ins, but we should also consider that even we are in the process of metamorphosing every day to life easiness and maybe to world wildness, we should also be careful and not to be seriously entangled in these things, because-
For where your treasure is, there will your heart be also~Luke 12:34KJV

but instead, we should learn to be choosy, use our mind not only heart, learn to take time in finding the real one, the real love, we are all have the capability to love and I know everyone would not like to be in regret at the end.

There can be many love stories and we can have our own love story too, we can not only have it but we have the possibility to make it, though sometimes we can't choose the way we want to be its ending and perform the beautiful scenes that we like, but we have a strong hold on it, we are the one who are involve, in other words we have the freedom to Decide. God gave us the freedom to decide for ourselves, so we may have the possibility to choose what we like, to choose where our hearts will reside, to choose our treasures.

Have you already find your real one? Why not write it on and share it here.💓




Pieces by awesome WDC Authors for you to check On.
Writing Love Letters (E)
Some suggestions on making them even more special for your partner
#

834934

by Incurable Romantic
Eternity in Your Eyes (E)
Poem about romantic love, inspired by my amazing husband
#

2149827

by 🌸 pwheeler ~ love joy peace
The Constant Heart (E)
A lifetime of love ... (Form: English Sonnet) WDC Heartthrob Poet Winner
#

2110976

by 🌓 HuntersMoon
Claddagh Rings & Gossamer Dreams (E)
Winner in Samberine Rose's Contest for I Write in 2018
#

2148921

by ♥HOOves♥
Contest you want to try On.
Holiday Short Story Contest - closed (E)
Write a short story based on an obscure holiday with the prompt provided.
#

2142083

by Lilli ☕
Word Pictures Contest (13+)
Share your lyrical worlds here and receive a review just for entering!
#

2149424

by I, Raven Scryer
Invalid Item
This item number is not valid.
#

2156513

by Not Available.
Invalid Item
This item number is not valid.
#

2085863

by Not Available.
The Daily Poem - paused (13+)
New round coming soon! Stay tuned!
#

2133562

by Jayne
Pretty Pesky Prompts (E)
Closed until December! Contest to push you to your limit and beyond with strange prompts
#

2105059

by Pesky Amanda A.K.A. LadyNazlia
Adaptive Writers Contest (ASR)
This contest intends to challenge writers to write outside of their comfort zone
#

2150828

by Slime-J~Has given up



Have an opinion on what you've read here today? Then send the Editor feedback! Find an item that you think would be perfect for showcasing here? Submit it for consideration in the newsletter!
https://Writing.Com/main/newsletters/action/nli_form



Don't forget to support our sponsor!




| | |
| --- | --- |
| ASIN: B07YXBT9JT | |

Feedback from our readers in "Romance/Love Newsletter (July 4, 2018)"
I love comments!

Happy 4th of July Samberine, a wonderful newsletter. I enjoyed it as always. I'm glad that you included the greatest love story of all time. May you have a blessed day always
~LegendaryMask💗

Hi, Teresa 😊 you are very welcome, and Happy 4th of July too.💝

Well said.
~ Dandelion Man

Thank you.💝

Feedback from our readers in "Spiritual Newsletter (June 20, 2018)"
I love comments!

I enjoyed reading your newsletter And the subect speaks for itself. My family are always saying Ineed to sleep, but what can you do? if the sleep wont come. My patern of sleep is jjust a few hours each day and I don't have any problems with the sleep, but I agree I should make time to do something different from my daily activity..

~Mary Ann MCPhedran/fearless

Thank you all for reading.

Don't hesitate to send me a question or if you like to add an opinion or an item to be featured in my next newsletter.
You can send it through our mailbox below.Until next time.

| | |
| --- | --- |
| ASIN: 0997970618 | Book |



To stop receiving this newsletter, click here for your newsletter subscription list. Simply uncheck the box next to any newsletter(s) you wish to cancel and then click to "Submit Changes". You can edit your subscriptions at any time.