This week: Elizabeth Jennings

Edited by: Stormy Lady
More Newsletters By This Editor



1. About this Newsletter
2. A Word from our Sponsor
3. Letter from the Editor
4. Editor's Picks
5. A Word from Writing.Com
6. Ask & Answer
7. Removal instructions



This is poetry from the minds and the hearts of poets on Writing.Com. The poems I am going to be exposing throughout this newsletter are ones that I have found to be, very visual, mood setting and uniquely done.
Stormy Lady

| | |
| --- | --- |
| ASIN: B07N36MHWD | Kindle |



Delay
by Elizabeth Jennings

The radiance of the star that leans on me
Was shining years ago. The light that now
Glitters up there my eyes may never see,
And so the time lag teases me with how

Love that loves now may not reach me until
Its first desire is spent. The star's impulse
Must wait for eyes to claim it beautiful
And love arrived may find us somewhere else.

In a Garden by Elizabeth Jennings
When the gardener has gone this garden
Looks wistful and seems waiting an event.
It is so spruce, a metaphor of Eden
And even more so since the gardener went,

Quietly godlike, but of course, he had
Not made me promise anything and I
Had no one tempting me to make the bad
Choice. Yet I still felt lost and wonder why.

Even the beech tree from next door which shares
Its shadow with me, seemed a kind of threat.
Everything was too neat, and someone cares

In the wrong way. I need not have stood long
Mocked by the smell of a mown lawn, and yet
I did. Sickness for Eden was so strong.

In Memory of Anyone Unknown to Me
by Elizabeth Jennings

At this particular time I have no one
Particular person to grieve for, though there must
Be many, many unknown ones going to dust
Slowly, not remembered for what they have done
Or left undone. For these, then, I will grieve
Being impartial, unable to deceive.

How they lived, or died, is quite unknown,
And, by that fact gives my grief purity--
An important person quite apart from me
Or one obscure who drifted down alone.
Both or all I remember, have a place.
For these I never encountered face to face.

Sentiment will creep in. I cast it out
Wishing to give these classical repose,
No epitaph, no poppy and no rose
From me, and certainly no wish to learn about
The way they lived or died. In earth or fire
They are gone. Simply because they were human, I admire.

Elizabeth Jennings was born on July 18,1926 in Lincolnshire England. Her father was a Chief Medical Officer that moved the family to Oxford England when she was six. Jennings discovered poetry while attending Oxford High School. She went on to attend St Anne's College. After graduation Jennings became a librarian at the Oxford Library.

Jennings started getting her poems published in Oxford Poetry, New English Weekly, The Spectator, Outposts and Poetry Review. Her first book of poetry, "Poems" was published in 1953. Her second book, "A Way of Looking," published in 1955, won the Somerset Maugham award. In all Jennings wrote and published many books of poetry, including "The Mind has Mountains" published in 1966, "The Animals' Arrival" in 1969, "Growing Points" in 1975. Followed Celebrations and Elegies in 1982 and "A Spell of Words: Selected Poems for Children," in 1997. Her last book of poetry, "Timely Issues" was published in 2001.

Elizabeth Jennings suffered from mental illness throughout her life. She never married and spent the last few years of her life living at Unity House in Old Headington. She died on October 26, 2001 an in care home. She is buried in Wolvercote Cemetery, Oxford.

Rembrandt's Late Self-Portraits
by Elizabeth Jennings

You are confronted with yourself. Each year
The pouches fill, the skin is uglier.
You give it all unflinchingly. You stare
Into yourself, beyond. Your brush's care
Runs with self-knowledge. Here

Is a humility at one with craft.
There is no arrogance. Pride is apart
From this self-scrutiny. You make light drift
The way you want. Your face is bruised and hurt
But there is still love left.

Love of the art and others. To the last
Experiment went on. You stared beyond
Your age, the times. You also plucked the past
And tempered it. Self-portraits understand,
And old age can divest,

With truthful changes, us of fear of death.
Look, a new anguish. There, the bloated nose,
The sadness and the joy. To paint's to breathe,
And all the darknesses are dared. You chose
What each must reckon with.



Thank you all!
Stormy Lady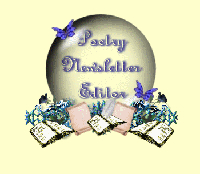 ~~~~~~~~~~~~~~~~~~~~~~~~~~~~~~~~~~~~~~~~~~~~~~~~~~





~~~~~~~~~~~~~~~~~~~~~~~~~~~~~~~~~~~~~~~~~~~~~~~~~~
The winner of "Stormy's poetry newsletter & contest"
[ASR] is:


Bio-Distraction (E)
include: laughter, tipsy, relative, count, down, resolutions, broken, daylight
#

2176781

by Solace.Bring



Most of my firm resolutions never come to pass.
You see, when I seem strong, I'm fragile as a crystal glass.

Or if they're promptly broken, then I say, "That doesn't count!"
And charge it to my overdrawn emotional expense account.

By crisp daylight, I find my life quite flippin' serious,
But after darkness falls, I turn the World Dial to 'Delirious'.

Tipsy with the roller coaster view from starry sky above,
I flutter down to find the ground fits me just like a baseball glove.

I've heard that all is relative. Well, let me clearly proclaim this …
Laughter makes it bearable, Nietzsche's gazing-back abyss.


Honorable mention:

Let the Resolutions Come (13+)
Let the countdown begin for the New Year and the resolutions come thereafter.
#

2178464

by Sharmelle ~ Welcome to 2022!!!

~~~~~~~~~~~~~~~~~~~~~~~~~~~~~~~~~~~~~~~~~~~~~~~~~~

~~~~~~~~~~~~~~~~~~~~~~~~~~~~~~~~~~~~~~~~~~~~~~~~~~


These are the rules:

1) You must use the words I give in a poem or prose with no limits on length.

2) The words can be in any order and anywhere throughout the poem and can be any form of the word.

3) All entries must be posted in your portfolio and you must post the link in this forum, "Stormy's poetry newsletter & contest"
[ASR] by February 4, 2018.

4) The winner will get 3000 gift points and the poem will be displayed in this section of the newsletter the next time it is my turn to post (February 7, 2018)

The words are:



phone missed people contact interaction lost time cafe
Good luck to all
~~~~~~~~~~~~~~~~~~~~~~~~~~~~~~~~~~~~~~~~~~~~~~~~~~

~~~~~~~~~~~~~~~~~~~~~~~~~~~~~~~~~~~~~~~~~~~~~~~~~~

Snowflakes Dance (E)
in a Sidlak poem
#

2178405

by Dave
Neurologically Rehearsed (ASR)
Reality is perception; our minds create the deception. (30 lines)
#

2178413

by Warped Sanity
Winter Promenade (E)
Outside the wind buoys up the drifting snow... A Verdant Poetry Entry
#

2178503

by 🌜 HuntersMoon

~~~~~~~~~~~~~~~~~~~~~~~~~~~~~~~~~~~~~~~~~~~~~~~~~~


~~~~~~~~~~~~~~~~~~~~~~~~~~~~~~~~~~~~~~~~~~~~~~~~~~

Prince Charming (13+)
Prince Charming thinks he's all that - a winner in Once Upon A Contest.
#

2178472

by Robert Edward Baker
The Snow Queen's Garden (E)
Do you believe in magic?
#

2178530

by Azrael Tseng
Invalid Item
This item number is not valid.
#

2178557

by Not Available.

~~~~~~~~~~~~~~~~~~~~~~~~~~~~~~~~~~~~~~~~~~~~~~~~~~


~~~~~~~~~~~~~~~~~~~~~~~~~~~~~~~~~~~~~~~~~~~~~~~~~~

Lonely Little Kitten (E)
Alone waiting at the rescue shelter.
#

2177894

by TheBusmanPoet
Christmas Is Calling (E)
Short poem about Christmas
#

2178193

by LynnPenCakes
Winter Wolf (E)
A poem about the connection to wild you feel in winter. Nonet form.
#

2178489

by LadyGreen

~~~~~~~~~~~~~~~~~~~~~~~~~~~~~~~~~~~~~~~~~~~~~~~~~~







Have an opinion on what you've read here today? Then send the Editor feedback! Find an item that you think would be perfect for showcasing here? Submit it for consideration in the newsletter!
https://Writing.Com/main/newsletters/action/nli_form



Don't forget to support our sponsor!




| | |
| --- | --- |
| ASIN: 197380364X | |


| | |
| --- | --- |
| ASIN: B000FC0SIM | |



To stop receiving this newsletter, click here for your newsletter subscription list. Simply uncheck the box next to any newsletter(s) you wish to cancel and then click to "Submit Changes". You can edit your subscriptions at any time.