This week: Using Books to Help With Writing Poetry

Edited by: RedWritingHood♡WDC
More Newsletters By This Editor



1. About this Newsletter
2. A Word from our Sponsor
3. Letter from the Editor
4. Editor's Picks
5. A Word from Writing.Com
6. Ask & Answer
7. Removal instructions



One ought, every day at least, to hear a little song, read a good poem, see a fine picture, and if it were possible, to speak a few reasonable words.
Johann Wolfgang von Goethe (1749 - 1832)
Every English poet should master the rules of grammar before he attempts to bend or break them.
Robert Graves (1895 - 1985)

Writing.Com presents "Writing Prompts", the app with an endless supply of creative inspiration for writers!

Get it for Apple iOS, Android or Kindle Fire.
Creative fun in the palm of your hand.







Using Books to Help With Writing Poetry – From Resources to Prompts and More!




Books. During my childhood they were how I traveled, how I learned and sometimes they inspired adventures and major bouts of creativity.

As I grew, books continued to be a big part of my life, many times the ways listed above, but in other ways to. Today I want to share some ways you can use books to help you with your poetry.



To Educate


Terms/Forms/Tools (poetic devices): You don't need to know poetry terms and tools to create good poetry, however having an understanding of them can help you along the way. Knowing about and practicing poetry forms can help you, because the more you practice anything can make you better at it. It can also help you find your own style, your own voice. There are several poetry resources that can educate you on things like poetry terms, forms and tools. Below are some of my favorites.


Red's Favs: This is not a comprehensive list, but it is a list of my top favorites – Patterns of Poetry by Miller Williams (my first poetry book of this type), The New Princeton Encyclopedia of Poetry and Poetics, the po.e.try dic.tion.ar.y, by Drury, and The Teachers & Writers Handbook of Poetic Forms by Padgett.


Poets/Poetry: Reading about poets and poetry can give you insight, as well as exposure to many styles of poetry. You'll find the things you like and what you don't like. When you put both reading poets and poetry with learning terms, tools and forms your understanding multiples significantly.


Red's Favs: I have lots of favorite poets, but I'll keep my list to my top five. That would be, in no particular order: Silvia Plath, Langston Hughes, Shel Silverstein, Emily Dickinson, and Edgar Allen Poe.



For Prompts


This section isn't to negate any other ways to get prompts, only enhance your resource list for prompts.

Prompts: There are a variety of ways to grab prompts from books. You can just grab any book and go to a random page and point to a random sentence, you can use some dice to dictate a random chapter, page and sentence, you can just be reading a book and a sentence sparks an idea you want to explore poetically, or any number of other ways you can think of.


As a prompt: Use a book itself as a prompt. It's a great way to explore some interesting possibilities. It can be featured or be in passing.



Journals


I use journaling more in the second way listed here rather than the first but both are great ways to help with your poetry.


Free Writing: This is where you just start writing. It doesn't matter what topic, or if you move from one topic to another. It doesn't have to make sense. Just write.


Idea Keeper: The other way to use a journal would be to jot down your ideas. This can be chunks of poems you are working on but don't complete for whatever reason, topics you want to explore poetically, or even snippets of lines that come to you. You can even write, and rewrite your poetry in your journal.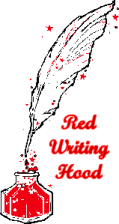 Theme:






Zion [E]
Written after I learned the history books don't hold all the information
by Scottiegazelle



Have an opinion on what you've read here today? Then send the Editor feedback! Find an item that you think would be perfect for showcasing here? Submit it for consideration in the newsletter!
https://Writing.Com/main/newsletters/action/nli_form



Don't forget to support our sponsor!







Have a question, answer, problem, solution, tip, trick, cheer, jeer, or extra million lying around?

If so, send it through the feedback section at the bottom of this newsletter OR click the little envelope next to my name RedWritingHood♡WDC
and send it through email.


Comments on last month's newsletter:


No comments last newsletter, so here's a question: Who are your top three poets?


Poetry on!




To stop receiving this newsletter, click here for your newsletter subscription list. Simply uncheck the box next to any newsletter(s) you wish to cancel and then click to "Submit Changes". You can edit your subscriptions at any time.