This week: Christina Rossetti

Edited by: Stormy Lady
More Newsletters By This Editor



1. About this Newsletter
2. A Word from our Sponsor
3. Letter from the Editor
4. Editor's Picks
5. A Word from Writing.Com
6. Ask & Answer
7. Removal instructions



This is poetry from the minds and the hearts of poets on Writing.Com. The poems I am going to be exposing throughout this newsletter are ones that I have found to be, very visual, mood setting and uniquely done.
Stormy Lady

Writing.Com presents "Writing Prompts", the app with an endless supply of creative inspiration for writers!

Get it for Apple iOS, Android or Kindle Fire.
Creative fun in the palm of your hand.



Who Has Seen the Wind?
by Christina Rossetti

Who has seen the wind?
Neither I nor you.
But when the leaves hang trembling,
The wind is passing through.
Who has seen the wind?
Neither you nor I.
But when the trees bow down their heads,
The wind is passing by.

Echo
by Christina Rossetti

Come to me in the silence of the night;
Come in the speaking silence of a dream;
Come with soft rounded cheeks and eyes as bright
As sunlight on a stream;
Come back in tears,
O memory, hope, love of finished years.

O dream how sweet, too sweet, too bitter sweet,
Whose wakening should have been in Paradise,
Where souls brimfull of love abide and meet;
Where thirsting longing eyes
Watch the slow door
That opening, letting in, lets out no more.

Yet come to me in dreams, that I may live
My very life again though cold in death:
Come back to me in dreams, that I may give
Pulse for pulse, breath for breath:
Speak low, lean low
As long ago, my love, how long ago.

On December 5 1830, in London, England, Gabriele Rossetti and his wife Frances Polidori welcomed their fourth child, Christina Rossetti into the world. Christina was the younger sister of Dante Gabriel Rossetti. All the Rossetti children were educated at home by their mother, until the boys were sent to school in 1936, to further their education. All four children seemed to excel in writing, and art. It was obvious early one that Christina like her brother Dante showed promise as a poet. As a teen her grandfather would print her poetry on his own press. Her early childhood was said to be one filled with love and family.

Rossetti's father took ill in 1843, forcing her mother to return to work to support the family. Her two older siblings also started working to help. Dante remained in school to study and Christina stayed home to take care of her father. Two years after her father fell ill, Rossetti suffered a psychological breakdown and fell ill herself. The doctors believe the family struggles and hardships led to her illnesses. Her father died in 1854, Rossetti lived most of her adult life in debt to her brother William.

In 1847 a collection of her poems, titled Verses, was privately printed by her grandfather Polidori. One year later her poems, "Death's Chill Between" and "Heart's Chill Between," were published in The Athenaeum. She was now a nationally published poet at seventeen. Rossetti was a devoted Anglican. Her religious views were supposedly the reasons behind her turning down two marriage proposals. One from a painter James Collinson who was Roman Catholic and the other Charles Bagot Cayley, because he was an atheist. Her early poetry seemed to rejected earthly possessions in favor of spiritual devotion, which may have also played a role in her decision not to marry the two suitors.

In 1850 Rossetti wrote Maude: A Story for Girls, which wasn't published until 1897 after her death. Her other early publications included "Maude Clare" appeared in Once a Week, in 1859 and the short stories "The Lost Titian" in 1856 and "Nick" in 1857.In early 1859 Rossetti began volunteering at the St. Mary Magdalene Penitentiary in Highgate, a charitable institution for the reclamation of "fallen" women. She was very devoted to her work there. Rossetti published two more poems "A Birthday" in April 1861 and "An Apple-Gathering" in August 1861. In 1862 she published Goblin Market and Other Poems. She continued publishing poems in literary magazines over the next ten years. In 1870 she became very ill, losing all her hair and said to be near death it took her almost two years to recover. Sing-Song: A Nursery Rhyme Book was published by Routledge in 1872. She also published A Pageant in 1881, Time Flies: A Reading Dairy in 1885 and The Face of the Deep in 1882.

Though Rossetti continued writing throughout her later years, she spent her adult life in poor health. By the time she was fifty she was considered disabled. In 1892 Rossetti was diagnosed with breast cancer. She underwent an at home mastectomy. The cancer recurred the following year. Then after months of acute suffering, Christina Rossetti died on December 29, 1894.


Silent Noon
by Christina Rossetti

Your hands lie open in the long fresh grass, -
The finger-points look through like rosy blooms:
Your eyes smile peace. The pasture gleams and glooms
'Neath billowing skies that scatter and amass.
All round our nest, far as the eye can pass,
Are golden kingcup-fields with silver edge
Where the cow-parsley skirts the hawthorn-hedge.
'Tis visible silence, still as the hour-glass.

Deep in the sun-searched growths the dragon-fly
Hangs like a blue thread loosened from the sky: -
So this wing'd hour is dropt to us from above.
Oh! clasp we to our hearts, for deathless dower,
This close-companioned inarticulate hour
When twofold silence was the song of love.



Thank you all!
Stormy Lady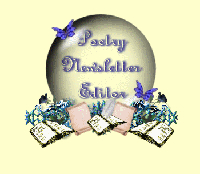 ~~~~~~~~~~~~~~~~~~~~~~~~~~~~~~~~~~~~~~~~~~~~~~~~~~





~~~~~~~~~~~~~~~~~~~~~~~~~~~~~~~~~~~~~~~~~~~~~~~~~~
The winner of "Stormy's poetry newsletter & contest"
[ASR] is:



Small Town, Big Love (E)
A quiet country town couple falls in love.
#

2204634

by Crissy ~ TTOSBT! 🌸💛


Blueberries grew in perfect lines
through fields that we explored,
and country songs blared from the car
till dawn did come once more.

The faded wood which held the bridge
that dripped with misty dew
flew our nation's sacred flag
in honor of freedom true.

That day we drove the dirty road
to the old chapel in town.
Two hearts in matching synchrony,
our love song was the sound.

Wedding in quaint gazebo white,
vows whispered with love so deep.
New family begins today.
Our lips meet in kisses sweet.

Honorable mention:


May Heaven Know Old Glory (E)
Stormy's Poetry Contest entry
#

2203280

by Rhychus

~~~~~~~~~~~~~~~~~~~~~~~~~~~~~~~~~~~~~~~~~~~~~~~~~~

~~~~~~~~~~~~~~~~~~~~~~~~~~~~~~~~~~~~~~~~~~~~~~~~~~


These are the rules:

1) You must use the words I give in a poem or prose with no limits on length.

2) The words can be in any order and anywhere throughout the poem and can be any form of the word.

3) All entries must be posted in your portfolio and you must post the link in this forum, "Stormy's poetry newsletter & contest"
[ASR] by November 29, 2019.

4) The winner will get 3000 gift points and the poem will be displayed in this section of the newsletter the next time it is my turn to post (December 4, 2019)

The words are:



drifting taps echo gaze tears pulse stone mist
Good luck to all
~~~~~~~~~~~~~~~~~~~~~~~~~~~~~~~~~~~~~~~~~~~~~~~~~~

~~~~~~~~~~~~~~~~~~~~~~~~~~~~~~~~~~~~~~~~~~~~~~~~~~

Senyru (E)
syllable 5/7/5 17 total
#

2203852

by Grieving Lyn
Rude Alf (ASR)
Spooky Spoof on that old 'reindeer' song. This has a kid in a ghost suit, for CRAMP.
#

2204192

by Thankful Sonali boo-tiful day!
Mother Nature (E)
personification contest poem about humanity taking mother nature for granted entered in
#

2204232

by Lisa Noe Kittyluv um Puppyluv

~~~~~~~~~~~~~~~~~~~~~~~~~~~~~~~~~~~~~~~~~~~~~~~~~~


~~~~~~~~~~~~~~~~~~~~~~~~~~~~~~~~~~~~~~~~~~~~~~~~~~

Dragon Witch (E)
Children's, Fantasy, Picgture Inspired, Form: Quatrains
#

2204280

by ShelleyA~10 years at WDC
Invalid Item
This item number is not valid.
#

2204348

by Not Available.
TREE OF SOULS (E)
Encounter with evil
#

2204388

by J.L. O'Dell(NANO)

~~~~~~~~~~~~~~~~~~~~~~~~~~~~~~~~~~~~~~~~~~~~~~~~~~


~~~~~~~~~~~~~~~~~~~~~~~~~~~~~~~~~~~~~~~~~~~~~~~~~~

Not The Wisest Choice (13+)
A 28 line poem written for the Writer's Cramp prompt, 10/31/19.
#

2204432

by hullabaloo22
The Song of Autumn (E)
A Rondine about autumn
#

2204460

by S.L. Davis
Invalid Item
This item number is not valid.
#

2204598

by Not Available.

~~~~~~~~~~~~~~~~~~~~~~~~~~~~~~~~~~~~~~~~~~~~~~~~~~







Have an opinion on what you've read here today? Then send the Editor feedback! Find an item that you think would be perfect for showcasing here? Submit it for consideration in the newsletter!
https://Writing.Com/main/newsletters/action/nli_form



Don't forget to support our sponsor!







To stop receiving this newsletter, click here for your newsletter subscription list. Simply uncheck the box next to any newsletter(s) you wish to cancel and then click to "Submit Changes". You can edit your subscriptions at any time.