This week: A Hot Turkey Tale

Edited by: WebbingThroughThe Snow-Witch
More Newsletters By This Editor



1. About this Newsletter
2. A Word from our Sponsor
3. Letter from the Editor
4. Editor's Picks
5. A Word from Writing.Com
6. Ask & Answer
7. Removal instructions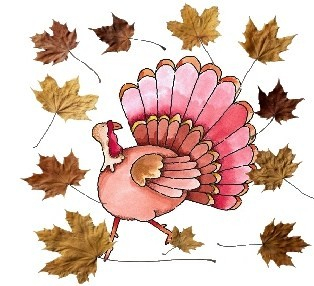 "As God is my witness, I thought turkeys could fly. "
As said by the character Arthur Carlson (Gordon Jump) on the "Turkeys Away," episode of WKRP in Cincinnati.

Certain situations demand dramatic music. Now you have it!

Get it for Apple iOS, Android or Kindle Fire.
Creative fun in the palm of your hand.


Once upon a time, during the day before Thanksgiving, a hostess's worst nightmare became a reality.

The morning started out as usual, plenty of coffee and then off to do all the day-before preparations that go into making a fine Thanksgiving feast for family and relatives near and far. Once I had my fill of coffee, I went out to the back porch, which was lovingly known as my autumn auxiliary refrigeration system, to retrieve the additional turkey that couldn't fit into the refrigerator currently filled with jugs of eggnog, various supplies meant to become appetizers along with products to be turned into side-dishes, plus the other twenty-something pound turkey. There was going to be a huge gathering after all!

Well, you can imagine the look on my face when I opened the back door where the ice chest containing the turkey used to be sitting. I noticed the ice chest had been unceremoniously tossed down the porch steps, laying with its lid open and empty. A turkey thief? I thought. How could someone do that to a family the day before Thanksgiving? Although, upon further inspection of the crime scene, I saw what might have been an answer as to what did the dastardly deed. There were tracks -- bear tracks! They are distinct in the lightly snow-dusted surfaces. But it is New England, and this stuff happens.


With scores of people expected the next day, I knew I had to replace twenty-five pounds of protein, now missing. One turkey would never be enough especially since a few of us in the family loved either the wings, necks or both delightful body parts, and, a few others were heavily into drumsticks. There was only one solution, I'd have to brave the last-minute shoppers at the local grocery stores and replace the meat the bear stole! I was on a mission to find just the right sized, plump and perfect turkey, to add next to its comrade on the dinner table.

At the store, I wasn't shocked to find out that only slim pickings in the plucked feathered friend department remained in the coolers. Twenty minutes later, at store number four, I found the one. It was a pleasing, portly poultry, holiday treat, just waiting for me to take it home. The label seemed faded from lying under all the first turkeys to go over the past several days.

So, that's it? My story ends? No, of course not! My lovely turkey, re-weighed and priced at the meat counter, all luscious twenty-four pounds of it, was still frozen solid. There was no way this birdzilla was going to thaw out overnight.



~~Mama's got a plan!~~



Following hours of giving that creature a cold-water bath to coax it to thaw, I had to finder a quick-thaw method. I cautiously approached the great hot pot, about to be slow cooker, super- thaw device, known as the Jacuzzi. I thought carefully about my next step. Could I actually pull this devious plan off without poisoning my guests? Oh, what's a little stomach ache among friends, right?


It's three a.m., and under the cover of darkness, I crept over to the hot tub and turned on the jets. I hoped I would not wake up the house while I attempted to try the unusual turkey recipe that was made up as I went along. I placed "Tom" into a fishnet I had used as a "pool house" decoration and tossed it into the warm rushing waters. I figured the plastic covering around the turkey would act as one of those oven-bake bags that were all the rage at that time. Meanwhile, not to let all those inviting warm jets go to waste, I joined the turkey in the hot tub. holding on to my rum-spiked eggnog.

In approximately one hour, the turkey looked a little sweated and ready for step number two. I dried off and walked over to the other side of the hot tub and pulled that poultry filled fishnet straight out of the warm bath. It seemed surprisingly lighter than when it went into the water.

I quietly returned to the kitchen, the place where every good hostess would find herself in the wee hours of the morning of Thanksgiving. I carefully unwrapped the turkey in the sink and gave it a good wash. I removed the formerly frozen objects from its cavity, and gave the great bird a thorough rinsing. The dinner-to-be looked pretty comfortable and ready for stuffing. I made a delicious chestnut, cranberry stuffing, with chopped onions, croutons, and a nice hunk of Irish Butter. It was sautéed with love and shoved into the roomy cavity. It was close to five o'clock in the morning and just the perfect time to get both turkeys into the extra large oven. I could differentiate between the two birds because one had meat stuffing and my "quick thaw" recipe had chestnut stuffing.

I set the oven to 300 degrees, and headed off to bed for a few hours. Wow, that eggnog was certainly doing its job. I fell asleep as soon as my head hit the pillow.

Morning came softly and smelled divine. Is there anything better than the smell of roasting turkey on Thanksgiving morning? I checked the oven to see how all my labor from the earlier hours fared. The "special roast" looked marvelous. I was satisfied that I pulled off the magic defrost recipe without a hitch.

Later that day, surrounded by loved ones, we sat down for the holiday feast. I noticed that more people were favoring the hot tub turkey over the original roast. My curiosity took over; I decided to try some for myself. After all, we were all in this together, right? Surprisingly, this turkey was the moistest, sweetest, bird I have ever tasted.


Friends and relatives asked me what I did differently to that particular turkey to make it so yummy. I told them that it was my very special secret-recipe that could never, ever be divulged.


That stays between us, okay?


Until next time--laugh hard, laugh often!

(And for safety's sake -- do not attempt the above recipe at home!)




Have a safe and Happy Thanksgiving, folks!






A Trip to Grandma's (E)
A family tries to get out of town for Thanksgiving, but it's not that easy.
#

2140730

by Mordee2
A Mug Full of Thanks:Setting the Big Day (18+)
Sketchy how-to advice for Thanksgiving.
#

2141022

by Jaynelf the Reindeer Caretaker
Side Dished (E)
The best side dish at Thanksgiving
#

911119

by W.D.Wilcox
Advice From A Thanksgiving Survivor (E)
Challenge accepted Bard's Hall. Here is some humorous Thanksgiving prep. advice.
#

2142199

by SandraLynn
THANKSGIVING TIPS FROM A PRO! (13+)
A Few Helpful Tips From A Professional On How To Make Your Holiday Festivity Memorable
#

2142197

by Angus
Tomfoolery (13+)
This Thanksgiving, the turkeys decide to fight back. 1st Place SM&MOM! Contest Nov. '15
#

2064691

by Backwards Th-INK-er



Have an opinion on what you've read here today? Then send the Editor feedback! Find an item that you think would be perfect for showcasing here? Submit it for consideration in the newsletter!
https://Writing.Com/main/newsletters/action/nli_form



Don't forget to support our sponsor!




The Count-down to Christmas and the holidays is here.
Watch for the December Holiday Handles, twelve-day event at
The Witch's Garden (13+)
Happy Holidays!!!
#

567890

by WebbingThroughThe Snow-Witch





See you next month





To stop receiving this newsletter, click here for your newsletter subscription list. Simply uncheck the box next to any newsletter(s) you wish to cancel and then click to "Submit Changes". You can edit your subscriptions at any time.