Printed from https://www.writing.com/main/photos/item_id/2082197-Jessicas-Toronto-Trip-2016
After postponing my trip to Canada from December due to some unfortunate circumstances, in February I decided that I would go to Toronto in early April. I'd go for the Blue Jays's home opener because it would be a lot of fun seeing their home opener. I was unsure about my trip at first because I was thinking of going elsewhere. I knew going elsewhere wasn't feasible and decided to give Toronto a try; I am glad I went because I really enjoyed myself.

When I arrived on April 7, it was chilly and trees still hadn't bloomed yet in Toronto. The chill didn't surprise me because they were experiencing a cold front similar to Philadelphia. The bed and breakfast I stayed in was cozy; April (the cat) and Fendi (the dog) were so welcoming and I loved playing with them. I loved April the most. My room also had a fireplace and I curled up next to the fireplace at night.

During the day I explored Toronto. What a neat city. High Park was gorgeous and I loved the mini zoo within the park. Even Ripley's Aquarium was awesome! There are so many different cultures living in Toronto that I enjoyed trying new ethnic dishes while I was there. Ali Baba's was amazing - the best chicken schwarma I've ever had and even the Sultan's Tent was amazing. I couldn't upload the pictures of me belly dancing at Sultan's Tent because they were too big for the album. Instead, I made one photograph into a static. Let me share it with you, along with the video of me belly dancing.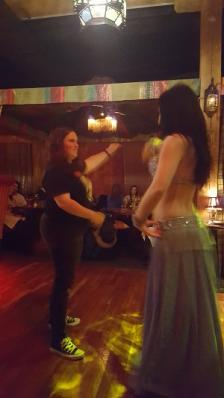 Toronto was such a great time, a beautiful city, very friendly, safe, and I met a lot of wonderful people. I made some new friends. I also met up with Moe and we made peace. I'm glad I finally met him after talking for six years - it's hard to believe we've been friends for that long. I can't wait to go back. I didn't work on much writing, but it was a break much needed.

Printed from https://www.writing.com/main/photos/item_id/2082197-Jessicas-Toronto-Trip-2016