Printed from https://www.writing.com/main/profile/blog/drschneider/month/10-1-2021
(174)

by

Dave

A log of the magnificent journey across the vast sea of my imagination.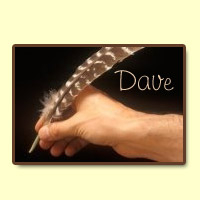 A log of our magnificent journey.

October 29, 2021 at 12:36pm
The gentle creaking of Grandpa's rocking chair
sings a song of cozy contentment,
while aromas from the kitchen
speak of Grandma's pumpkin pie
baking in the oven,
delivering holiday cheer.

6 lines
30 words
Free verse
October 8, 2021 at 6:20pm
Heroes, each and every one,
On a mission to protect our freedom,
Never faltering, never wavering.
Obeying command to go,
Regardless of risk or cost,
Imparting our sacred values,
Navigating global maze,
Giving notice to the enemy.

Over and over again,
Undaunted courage
Responds to threats.

Vigorous defender of liberty,
Exercising constant vigilance,
Trained to meet any challenge,
Endowed with best equipment,
Resolute attitude,
Addressing every mission,
Night and day without fail,
Serving our nation with honor.
Notes on the Acrostic form of poetry
▼
October 4, 2021 at 5:36pm
Welcome to my writing nook
beside the babbling brook!

I pause to gather my thoughts here,
where life goes by in lower gear,
communicating with the birds,
translating their songs into words.

Deer and squirrels come around
where peace and quiet abound.
© Copyright 2022 Dave (UN: drschneider at Writing.Com). All rights reserved.
Dave has granted Writing.Com, its affiliates and its syndicates non-exclusive rights to display this work.
Printed from https://www.writing.com/main/profile/blog/drschneider/month/10-1-2021