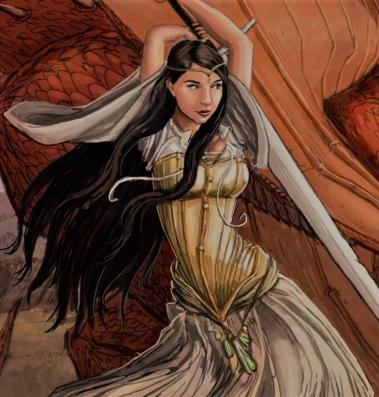 Possibly a mistake, definitely an experiment.
A politics free journal of personal reflections and achievements.
This is my first blog, so any feedback or advice would be appreciated.
Blog serials (will) include:
Fairy Tales Told Wrong

Welcome To My Reality


shortcuts for me:

"

May Goals Tracking

"
"
Contest Challenge
"

For anyone wondering why I never get round to actually writing anything, here is a full list of outstanding projects you didn't know I wasn't working on...




In the Fantasy category...
A novel(la) sequel to Throne of Tides

Wherein Sunpea learns the truth about the origins of geomancy and seeks to reunite with Briar.

A novel(la) prequel to Throne of Tides

Refugees land on a new continent and one man finds himself caught between traditionalists clinging to the past and pragmatists trying to define a new future.

The Dragon Speaks
the story
A man living in a society with strict caste rules loses his way.



Tiggy and Kel


Life changes in the slums when a sorceror washes up on shore.



The Prince and the Pocket Watch


A prince travels the land seeking true love to avert a terrible curse, meeting other victims of witchcraft on his journey.



The 'I Watched Too Much Anime' One


Magical Boys & Girls vs throne-stealing conspiracy. No clue how to make that work in prose, but we might find out eventually.

In the Fantasy Anthology category...
Augustine stories


A band of adventurers unravel while hunting monsters.



Angelo stories


The inheritor of a magic legacy protects his lands from undead.



"Artapana and the White Fairy"


Starting off the back of Artapana and the White Fairy (CG#6)
a full set of short stories as Artapana tries to free Parivash from her curse and save his brother.



Seven Swords


A superhuman assassin hunts down revenge in an Asian inspired campaign.

In the Romance category...
The Duke of Fordstone


While the country recovers from a civil war, His Grace returns to the capital to rebuild his city and his life.



The Mermaid One


A woman forms a close connection with a local while on holiday.
This was inspired by a contest. I forget which one.

In the Horror Shorts category...
"Baggage"
[18+]
"The Runaway"
[13+]



"Hag's Rock"


A swimmer's jealousy is her downfall.
Conceived for "WEIRD TALES CONTEST"
[18+] by Beacon-Light Forever
but not started.



The Coffee Shop One


A barista writes his number on her cup, but doesn't stop there.
Inspired by an old prompt for "Write From the Heart - Story Contest"
[E] by Purple Princess
In the Science Fiction category...
"Jaguar Jones in the Talons of the Illusionist" or alternatively "Jaguar Jones Ghosts"


A claims investigator returning from extended leave is assigned a case that hits close to home.



"Jaguar Jones and the Burning Man" or "Jaguar Jones Smoke Trails"


A murder of a family friend provokes J.J. into opening a cold case.



The One in Space


A man living in exile is on a lonely journey home.

© Copyright 2021 Tileira (UN: reamie at Writing.Com). All rights reserved.
Tileira has granted Writing.Com, its affiliates and its syndicates non-exclusive rights to display this work.
Printed from https://www.writing.com/main/profile/blog/reamie/day/4-17-2021