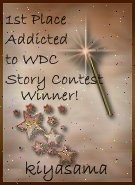 Oh, woe is me.

As I look and read through all the entries to this contest, I have to wonder why I've not had anything drastic or dramatic happen to me in my life. No one in my family has died yet, causing me to spend hours grieving over them, hence making me create awesome poems and stories of heartbreak and loss. I have not been in a relationship that has left me dazed and confused, twisted and broken, forcing me to sit before the computer screen to sob and pour out my angst-ridden words for the world to read.

No. None of these catalysts have ever spurred my writing juices, so why in the world am I on this site? What power/magic/voodoo does Writing.com possess that makes me so addicted, that I think I'll probably need to set an appointment with my therapist (if I had one) sometime soon?

It's simple really.

I love to write. And read of course.

So where do I begin? I guess it would have to be in the summer of 2000 when a friend of mine introduced me to this website. You see, I used to dabble in that genre called 'fan fiction' – actually I'm still a part of it, but I digress – and my stories were based around Japanese anime characters and creating alternate scenarios than what we watch on screen. It was a thrill the first time I wrote my story and sent it out online. The positive feedback and encouragement to continue spurred me on and made me want to do so much more.

However, I began to notice that 'Original' writing was becoming quite 'popular' and I longed to break away from the fan fiction mold and become a much more diverse writer. I will have you know that by this time, I was worshipping Stephen King and his novels like an addict, hence my writing style was modeled after him. So yes, I wanted to dabble into original fiction and wrote a few stories. Unfortunately, the fan fiction kingdom is so large that not many people have the room for…well…fiction that doesn't involve characters already established. It's baffling to be honest, but there I was, stranded with stories that no one wanted to read.

But it's the same writer! My mind would scream. It's the same thing you read everyday, just that the names have been changed, that's all!

But alas! I got little to no response and I felt incredibly discouraged. I wondered if I'd remain stuck in that fan fiction shtick for the rest of my life and hoped for a new avenue to showcase my work.

In 2000, that friend showed me this website, and curious, I stopped by to take a look … and promptly fled like a bat out of hell. There were too many links, too many forums, too many writers, too many stories! Who in the world would notice a newbie like myself? Who would care to read my pathetic attempts? Why did I even bother showing up?!

Fast-forward to December of 2005. I was now even more frustrated at my lack of 'fans' and readers for my original stories and I was itching to get more exposure. Somehow, I found myself stumbling back to WDC, and it took all of five minutes to make up my mind (after watching the pretty snowman graphics and chewing toast I believe) to register and set up my account.

Yes! I was finally amongst people who would understand me and share my love of writing (original) stories. So I posted my first item called 'Jared's Decision', held my breath and waited for it. Less than an hour later, I got my very first review! Oh, happy day! This female danced about her living room as if she had won the lottery! I got kind suggestions, praises and a good rating.

My fire was stoked!

Next thing I knew, I was writing even more stories, posting them up, running to my computer every other minute to see if I had new mail or if there was something new to read. I wanted to participate in contests, the allure of getting gift points and pretty ribbons and merit badges became an obsession with me. I saw the pretty yellow cases and thought of how I could be a part of it. I wanted to be a preferred author. I didn't have much hope of achieving that status anytime soon, since I just arrived, but I was determined to work towards it.

I joined several review groups, making great friends and learning the tricks to helping others with their stories. I could sit down for hours at a time, reviewing up to 10, 20, 30 stories a day! I couldn't get enough of it, and the more I read, the more creative I became and the more I learned from others. And wouldn't you know it? Two months later, I had a very pretty shiny yellow case. Someone up there liked me!

I often sit back in awe of the talent on this website. There are already published writers and poets, who somewhat intimidate me even till now. However, their friendliness and willingness to help others is something that cannot be duplicated anywhere else. I have truly met some wonderful people on this site and listing them all would take me forever and a day to complete.

If there's anything that WDC has done, it's been to make me a much more patient and thorough individual. I do not just read for the sake of it, I now read to truly understand the meaning behind the words. It's taught me to peel back the layers and to see what lies beneath. It's shown me the kindness of people and it's made me want to be a better person both inside and out.

If at the end of the day, I am able to bring a smile to anyone's 'face' in this community, then my dear writers, my work is done.

Thank you, Writing.com!