Printed from https://www.writing.com/main/view_item/item_id/1247998-Hands-On-Learning---The-Story-of-Easter
(6)

by

Kenzie

Here's something I have used for a hands-on version of the Easter story.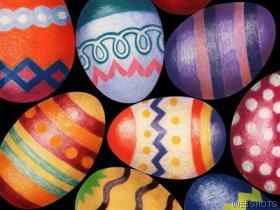 As a parent (who home educated) and someone who taught children in day care and in church, I realized that making learning fun was the key. Many kids learn best with visual and hands-on experiences, and this was one way that I used to tell them about Easter.

We asked our congregation to save their empty egg cartons and collected them in one of the Sunday school rooms. We purchased dozens of plastic eggs, then went to work filling them.
Here's what the eggs held:

#1
A cracker - to remember the Last Supper.
Matthew 26:26-29
We also explained that these same words were used in Communion service.

#2
A piece of soap - to remind us that Jesus washed the Disciples feet.
John 13:4-17

#3
A dime - to remind us that Judas received silver for betraying Jesus.
Matthew 26:14-16

#4
A piece of rope - to remind us that Jesus' hands and feet were bound.
Matthew 27:1-2

#5
A small circle of thorns, representing the crown of thorns worn by Jesus. It also reminds us of the taunting he received from the guards.
Matthew 27:27-31

#6
A piece of purple cloth - remind us that Jesus is the "King of Kings."
John 19:2b-3

#7
A nail - reminding us that Jesus was nailed to the cross.
Matthew 27:32-38

#8
A piece of sponge - remind us that Jesus was given vinegar when he asked for a drink.
Matthew 27:34

#9
A small (toy) spear - reminding us of the spear in Jesus' side.
John 19:33-34

#10
A piece of gauze - reminding us that Jesus' body was wrapped.
John 19:40

#11
A rock - to represent the huge rock at the front of Jesus' tomb.
Matthew 27:59-60

#12
An empty egg. This egg is TOTALLY EMPTY! Just like the tomb. JESUS IS ALIVE!!!
Matthew 28:4-6




There are versions of this available to purchase all packaged in Christian book stores. But making them is a great project, for it helps those making the story props remember the story themselves. It also gives them time to pray for the child who will receive the eggs.





In one church, the youth group made these eggs to be given at a yearly party for the neighborhood kids the Saturday before Easter. With the eggs, there was an invitation for the whole family to join the church in celebrating the Resurrection on Easter Sunday.





Sometimes the invitations worked. But at least the kids received a hands-on version of the Easter story. In some cases, we did write the entire referenced verses. Sometimes we just wrote that part of the story in our own words.
© Copyright 2007 Kenzie (kenzie at Writing.Com). All rights reserved.
Writing.Com, its affiliates and syndicates have been granted non-exclusive rights to display this work.
Printed from https://www.writing.com/main/view_item/item_id/1247998-Hands-On-Learning---The-Story-of-Easter