OUR VISITOR'S BENCH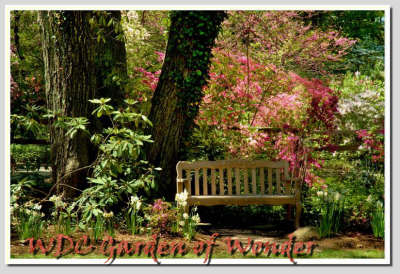 So peacefully, I am almost the lily-----
Almost the bird vanishing over the water
on its sleeves of light. (Mary Oliver)
Image donated by our dear friend
Tornado Day

________________________________________________________________________________________



MESSAGES FROM OUR VISITORS




This is one of the wonderful ideas that makes WDC the creative hotbed that it is! It's people like
you that I admire the most - people who charge through the woods and go right off the trail forging a new path
for others to follow.

The scenery in here is amazing and everyone has done such a beautiful job presenting their additions to
the WDC garden! Thank you for hosting such a beautiful corner on the site! terryjroo


This is such a beautiful idea. It is very relaxing and creative, especially since today is Earth Day.
I know most people absolutely love gardens since it brings peace and harmony. I think everyone should
have a garden, even an online community. Thanks for bringing that opportunity to WDC. Jessica - 14 years on 2/24!
What a wonderful, very creative, charming, delightful, perfect little place you have here.
Great Job ! jeanimoo


What a wonderful idea! I'll go find some photos and participate! Looking forward to see what
blooms here! Cloud9 is there
Awesome idea, Gabriella! I'm sure it will be beautiful when it's all done! jbjackson


Marlena's comments:
Re: Jacklyn's stream:Such a lovely stream....
Re: Kuchana's Hibiscus: This is beautiful !
Re: Ter's Red Rose: Beautiful, beyond mere words can I but express....
Re: Arakuns wildflower: I love this flower and Oh, I love the color.
Thank you for sharing.
Re: SherriQ's offering: And along came a spider, and sat down beside her!!!
Lovely scene, beautiful picture..
Re: Our Visitor's Bench: What a relaxing garden, I'll be coming by every day to visit and I love
that picket fence...This was a great seed planting Gabriella, one of the best. MDuci
WOW ! what a great idea! You are so clever. I don't know how to do that kind of thing (I'm lucky
I can download clip art pics to use in my sig block!), but I surely wish you all the best with this! I'm going to
add it to my Faves List so I can come back to "smell the flowers" any time. Good luck, I hope you get lots
of "bouquets." Starr* Rathburn
Re TornadoDay's flowers--beautiful words to fit a lovely picture. Very moving!
♥hOOves♥
I'm sure it will be in full bloom in no time and soon, I'll probably add my own.
Great work. Twink. twinkledee ♥'s you
Megan's comments:
Re Welcome: Wow! So true! I can't wait to plant my flowers. I live in Indiana.
Re TornadoDay's flowers: Tornado has beautiful flowers !
Re Visitors' Bench: Neat! When I learn how to use my scanner, I will take pictures of my flowers,
lawn ornaments and hopefully add my pictures.
Re JB's piece: Pretty description of day and night in Wyoming.
Re Arakun's flower: I love the orange colors in this one
Re Kuchanna's Hibiscus: Wow! Another pretty one
Re Tealynne's Lotus blossom: A lovely flower.
Re Lady Oz's marigolds: These are very pretty.
Re Kenzie, these flowers are very pretty !
Re Ter's and Marlena's flowers: these roses are beautiful !
Princess Megan Rose
This place is abloom with wonder and light!

"I will not die an unlived life. I will not live in fear of falling or catching fire. I choose to inhabit my days,
to allow my living to open me, to make me less afraid, more accessible, to loosen my heart until it
becomes a wing, a torch, a promise. I choose to risk my significance; to live so that which came to
me as seed goes to the next as blossom and that which came to me as blossom, goes on as fruit. ~ Dawna Markova " Tornado Day
What a totally-delightful idea! I'll be contributing my own garden plot to it a.s.a.p. In the
meantime, I'm going to make this a public review and encourage anyone reading this to be sure to
add something to your garden--which seems to be really growing and blossoming already! AJ wants U 2 meet The CanMan!
Oh! What a most delightful flower the foxglove, I love the color and the many bell's.
Beautiful ! Marlena MDuci



RETURN TO THE GARDEN:
We've planted a Garden (E)
A beautiful Community Garden--bring a picnic or just rest a while.
#

1246409

by GabriellaR45





GARDEN TOUR: Create Your Own Garden: we'll add it to our tour

:





.