Printed from https://www.writing.com/main/view_item/item_id/1383742-Dance-Of-The-Geisha-Girl
| | |
| --- | --- |
| | Prose about a Geisha girl. |
The Geisha girl dances,
Her face is heavily made up.
White powder on her face
and teal green eye shadow.

She puts her fan in front of her face-
as she and the other Geisha girls dance.
Her eyes are focused on a man.
A man that she loves.

He loves her, too.
He loves her smile and
the way she dances.
Her eyes are like shiny stars.

The Geisha girl hates her position.
The man has promised her-
that it won't be forever.
He will take her away.

Her father sold her a few years back.
Her life isn't her own.
This will change.
Another year, she will no longer be a servant.

The Geisha girl dances.
Someday, it will be her last dance.
She will marry the man she loves.
They will find happiness together.

Geisha girl, hang on to your dreams.
A year isn't so long.
She has a way out
but for now, she dances.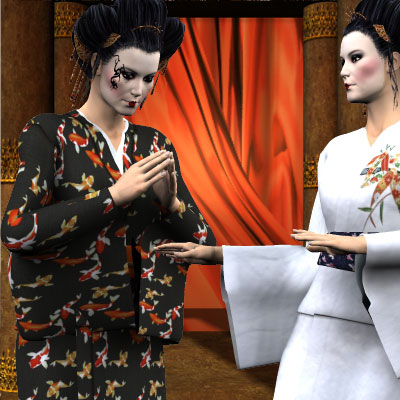 © Copyright 2008 Princess Megan Rose (tigger at Writing.Com). All rights reserved.
Writing.Com, its affiliates and syndicates have been granted non-exclusive rights to display this work.
Printed from https://www.writing.com/main/view_item/item_id/1383742-Dance-Of-The-Geisha-Girl