"Young Girl"




1968

Sung by
Gary Puckett and the Union Gap



Song link: http://www.youtube.com/watch?v=8ofoZ-ZHkOg


In 1968 My mother came to California to visit me and Mike. She had come to be there for his first birthday on Thursday, April 18th. She planned on leaving a few days later to continue on to visit her mother and stepdad, taking their first great grandchild to meet them.



A photo I took of my mother with Mike, taken during her visit.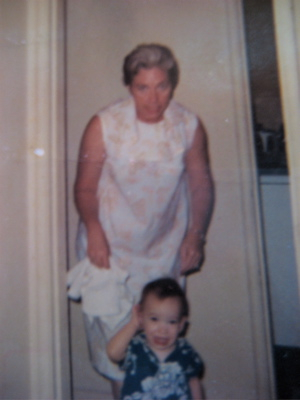 The telephone rang early in the morning of the 18th. I dislike late night and early morning phone calls, usually they are bad news. This time the call was for my mother. I assumed it was the time difference for the early hour, but I could not have been more wrong.

Seeing mom's face change to serious, I left her alone. There would be time after the call to find out what it was about. Sure enough, in a few minutes she came into the kitchen and poured herself a cup of coffee, joining me at the small table. "My mother died this morning." I was at a loss to what to do for her. I suppose part of her stoic nature also included showing little emotion, something she expected from me, I am sure. She related the story; Nanaw had gotten up in the morning, told Pepaw she did not feel well, then she returned to bed. An hour later Pepaw went in to check on her and found her dead. Just like that... she was gone.

I was in a state of shock. It was hard to grasp she died on her great grandson's first birthday, mere days until she would have gotten to hold him in her arms. Death never comes at a convenient time. I felt great sadness realizing my son would never come to know the love of my grandmother, nor the smells emanating from her kitchen, or be able to see the incredible love she and my grandfather had and shared with us. To know I had seen her for the last time was difficult to process.

The funeral would be in a few days, about the time mother was ticketed to leave, so it was decided she would stay and go on as planned. Her brother and sister would help my grandfather with the arrangements.

She insisted we carry on with her visit as planned, which was a good diversion for both of us. On the top of our list of things to do was a trip to Haight-Ashbury. San Francisco was just across the bay, and it was just a year past the height of the flower power movement. Peace, love, hippies, incense, marijuana, anti-war protests...all culminating at the corner of Haight and Ashbury Streets. I had never been before, though I had seen it plenty on the news.

We must have gone into every shop in the neighborhood. We could not help but to marvel at the bright tie-dye clothing, the varieties of incense and holders for it, the brightly colored beads, granny-glasses, and myriad of head shops. By this time the hippy movement had peaked in its purity, now it was starting to be a tourist destination, as well as a runaway child haven. An element of tackiness was creeping in as well.

We picked up some souvenirs, a carved African head, patchouli incense and a brass holder, but what I most fondly remember is the pair of squarish, skinny, so-called granny glasses. We placed them on Mike (along with a long hairpiece) and he frolicked throughout the apartment, he was otherwise naked. I used to have a photo, but I believe his father has it now.

Mom left the following day. It was difficult to let her go on all alone, even though I know she would have it no other way. I suppose finances or her stubbornness kept my father from joining her.

The trips downtown to work was taking too long, so I decided to get a job closer to me. Not far away a new, big chain store had opened, a Payless Drug Store. They hired me to manage their camera department, despite the fact I really knew nothing about cameras, except how to operate my own.

I learned on the job, but mostly it was taking in film for developing, selling camera supplies and on occasion demonstrating how to use one. It was pretty slow much of the time. Very often the customers would want to take a photo with the demo, and so I became the unwilling subject of these photos. This is one of several of those photographs I kept.



I felt the weight of the world on my shoulders at times, being the sole parent responsible for our son, working a full time job only to come back home and cook and entertain our son. Plenty of women did it, but I did not know any of them. I had no life outside of my work and parenting. I grew to hate the fact my husband was away, and was expected, in every way, to be a grown up, at only twenty years old.

The mail service, from the ship, was very sporadic to say the least. I wrote to him daily, but it would be weeks of waiting until I got a letter from him, sometimes if I was lucky, two or three would arrive at a time. I cherished those few letters he wrote to me, full of longing and love. I reckoned he must be really busy, too busy to write as much to me. In reality I was too, being a mother and working woman, but I had little to do once Mike was asleep, the nights were very long.

As the months slowly passed I decided it was time for us to move, into a two-bedroom apartment. Mike was getting too big to stay in his crib; he really needed his own room. I set out to find us a new apartment, one that would give Ed and I some privacy when he got back.

I wanted to be closer to where other Navy wives lived, in Alameda, and in a more modern apartment. I found one easily, and was able to find a new job also close to it without much effort. I was the telephone receptionist for Good Chevrolet. Since it was within walking distance of the apartment it meant I could walk home and see Mike at lunch.

I got us moved in easily enough; we did not have many belongings. The base, as well as Ed was notified of our new address, and I called the base Chaplain, the man we were told to "lean on" when we needed to talk about our marriage. I wanted him to relay to my husband his need to write to me more. The constant waiting, worrying and responsibilities were weighing heavily. I needed more support from my husband, even if it meant only by mail.

Right away I set about furnishing our place, buying three rooms of new furniture for $899.00, courtesy of monthly payments; a bright orange living room set, a bedroom set and dining room set. I bought "art" to hang on the walls for 25¢ a picture at the flea market. Decorating was keeping the evenings busy, but only emphasizing how I missed having a man in my life.

As it turned out, the men at the car dealership were very happy to pay attention to me. They probably thought I did not realize they stood at the bottom of the stairs, looking up my skirt every time I went up to my office. I was young and wore the fashions of the time. Miniskirts make it hard to cover up. Some people might think it was wrong, but I did enjoy the attention. I was not getting much, if any, from my husband, so It helped me to feel alive as a woman.

Even when I did get his sporadic letters I began to notice a difference in him. His letters were now arriving with drawings on the envelope and intricate decorations around the borders. The contents were just as baffling, a rambling style very much unlike the letters I had grown used to, the ones I looked forward to getting. This was confusing to me so I wrote him back telling him I missed the man I knew, the one who loved chocolate pudding, blue holey tennis shoes, Hawaiian music, and our lovemaking. It was an appeal not to leave me out there, all alone without even his few letters for support.

He came home, on a short leave, but he came home almost a stranger. For the first time in our marriage, the strain of being apart for so long was evident. It felt strange to be held by him. He was, for the first time, a stranger in our bed. He had never seen this apartment or most of the furnishings. I knew for him this did not feel like home. Life had gone on without him there. It was painfully evident at every turn; I had let too many acrimonious feelings build up inside of me.

Mike did not know him either. He would cry when Ed tried to hold him, and would not let his dad put him to bed. The strains were evident on so many levels.

Ed was now used to being with "the guys". The time he should have been bonding with us, his family, he spent with his buddies. I withdrew even more. I had no time for friendships. Our entire world had revolved around keeping the home-fires burning until Ed could come home. Now that he was here, the difference between us was evident.

The day we learned he would soon be going back to his ship I was silently relieved.