" Bridge Over Troubled Waters "




1970

Sung by
Simon and Garfunkle



Song link: http://www.youtube.com/watch?v=DXF5lVpN1ys


Staying with Patty, at her home, was the easy part. It was obvious to me we both (Ed and I) needed to get cooler heads. Time to think is what was needed, just a few days.

What was not easy was going back home. Ed had gone for legal council immediately. I was served with a restraining order, as well as papers notifying me he had filed for divorce along with full custody, on the grounds of abandonment.

How dare he? I was no longer allowed to be alone with my son? This infuriated me like nothing else in my life. I realized then this was going to be a nasty battle. I was going to have to find an attorney. In no way had I abandoned my son, ever.

I never mentioned anything about a divorce to Ed. All I wanted was a cooling down period, a temporary separation. In the three days I was at Patty's I discovered Ed would not even answer the phone. But file for a divorce and custody? I quickly understood he was completely serious about not letting me spend anytime with Mike unless another adult was in the room, preferably him.

My attorney and I met. I tried to explain to him, in no uncertain terms I had not walked away from my marriage and my child. In fact it was Ed who asked me to leave, and I complied. I did so because at the time it made sense to me. He needed to spend quality time with his son, and we both needed to cool down. He was very reassuring; mothers always got custody of the children. In effect he was patting me on the hand and saying, "Don't worry your little mind about such things little lady, he'll never win."

My visits with Mike all had to be supervised. It was so foreign to us not to be together, alone. We had spent most of his young life alone together. These were very emotional, brutal visits.

Ed would bring Mike over, and sit in his car and wait for the hour visit to be over. Mike would sit on my lap facing me, hugging me so tightly. How do you explain to a child of three why you can not come home to be with him?

I simply told him, "One day very soon you will come to live with mommy and we will live happily ever after." His little face looking up at me processing this, he said, as only a child would, "And then will we be married?" I fought back the tears and hugged him tightly.

I would walk him out to his waiting father, Mike clinging to me, arms and legs wrapped around me tightly. He was screaming, "I don't wanna go mommy...don't make me go mommy." I would be crying too. Ed would pry him out of my arms and put him in the car, leaving me standing there devastated. (This scene would appear in a recurring nightmare for decades to come.)

This scene was painfully repeated over and over again for the next few months. Finally, in April, it was Mike's third birthday. Ed told me he was giving Mike his third birthday party at the apartment and I was "invited".

During the months the restraining order was in place, I had changed jobs. I was now working in an electrical supply business. I was their receptionist. It paid better than the car dealership and it was closer to where Patty and I lived. I was fortunate Patty had a house, and let me rent a bedroom including full use of the house. Recently divorced, she was happy for the help in rent.

Because I had left him our car, I had to buy one. One of the men I had met owned body shops, so through him I was able to buy a car, a ridiculous, but cheap sort of metallic bronze, banged up 1965 Plymouth Fury convertible, with a coat hanger antennae, but a working radio. Yep, for the grand sum of $90 I had wheels! I drove out of the garage into the clear cool afternoon, top down, wind caressing my face. I flipped on the radio, smiled and sang along with the radio, "Like a bridge over troubled waters..."

So it was the afternoon of Mike's party I pulled up in front of my old apartment building, feeling sad to only be a guest, not baking his cake....I parked and tried to control my emotions. I couldn't go to the door holding a present crying my eyes out in front of...in front of who? I had to know.

As I approached the door of our apartment, the same one I'd watched the moonwalk from, I heard men's voices coming from the apartment. I swallowed and knocked. Laughter. I knocked again. Some guy answered the door with a beer in his hand. "Yeah?"

"I'm Mike's mother."

"Oh...yeah. Hey Ed." He opened the door. I couldn't believe what I saw.

About five or six young guys, obviously having some beers with Ed, watching tv. Not one woman...and worse, no children. "Ed, where's Mike?" I was confused. "Where's the party?"

"Uh, this is the party." He obviously had no concept of what a party for a three year old should be. I walked by the men, past the tv to get to Mike's bedroom and opened the door. He was sitting on the floor playing alone. My heart simply broke.

"Mommy!" He ran into opened arms. The feeling of your child's arms around your neck is like no other. We held onto each other for a few minutes, oblivious to the noise in the adjacent room.

"Happy Birthday!" I handed him the brightly wrapped gift. He was giggling as he tore it open to reveal the shiny red fire-truck.

"Sheila..." I heard Ed call out. With Mike's tiny hand in mine we went into the living room.

Ed disgusted me right now, this was a party for his friends, not an appropriate party for Mike. "Hey, can I take Mike outside to play with his truck?"

"Uhhh, you aren't supposed to be alone together."

"It's his birthday, he wants to go out and play with the truck I gave him, come on..." I begged. "We'll just be downstairs where he can play with it in the dirt."

He reluctantly relented. I took Mike's hand, walked out of the door. We calmly walked down the stairs, and I purposely strode to my car with him in tow. I opened the door and lifted him in, and placed his truck between us, getting in and closing the door. I started the car and drove off. I had no idea where I was going, but I had to go. I had just kidnapped my own son.

My mind was racing, "Okay now what...think...where can I go that Ed won't find us...not to Patty's. Oh God, what am I going to do?" Tears streamed down my face, Mike was babbling away happily, blissfully unaware.

I drove around for a couple of hours, finally deciding I would not be found if I went to the Marina, to visit Stan, one of the owners of The Casuals, who lived alone on a houseboat. Besides that, I needed to talk this out with someone who could give me some advice. I needed some clarity, some time to think. (I know it was a windy cool day, because he took a series of photos of me. Photography was a hobby of his.) This is one of them.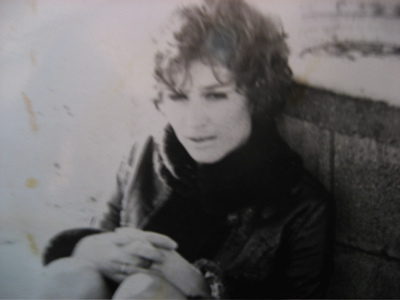 Some eight hours later I pulled back up in front of my old apartment building with Mike. I had to take him back. There was nowhere to run, nowhere to hide and no real, viable plan as a kidnapper on the run. I just hoped Ed had not called the police. I understood he would never let Mike and I out of sight again. I had made a very big, impulsive mistake. I had to face the music.

Fortunately, he had not called the police, he was angry with me, but I suspect he did understand my frustration. Of course we still had a court date soon, and this would not look good.

The day of court, I met my attorney in the hallway, prior to when were to go in to face the judge. There were some things we needed to go over he said.

He pointed to the bench just outside the courtroom and I sat down. I was so nervous anyway, but what he told me was like taking a blow to the stomach. "I just found out Ed has five men lined up to testify that they had sex with you while he was at sea."

"What?" The room began spinning. "I never had sex with anyone. Who are these men?"

"From what I gather they are Navy guys, probably men he knows who are willing to go to the mat for him in there."

"B-b-but...." He cut me off.

"Look Sheila, you need to get up on the stand and deny it then. I still think you will win."

My mind was reeling. Win, how could anyone win in this situation. I knew in my heart Ed truly wanted custody of his son, but so much he could have people lie? Could I go in there and be humiliated with these accusations? Was it worth it? So many things were racing through my mind. I began to doubt myself, whether I wanted Mike just to spite Ed, or did I have my son's best interest at heart by taking him away from his father. By having to work two jobs to support the two of us, as well as having him in childcare while I did? Was I in fact such a poor mother? Sure, I went out, but never until I knew he was asleep, with a babysitter I would call to check on things.

"What if I give Ed custody? What if I believe it is in my son's best interest to stay with his father?" I asked.

Though the courtroom was starting to fill up, and I saw former friends filing in, no doubt to testify against my fitness as a mother, I was starting to come to the full realization; perhaps he would be better off with his father. Even in my anger and shock I knew Ed must love his son very much to go to this length to get custody. I also knew he was an only child and had very strong ties to his son, especially now I had been pretty much out of the picture for awhile. People were willing to lie for him in order to get custody of his son. That was powerful and humiliating to me.

"Are you thinking this?" His eyes darted to the courtroom. "You would sign over custody?"

"Yes, with some conditions."

"Like?" He pulled out a legal pad and began to write.

"If he moves out of the state he must pay for a round trip airline ticket for me to visit, or to get Mike to me for a visit, twice a year. I want visitation with absolutely no restrictions on being alone with him. I want him every other Christmas and Easter....."

When I had finished, he got up and went over to Ed's attorney to confer. Together they walked into the courtroom and approached the bailiff with a request to be heard privately by the judge. They told the judge we had come to a custody arrangement on our own, acceptable to both parties. The divorce was granted. the custody agreement was approved.

I walked out of court that day, stunned, but feeling like I had just done the best thing I could for my son. But was it the best thing for me?

I think it is fair to say I made that decision under duress and I would make many more decisions under duress. Ones which would alter the course of my life.

I quit my job soon after, no longer able to get to work on time. I was going out every night now, drinking; trying to numb the pain of my loss. Sure I still had visitation, but a piece of me died on that day outside the courtroom.

I reasoned the only way I could continue to survive would be to get a job as a cocktail waitress. Through a policeman friend I was introduced to the owner of a Country and Western Bar, The Saloon. His name was Serge, and he took pity and hired me on the spot. If I was going to be in bars every night, I might as well get paid to be.

Here I am at work, before I got the rest of my "cowgirl" uniform.