"The Dancing Queen"

Sung by

Abba-1977



Link: http://www.youtube.com/watch?v=GUObsGna8GA&feature=related

In January our first real office for C.A.T. opened on Sunset Blvd. We had a "designed" logo, stationary printed up and job titles now. It was a three-room office and my official title was; Public Relations and Special Projects Director. Heady title, but now I was not just a former hooker on parade to the media. Of course I was still doing the lecture circuit, colleges, Rotary Clubs, anywhere that was legitimate and called us for a public speaker. There was a small speaking fee, which helped keep things running at the office.

I was also still promoting the film for Rob, so with each of those opportunities I got to mention C.A.T..
Rob and I in San Diego.



There were four of us in the office; Lois, Donna, Francine, and me. Francine and I decided to rent a house together and found an adorable house. Francine was our Administrative Secretary, but also a great lady. She had arranged (unbeknownst to me) along with Sully, to have my son come to visit. I had seen him last back in Colorado. It was a wonderful surprise for me. This is Mike and I during that visit.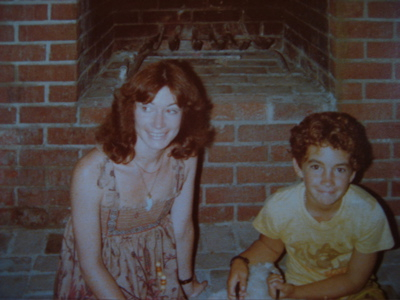 Mike stayed for two weeks, acting much older than his ten years would indicate. He was our little man, offering to barbeque, or hammer in hand, bang in any errant nails holding the screens in. It was one of the best visits we ever had. I got to take him to Universal studios, and show him the Los Angeles I knew.

There was some fallout for Lois and I from the Washinton D.C. trip. We had generated so much publicity that Margo wasn't really speaking to us, so we decided to split away from C.O.Y.O.T.E., and no longer did C.A.T. have the same meaning, nor was it an acronym. CAT, A National Institute for Working Women was now separate, and as such we had sued the city of Los Angeles for unequal enforcement of the law. That took up a great deal of time, but we all had our jobs.

One night as Lois and I were having a drink after work, some guy sent over complimentary drinks. He wanted to join us, so we let him. His name was Carl, and he was a copywriter for a big advertising agency. He and I hit it off and began dating. He introduced me to the owner of the agency, Barry, our relationship was to become quite fortuitous.

The disco days were in full swing, and Carl was cast out of central casting ...platform shoes, white suit, and a very good dancer. He loved nothing more than going to clubs to dance every weekend. I was a willing partner.

With the opening of my film in Los Angeles it seemed a perfect time to hold a big fundraiser for CAT. Rob agreed to let us hold the premier and sell the tickets with the proceeds going to CAT. It was held in a theater in Westwood and we even had the big searchlights lighting up the sky.
I think I looked the part of the star.



Inside the theater the lights went down and I could hear the guy sitting behind me talking about scenes in the film. What I did not realize at the time was the man was none other than Dennis Hopper.

I was attending so many different affairs, courtesy of Carl and Barry. It was at one such event for John Wooden that I was introduced to a man who would become my agent. Bruce owned a public relations firm in Los Angeles, and was intrigued by the fact I was writing a book based on my life at Mustang. He was just breaking into the world of literary agent, but he was so full of enthusiasm and energy I could see that he would be giving it his best. I gave him the first chapter of my book.

Ever since I arrived in "Hollywood" I'd met so many phony type men. They all had some measure of success, but most were past due. I had one guy who said he wanted to make me into a "rock star" and asked me to sing a song without musical accompaniment. I didn't want to be a singer, I was not stupid enough to think I could sing, but he insisted... so there I stood, singing a song by the Eagles a photo of this guy with Dick Clark staring at me.

Another was a NY policeman turned actor, Eddie Eagan, whose claim to fame had been that he was the "real" Popeye Doyle that Gene Hackman portrayed in the movie "French Connection". He parlayed that into being an actor, but he was, still a cop at heart. Eddie was an ex-cop who got incredibly lucky and I think because of his luck wanted some to rub off on me. The problem was he hoped for more, and I wasn't interested. End of another jerk, I learned pretty quickly.

By the end of the year I was going to move in with Carl. We had danced ourselves into a corner, and into each other's lives.