"Staying Alive"

Sung by

Bee Gees-1978



Link: http://www.youtube.com/watch?v=YQGQHSE-eLg&feature=related

Tuesday, January 17, 1978 I was driving over to meet Bruce, my agent, at the offices of Ward Richie Press. They had expressed great interest in the book and wanted to meet with me personally. The excitement level I felt was only slightly less than the nervousness I tried to quell, by singing along with the Bee Gees, "Ooh-Ooh-Ooh-Ooh...stayin' alive...". Carl and I both loved that movie, each time we went out dancing it played. I knew all of the words by now, as well as all of the "moves". I wore the obligatory dancer's bodysuit with the wrap around skirt, and he was in his polyester suits. We were a "cute" little couple, he was short too, and loved those platforms.

Bruce was waiting for me in the lobby. He attempted to calm me down, "Just be your usual, wonderful self. It's all they want. They already know you can write, they just want to make sure you are everything I told them." Oh great.

"Yeah. I know they want to make sure I can now walk the walk."

"Sort of. It's going to be fine. Trust me." We went up the elevator and stepped into the lobby of Ward Richie Press. We were escorted into the Publisher, Bill Chleboun's office where we both took a seat in front of his humongous, paper-covered desk. Behind his desk were bookshelves chock full of Ward Richie's books. So, this was not a dream.

"Bill, I'd like to introduce my client, Buffy Wilson." He stood up and shook my extended hand. He was probably in his early 50's, tall with slightly graying temples, glasses and sparkling, warm eyes. I felt myself relax. He seemed almost fatherly. "It's a pleasure to meet you Buffy."

"So nice to meet you Bill. Thank you for inviting us here."

I barely remember anything past; "You have a book deal Buffy." coming out of his mouth. Oh, I know we must have discussed the direction of my book, but the fact was I had only written one chapter, and I just winged the pitch, apparently pretty well.

Once I heard him say I had a deal, the roar of the party inside of my head was just too noisy to really hear anything else he said. He put a contract in front of me; I was to get $4,500 for an advance, to be paid $1,500 now, another $1,500 when three months were up, and the final payment coming at the end of six months, when I had promised to have the book finished. The book was going to be published in September of the same year.

As I see in a letter dated Jan. 18 from Bruce, which congratulated me for all the hard work, his last paragraph told me what I needed to hear: "Start the 'ole creative juices flowing...you are a gifted writer and I am sure the end result will be something we all can be proud of." You would have thought I was beginning the Indie 500.

It was wonderful that finally someone who represented my writing was not some phony guy trying to impress me. I was thrilled to be able to call Sully and give him the good news. (By this time he was not supporting me financially anymore, but completely supported me for working with C.A.T.)

Happy New Year to me, now I had to do the work. I spent each weekend shut off in my home office Carl had graciously let me set up in the apartment. First I wrote the chapters in longhand on yellow legal paper. Then I would type it up on the rented electric typewriter, editing as I went. Whenever I was to be interviewed I always asked for it to be at my apartment. I remember the day the woman came to interview me for some article, she was one of those who could read your aura. She told me I had great aura. Did it show in her photograph?



Of course working all weekend meant by Sunday nights I was raring to go. Carl loved skiing and frequently was out of town on the weekends, which I was glad for.

I was having meetings with Ward Ritchie, my excitement being stoked by seeing my upcoming book listed as a hardback, in Publishers' Weekly, due for a September 1978 release.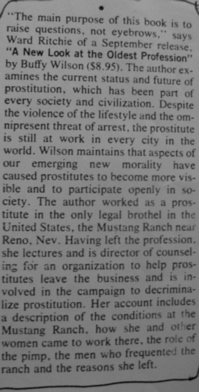 I continued writing like a fiend, while still doing lectures, radio and tv on behalf of C.A.T. . There were problems raising money for a group who was helping women to leave prostitution. I was shifting my speeches a little more towards decriminalizing it, because I felt the women had enough trouble assimilating back into the straight society without some kind of criminal arrest record for prostitution. I spoke about the kinds of jobs women who had been prostitutes would best fit in; as salespeople who were not confined to some cubicle. I found what was once an interview for a local paper now was appearing in such things as Money Magazine, and being mentioned in Johnny Carson's opening monologue.

I was called on to consult on television shows, debate Gloria Allred at an L.A. Mensa Meeting, in short, if the topic needed an advocate for decriminalization, I was your woman.

Lois and I had been to Chicago the year before, to attend the American Association of Sociologists Book Convention, and while we were there we were invited to meet with Christy Hefner at the Playboy Mansion. An ardent feminist she was interested in what we were doing; she had just become a part of the editorial staff for the magazine. I know it came as a huge surprise to us when we got the call informing us Hugh Hefner would throw us a fundraiser at the Playboy Mansion.

It was hard work, but it was during this time we really pulled together our contacts and threw out a wide net knowing so many people would want to get inside the mansion. It was also the year I made a huge miscalculation.

In the excitement and enthusiasm I met with some family friends, making sure they would get an invitation, though I felt they would not attend. The wife, was like a mother to me so I wanted to include her, if possible.

My parents were still living in Hawaii, I did tell them about C.A.T., but I am not too sure they really understood. But they did understand when I involved their friends:



Dear Sheila,

This is a very difficult letter to write, because it speaks my mind and I know you are going to get mad. If you do, so be it, but on the other hand, you have to know how Dad and I must feel.

For several years I have not said anything about your life to Daddy, in fact, we never discussed it. But at times I had to say something and he would get so upset, that I somehow figured it wasn't worth it. But he other day I figured he should read the letter and etc. Needless to say, his letter speaks for itself.

As you know, I have never approved of your lifestyle, but it didn't really involve us (I thought) and since we didn't see you too often, thought it would be alright. But it isn't. You might think what you ate doing is fine, but there ARE people who don't agree with you. Imagine the majority.

I still want to hear from you and your well-being, but your crusade doesn't interest either of us.

I really am upset at having to write this letter, but I guess it's better to have it said then to carry it around inside of me. Life is entirely too short to get upset and stay that way. I know you don't really understand our feelings at all, but I do hope you try.

Love,
Mother

Dear Sheila,

I just read your letter and I am so damn mad I am sick. Sheila it is bad enough for us that you flaunt the fact you are a prostitute. That is your business and I have said nothing even though I have had to bite my tongue, but now you have gone and involved your mother's and my close, personal friends in your own crusade that I am sure they in no way want to be associated with. If you want to enlist your own friends in this, fine, but please leave our friends out of it. You are old enough to know what you want out of life and if this is it then good luck, but don't ever try to get us involved as I have been embarrassed enough. You may think it is an honorable profession, but we don't.

I'm sure by now you know my feelings, and I'm really sorry.

Dad

Dear Sheila,

We stand corrected. Had always thought our communication was OK, but I guess we never asked the right kind of questions, or didn't know enough. Well as you will read in Dad's letter, he is sorry and I am too.

If you really believe in it that strongly, then go to it. It's not up to us to say. As long as it doesn't embarrass you, then I guess we will have to swallow our pride. There are still a lot of people that wouldn't understand what you are doing so we won't mention it and we'd feel better if you didn't either (to your Granddad, Smackleface, Dody and the rest of our families.) They are much worse in their thinking than we are, if that's possible.

Write again soon, and I am truly sorry that all of this happened, but then again, maybe it's the best thing too. Now there will be no suspicions and everything can be up and above board. Enough said on the subject. We both love you and will try our best to understand what you do.

Much love,
Mother

Dear Sheila,

First I want to thank you for writing and explaining what you are doing. As you say there was definitely a communication problem. I guess that the problem is too many people don't know all of the facts. I guess you gave me a few.

Next, as far as the cause goes I have always felt that women alone should not be responsible for prostitution. The man is every bit as responsible as women. The only thing about it I think is wrong is if they create a nuisance on the streets. As far as that goes the same goes for men.

Next, never get the idea that we don't love you, no matter what. I didn't sign, Love Dad, because I was hurt. I will apologize for making you think I don't love you.

I hope your benefit is a success and I know you will work hard to make it so. As you say, if it's something you believe in than you feel you are accomplishing something important. Please write and tell us about it.

Sheila, what you are or what you do isn't important as long as you know it is something you want and will make your son proud of you.

Well, I see I'm doing a lousy job of this, but I wanted to thank you for explaining things to us and please keep the communication lines open.

I love you very much and apologize for acting like typical old folks, without first getting all the facts.

Love,
Dad

Dear Mom and Dad, it was a great success, thank you for believing in me.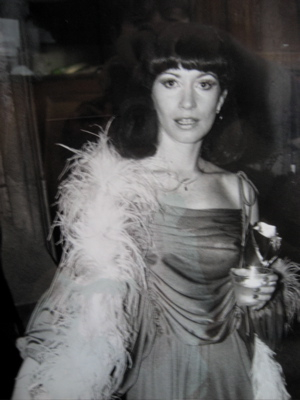 I finished my book on time (six months as promised), kept busy with proofing it, fielding calls from the editor assigned to edit the final copy, and meeting the art department about my book cover.

I had ideas about the book cover... it would show women dressed in everyday clothing, and where their faces would be we'd have it mirrored. It truly was a "New Look at the Oldest Profession". They drew up the overlays...and then came the day I went to the mailbox to get the last letter I would get from Ward Ritchie:

August 1, 1978

Dear Buffy,

We are sorry to inform you, but we will not be publishing any books this fall. We sold our company. Please contact........Blah-blah-blah....

I couldn't believe it, but it was there in black and white, and nothing I could do about it .

I guess Carl was only interested in being with me because of my potential "celebrity" as an author, because shortly after my dreams were shattered, he decided we had no future together.

I spent my 30th birthday at the Comedy Store on Sunset Strip, alone but laughing.

Once again looking for a place to live I found the ideal little house, nestled in a Hollywood hillside with a picture window framing the famous "HOLLYWOOD" sign. I may have been down, but I was definitely not out. I spent the rest of the year making my little house a real home. I carried rolls of sod on my shoulder up the 17 steps to the strip of land I designated as my yard, planted a small Japanese maple tree, and even planted my first vegetable garden. I was healing. I can say I was truly happy and content by the conclusion of 1978. I was more than just staying alive.