"This is It"

Sung by
Kenny Loggins-1980



Link: http://www.youtube.com/watch?v=d7-e6Yhu5SU


To ring in the New Year Lance and I saw the movie, "All That Jazz". We had gone to Newport Beach for the weekend. I had never been to Newport, and I saw why immediately; it was a bastion for the wealthy. The homes were enormous; the boats were not boats, but yachts. It was a world I had not grown up in. I was terribly uncomfortable there, if the truth be known.

Most of Lance's friends were men and women he knew from kindergarten on. Lifelong friends, something I never had. They also lived in Beverly Hills, a world which made me feel...inadequate about myself. I never felt like I was really accepted by them, instead, more of a girlfriend of the moment. The women were nice to my face, yet I knew behind my back they wondered what I was doing living among their kind; the rich, the spoiled.

My clothing was never as good as theirs, my table manners meant I missed using some kind of fork or another, the male friends (mostly married) would walk closely behind me in a restaurant... I could feel their eyes. While we were waiting for a table, the one behind me would lean forward and whisper into my ear, "What are you doing with Lance?" Implying I could be with them. Ugh, they disgusted me. Of course putting down other people made others not notice their flaws and fake superiority. Picking on a man who had a physical disability, therefore not their equal, was contemptuous to me. I just smiled and made mental notes. I knew the kind of man I was with, but those poor other women. No wonder they eyed me with suspicion. Nobody trusted anyone. How sad.

January also brought me closer to another court case. This time I would be testifying against the head of the Bay Area Restaurant and Bar Employees Union, *Ray Stone. I don't know if it was coincidental or not, but I happened to be undergoing a root canal. Both procedures were equally uncomfortable.

The lawsuit alleged that Mr. Stone. had used his power to influence young women to go on "junkets" with powerful allies to the union. He wanted them to have sex with these allies (men); his own form of paying dues.

Since it was in Oakland, I could fly in and probably be done in a day, spend the night with a girlfriend and go home the following day.

I arrived by cab about a half-hour late, court was already in session. Over the door was a sign saying WITNESSES NOT ALLOWED. Carrying an overnight bag, fumbling with my coat, all while trying to open the folded piece of paper I clutched. I saw the bailiff coming. I backed up from the door, when he got into the hallway I thrust the piece of paper at him.

"Could you tell someone I'm here? My plane was late arriving." The bailiff took the paper, studied it, and flatly asked, "Is this for the Stone case?"

I nodded yes. "Wait here." He disappeared back into the courtroom. In just a moment he was back. "You can go in now, they're ready for you to take the stand."

"Now? I haven't even spoken to the attorney."

The bailiff shrugged, apparently it was not his problem. He led me into the courtroom, to the witness stand, where I raised my right hand was sworn in by another bailiff. The judge seem distracted as I took my seat, he was absentmindedly turning his chair from side to side as the bailiff continued, "...to tell the whole truth and nothing but the truth so help you God?"

"I do."

The bailiff motioned for me to sit down. "Take the stand please."

The female attorney for the plaintiff, a young woman who brought the lawsuit against Mr. Stone, was slightly smiling as she approached. "Can you remember where you worked nine years ago?"

"Yes."

"Where was that?"

"The King's X."

"How do you remember that?" She turned to face the filled courtroom.

"Because I was 22 at the time and it was my first job as a food waitress."

"Were you asked to join the Bartenders and Waitress's Union, Local 28...while at that job?"

"Yes I was."

"Did you ever have occasion to meet the Secretary-Treasurer of that same union?"

"Yes, Mr. Ray Stone." I could see Stone sitting at the table in front of me, his gaze steely, mildly frightening, so I looked back at the attorney, an attractive woman.

"Tell us about the first time you met Mr. Stone." She leaned against the witness stand railing in a more casual gesture.

"It was at the restaurant. I'd been working there, oh...about a month, when Mr. Stone came in one afternoon. It was after our busy lunch hour. Supposedly he came there to tell me how to go about joining the union."

" Supposedly. And did he?"

"Sort of." I shifted in the hard chair. The attorney leaned in toward me, capturing my gaze with her marble-blue eyes. "Please tell us what you mean by 'sort of' Sheila."

I took a deep breath. "He said, if I was going to continue to work as a waitress, I would have to go to the union hall and pay some dues."

"And just what were those dues Sheila?" She said, almost softly, while smiling at the jury.

Looking for the most comfortable words possible, I was visibly squirming. I looked at Mr. Stone's hard, line-drawn face. He was looking down at the table, both of his palms pushed against and rubbing hard up along the edge. "Entertaining some important men." I stated confident I got the right words. Looking over at the judge I saw a slight nod, as though he expected it. I looked over at the many court spectators, seeing many of them nodding also.

The attorney walked over to speak with her client, then strode confidently back to the area in front of me. "Were those his exact words?"

"No. He said I would have to sleep with them."

Her face reddened almost imperceptibly. "Did he happen to say who these men were?"

"Yes, Senators and Congressmen. Men high up in the government."

"Did Mr. Stone happen to say you had to sleep with him too?"

Mr. Stone's attorney leapt up angrily shouting, "OBJECTION your Honor...Council's question is leading. The notion of sleeping with Mr. Stone has not been uttered by anyone but the Plaintiff's own attorney herself." He was visibly angry.

"Objection sustained." The judge said. The sound of the court reporter's typing could be heard in the accompanying silence.

"Okay. Were there any other requirements to join the union, as required by Mr. Stone?"

"Nothing except I could forget about joining the union and come to work for him instead. I could make a lot more money working for him than as a 'silly food waitress'...as he put it. He said he could send me on 'junkets' with these important men. I'd get paid really well for it."

"Did you know what a junket is?"

"Yes. Free trips paid for by sponsors who wants something in return."

"Sheila, did he tell you where these junkets would go?"

"Yes. He mentioned a private plane to Hawaii and a cruise to the Caribbean."

""And what did you say in response to Mr. Stone?"

"No thank you."

There were a couple of chuckles in the courtroom. The attorney smiled, "Was this the end of it?"

"Yes. I ignored him and joined the union in the usual way."

"Did you tell anyone of this incident?"

"Yes, my employers, Mr. and Mrs. Poulos. I asked them if this was a real necessity in order to work there."

Smiling, she asked, "And what did they tell you?"

"They told me it was definitely not. No way. They also thanked me for telling them, and I should inform them if he ever did it again."

"So did he?"

"No." I shook my head.

"Thank you Sheila. I have no more questions for this witness your Honor."

Then came the cross-examination. God, I dreaded this part, I had no clue how they would come at me, but I knew enough from Perry Mason to realize they could twist things to their advantage. For a moment I flashed back to the day I was supposed to face Ed, refuting the friends he had recruited to testify against me. I felt fear in the pit of my stomach.

Then Mr. Stone's well-dressed attorney strode up to the stand. Tall and confident he was almost puffing himself up to look even bigger.
"Sheila, do you think you would recognize Mr. Stone if you saw him?"

"Yes. He is sitting at your table, in the green tie."

"What is your present employment?"

"I'm a counselor and lecturer."

"Who do you counsel?"

I'm not sure anyone saw me flinch. "Former prostitutes."

The plaintiff's attorney yelled out, "OBJECTION your Honor. The council's question is irrelevant."

The imposing attorney spoke, "Your Honor, I expect to make my point with the next question. I believe then you will see the relevancy of my line of questioning."

The Judge sat forward. "Objection overruled. It had better be the next question counselor."

"Yes your Honor, it will be. Sheila, have you ever been a prostitute?" A deafening hush fell over the courtroom as I tried to muster the courage to answer. It didn't get any easier to say.

"Yes."

"No further questions your honor." He turned to join his client, I was sure he had a smug smile on his face.

"You may step down from the witness stand Miss Wilson."

As soon as I left the courtroom a reporter shoved a microphone in my face, "Where were you working as a prostitute?"

I got angry, "Where? What difference does it make...I wasn't a prostitute at the time. In fact, if you really want to know something, that waitress job was my first straight job I had, once I had left prostitution." The bailiff interrupted, "Miss Wilson..." he touched my arm to get my attention, "Miss Wilson they want you to come back to court. They're going to reopen the questioning, so you're needed in the stand."

I went back in, somewhat relieved not to be hounded by the reporter, but now I had to answer more questions on the stand.

The bailiff announced, "Ladies and Gentleman please remain seated, court is now in session. The Honorable Judge Irwin Bartlowe is presiding.

The judge looked over at the plaintiff's attorney, "Council, you want an opportunity for redirect examination?"

She stood, "Yes your Honor. Sheila, at the time you were working at the King's X, were you working also as a prostitute?"

"No I wasn't. I was proud to be working as a waitress, a straight job. I wanted a new beginning."

"I understand. Did Mr. Stone know of your past life when you met him that day?"

"Oh no, nobody knew. I never worked as a prostitute in the state of California."

"Could someone else have told him?"

I had to think, but back then ..."I don't see how. We have no mutual friends and when I was working I didn't use my real name."

Smiling broadly, "I only have one more question for you Sheila... why are you here testifying today?"

I looked at Mr. Stone, then out at the packed courtroom. There were mostly women, the friends of the woman who brought the lawsuit, other waitresses who didn't have courage to expose this slimeball, mothers, daughters, wives. I drew strength from their collective support. To speak for all of these women who couldn't was an honor. "First of, I was subpoenaed, but more importantly I am here in hopes other young women, who may find themselves in a similar situation, will be aware there are ways to deal with people like Mr. Stone. It was a painfully similar set of circumstances, the word games, that got me involved in prostitution so many years ago. I don't feel any woman should have to deal with this kind of emotional blackmail. From anyone, especially men we are supposed to look up to for guidance and respect. Women have a tough enough time of it, prostitutes or not."

As I left the courtroom an elderly, white-haired woman reaches out and touches my arm. "That was a very brave thing you did in there." I smiled, "Thank you."

Once back home it was time to find a job again. I went to work for a temp agency and held a variety of receptionist jobs, as the front desk for Filmways Studio, and as a copywriter for larger advertising agencies. Most jobs lasted about two weeks, I really enjoyed being able to see companies this way, and was offered a permanent job on nearly all of them.

The job I finally accepted was as an editor for Apartment Homes and Condos Weekly. It paid a whole $5.00 an hour, but I got to write and have published an article a week. Never mind how dry it was writing about air conditioning unit comparisons. I was an editor of a real magazine, a published writer on a weekly basis!

Lance finally began taking me to his parents' home, on Elm Drive in Beverly Hills, for the weekly family dinners. Though it was a big home, his father worked did work out of the formal library/office office. There was a guesthouse across the yard where his fraternal grandmother, or Bubby, lived. They were a very close family, one I had come to love. His father was still able to get around with a walker. It had an elevator just like in a hotel, the metal grate you pulled shut, the buttons, including the alarm and a phone. Good grief, how fortunate to be able to have one. I loved riding it upstairs to see Lance's childhood room. It was a real bachelor's room, the one over his dad's office in the lower bay window, with Hefner-esque or Bond-like touches. He had a view.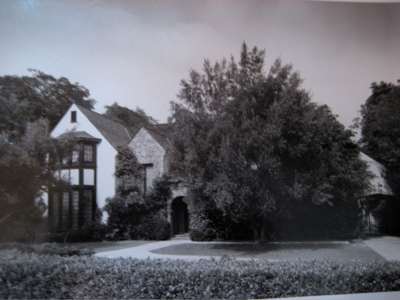 I got along great with his mother and father. In fact, his mother had even read my book and attended the taping of a tv show I had done. His father was such a large personality, his mother so beautiful and giving.

It was around the dinner table, in their kitchen, I discovered where Lance inherited his gentle nature and his brains. He had the best of both of his parents.

Later in the year we flew to Alaska because Lance was his friend Henry's best man. Here we are in Anchorage, at the wedding reception.



On November 19th of that year I was invited to dinner at the exclusive Ma Maison French Restaurant by a young woman I had met through a friend. Susie Cooper was the assistant to her boss, the VP of Children's Programming for CBS. Her husband was a newspaper writer, he wrote for the L.A. Times.

Little did I know how this night would change the following couple of years for me.


*Not his real name.