Printed from https://www.writing.com/main/view_item/item_id/1496526-A-Japanese-Womans-Reflections
She walks around the garden,
Sun umbrella over her head.
She sniffs a rose or two.
As a bee buzzes around a tulip.

The Japanese woman,
lives in a nice house.
It was once her grandmother's home.
She promises to take good care of it.

Her mother comes to visit.
As well as her sister and husband.
She hopes to be married soon herself.
She has a young Japanese man in her life.

She shuffles around in her beautiful blue dress.
She goes into the house to drink tea.
She is accustomed to sitting on the floor.
Her white dog lies beside her.

She takes a nap with her dog after tea.
She awakens and makes dinner.
The love of her life is coming over.
She smiles as she hopes this will be the night.

Her boyfriend arrives on time.
As they enjoy dinner together.
After dinner, they walk in the garden-
with her white dog playing in the flowers.

Her boyfriend asks her to marry him.
She accepts as they passionately kiss.
The young Japanese woman and her man are happy.
They will have a wonderful life together.

Their Wedding day arrives.
They have said their vows.
Their future is blessed-
Their life is full of riches, children and love.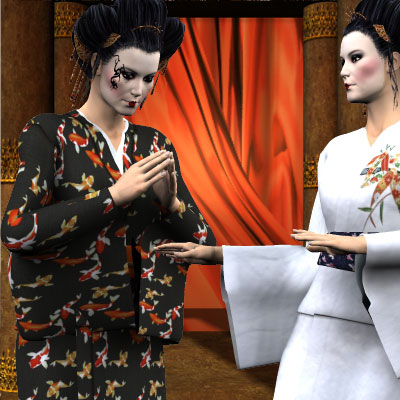 © Copyright 2008 Princess Megan Rose (tigger at Writing.Com). All rights reserved.
Writing.Com, its affiliates and syndicates have been granted non-exclusive rights to display this work.
Printed from https://www.writing.com/main/view_item/item_id/1496526-A-Japanese-Womans-Reflections