"What's Love Got to Do With it?"-1984
By Tina Turner

Link: http://www.youtube.com/watch?v=0eu3WIXuzmo

Newly wed and eager to get on with life, I set up a lunch appointment with a family friend, David, an agent. This time it was not a literary agent, but a theatrical agent. I always wanted to be a soap opera actress, and now I had the time to explore the feasibility.

I knew David would give me the straight-talk about my commercial viability in a town where actresses were chewed up and spit out. The meeting went well, even though he felt I should have some dental work, get headshots and start taking classes. It was all useful advice.

I was in negotiations to sell my interest of Inside Info to my partner, Susan. As of late, she had fallen for a client, a director, and was spending more and more time with him. I ordinarily wouldn't have minded, but she had been neglecting the business and I felt without her working actively, the business would fall even more directly on my shoulders with no more of the income.

Finally we came to some terms where she would buy me out. I was somewhat sad about leaving the business, but at the same time, I did not want sole responsibility for it. I was excited to jump into the next phase of my life.

I made an appointment to have some dental bonding done. I only knew about this because Lance's cousin, Dr. Irwin Smigel, was the dentist responsible for inventing the procedure. Once done, it was time to get some headshots. I needed commercial ones, as well as glamour shots.

My commercial headshot was two sided, with the front just the singular headshot: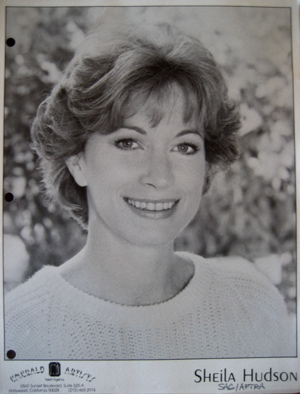 The flip-side contained images showing me in various settings:



The one color headshot I had:



I enrolled in various acting classes. I had a basic acting class on Tuesday evenings with a working actor named Bruce Glover. It was held in a theater called Nosostros, which was the theater founded for and by Hispanic actors. Renting it out was one way they had to keep it going.

I also found out I qualified for the Screen Actors Guild (SAG), as well as for AFTRA (American Federation of Television and Radio Actors). You pretty much can not work in show business, and make it, without belonging to the unions. It is unequivocally the major reason so many people never get an opportunity to be seen. I was in one of the unique positions of having worked on an AFTRA union television show, which paid me the going rate, thus qualifying me. It was also was during the period of time they would "allow" you to join SAG if you had worked on a union show for AFTRA. It was not inexpensive, but without those two cards I would have little to no hope of ever working in the business.

I enrolled in another class, Soap Opera Technique, being run by an actor I knew from soap operas, Anthony Ponzini. (He worked steadily from 1963 through 1996, and sadly passed away Dec. 30, 2002.)

Another class I took was an Improvisational Class from Barry Pearl (who is still a very respected and working actor}. I always looked forward to his class.

I have to say it was a very busy, fulfilling time for me. I was stretching my abilities, as well as finding out some new things about myself. I would have thought my gregariousness would have translated on film, but as I found out, there was much more to acting than merely showing up with my lines. This was not going to be so easy.

The bravado I had, as Buffy, was not automatically tranferred to my life as Sheila. When I gave up the name, I discovered I also had given up more than just the past, but the persona I had carefully constructed over the years. Buffy was much braver, much more willing to take chances...even to make a fool of herself, when necessary.

As Sheila Hudson the actress, I had to reach deep down inside of me. In my "basic" acting class this was called, "Acting in the Moment". The problem being, this would require we me giving up the control I had worked so hard to possess, and force me to express the true emotions I could conjure up...the ones I felt as I became whatever character I was required to be.

Sometimes my line readings/performances were videotaped. (Looking at those tapes now is very painful.) The frightened, insecure images speak volumes more about my new role as an woman stripped of her old persona...much more than any of the lines I spoke. There was no part of Buffy to hide behind. More often than not it was cringe-worthy to me. I wondered if ever I could get past the hardness I saw on tape.

In spite of this, I just kept going out and auditioning for any parts I felt were in my age group. Bruce said I was not ready, but I felt I needed to expose myself to the auditioning process. I needed to know how it felt to experience rejection or success, probably both. He also said I would never do comedy.

On Saturday, July 14, 1984, I auditioned for a play in Hollywood, an all woman's play which had plenty of parts to cast, eleven. The odds were going to be in my favor, I believed. The theater was on Hudson Street, which I considered a good luck omen, since Hudson was the stage name I used. The line snaked around the corner, tall women, beautiful women, character actresses...some of everything. I was nervous, but when my time to read lines came, I was ready...knees knocking, but ready.

The next day I received my first callback! They wanted to see me again! There is nothing like a callback to boost your confidence, really. I went back to read again and was told I had one of the leads! My character was "Lesley", the bi-sexual pitcher of a woman's lesbian softball team. It was a comedy to boot! This was going to be very interesting, and surely would test my ability to act.

They chose two complete casts, one to do the show Tues.-Thurs. and the other, Fri.-Sun. I was fortunate enough to be chosen for the weekend cast. We had rehearsals six days a week, and each time I drove down Hollywood Boulevard, to rehearsal or a performance, I would crank up my radio and sing along, "What's love got to do...got to do with it?" I know how silly I looked to people in the cars next to me, just singing my heart out, dressed in my "Peecocks" softball uniform, but I didn't care. I was a working actress in Hollywood. I know it helped me to get my energy level up for my performance. Here is the entire cast, on opening night. We were in the back alley awaiting the start:


Here's the Playbill:



Inside of the playbill it listed the cast, in order of appearance, and a blurb about each of us. Mine read: SHEILA HUDSON makes her L.A. stage debut in "Peecocks". She is a veteran of 4 films and numerous tv and radio shows. She is a published writer, big game hunter and is looking to enter the world of soaps.

Opening night for our cast was August11th, just a day after my 36th birthday. We opened to a full house! I surely had come a very long way from Mustang Ranch. Lance was completely and utterly proud and supportive. He came to every performance I was in, bringing friends sometimes, and other nights just sitting there in the audience, being there for me.

On opening night I skipped an entire page of dialogue, but it never happened again, thankfully. I was mortified when I realized it, but nobody in the audience knew it. I understood it was a pretty common occurrence, or so the director led me to believe.

The next night was the closing ceremony of the Olympics, and there were only two people in the audience, Lance and someone else's mother. It was the most difficult thing to do, perform for a near empty house. I have a great deal of respect for stage actors because of this night, in particular.

While the play was running I kept on auditioning, first for agents (I got one), for small student films, and anything else my agent could drum up. I got several of the student films, even starring in a few. It is a wonderful training ground for actors. I also auditioned for commercials, got a Coke™ commercial during their ill-fated "Catch the Wave" campaign...it never even aired though.

I see in my appointment book I made note of my "best performance" of the play on Aug. 24th. The play would run until November 10th, by then I was an old hat in the part, so I was ready to move on, and I know Lance was ready to do something else on the weekends.

That year's end we went to Lake Tahoe over the holidays, where we relaxed and reminisced about the preceding year and all of the changes that came into our lives. It was a very good year. And I could honestly answer the question, "What's love got to do with it?" Everything. Watch out Hollywood.