"I Second That Emotion" Part~28

"You're the Inspiration"-1985
By Chicago

Link: http://www.youtube.com/watch?v=F0jFSQp-Kw8


For all the great things that happed in 1984 I should have figured there would be some kind of payback in 1985.

Since I had signed with SAG and AFTRA (technically I was a member, but all of the submitted paperwork to prove my eligibility was not processed and my cards issued until 1985) I was able to acquire a new agent, one I hoped would send me out more than those in the past had.

Sure enough I was being sent out more. I wasn't enjoying the commercial auditions very much, mainly because we had to wait so long, then be in a room with usually three or more people who would "direct" you to do one thing or the other. This is when I learned they usually had a "type" in mind, as evidenced by the rooms of people waiting around memorizing their "sides". (Sides are the scripts with the part you are reading for on them.)

I also learned I stunk at these auditions. My confidence was not good enough to go up against all of the beauties, and I was not enough of a character type, so I sort of fell in-between the cracks. I was not "hungry enough" to just let go and give it my all either. Oh sure, I managed to get some parts, but mostly they were in student films. Usually it would be a scene the student had chosen to film, one taken from a successful movie.

I played the parts of Shirley MacClaine often...which didn't surprise me, as I had been told I resembled her. I did receive a starring role in one USC student film, The Poisoning, in March. I played a female scientist and murderer. It was a half-hour film and a very versatile part, so exciting to get to stretch abilities. I had my first screen kiss in it, and even had a premier at USC.

Mike was graduating from high school in Hawaii in June, so we began to plan for the trip. One thing turned into another and we decided to go to Asia first, and have the trip end up in Hawaii to see Mike graduate.

Lance and I decided we wanted a child. Because of his Muscular Dystrophy having such a genetic predisposition we decided to adopt. I knew I wanted to do it soon, as I was not getting younger, and Lance was still relatively healthy.

May 5th, my youngest brother, Brian's birthday, we took off for Hong Kong. We spent five days there, at the Regent Hotel on the river. It wasn't enough time, but did give us an opportunity to meet a couple who were mutual friends with a couple we knew back in California. They took us sightseeing as only someone who lived there could, as well as out to a real Chinese restaurant, not the tourist type.

It was in Hong Kong Lance bought me the first pearls I would own. It was great fun researching pearls in a country known for them. In retrospect it was probably the ignition point for my interest in jewelry. We took a rickshaw ride through the heart of the financial district by a couple of enterprising men who promised to get us to the base of Victoria's Peak.



Me standing at Victoria's Peak:



Our next stop was Bangkok for three days. My impression of it was congested, hot and humid, but terribly interesting. We stayed in the famous Bangkok Oriental Hotel. Many impressions were left on me of this city; unbearably hot and humid, very traffic congested, but a city full of things I had never imagined, gold temples, Jade Budda's, floating markets and wonderful graciousness and luxury amid much poverty.

Lance and I at the Forbidden City, Bangkok, Thailand



Me at the Bangkok marketplace looking at some Durian, the notable "stinky fruit" which is forbidden in the hotels and other places.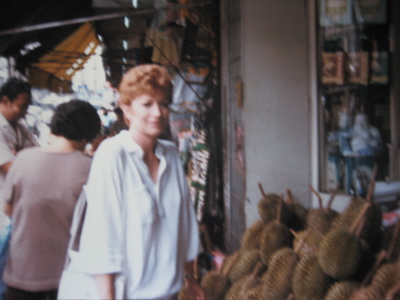 Our next stop was the city of Singapore. Since I had been there before, I was eager to show him around. We had five days.

Our first night out I wore the beautiful pearls he bought me in Honk Kong:



We did so much, eating at the food court, going to temples and marveling at the modern cityscape. It was still the cleanest city I had ever been in, probably because of the strict rules imposed.

One of the days we spent at the bird aviary, and here we are: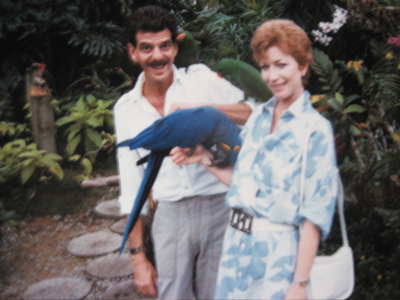 Of course what would a trip to Singapore be with a trip to Raffles Hotel, and the Long Bar, home of the Singapore Sling? Of course we went one afternoon, sat in the Long Bar and Lance sipped the one and only Singapore Sling.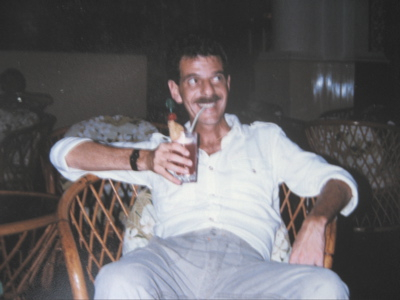 We also visited Tiger Balm Gardens, where there were some odd things, and of course Lance captured the one most appropriate for me: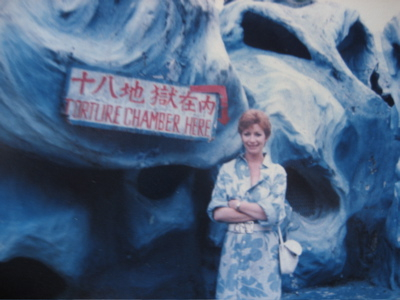 Our next leg of the trip was to Bali for a week. We flew to Jakarta where we encounter a thunderstorm unlike any I had ever experienced. We had to sit on the runway for six years, lightning flashing and lighting up the cabin. Finally, we were able to take off. We arrived in Bali around midnight, to a very tiny airport with sunglass wearing, machine gun toting guards.

We were going to the Hyatt Resort and had arranged for a hotel driver to pick us up, but at this hour we were unsure. I saw a man holding a sign with our name. We followed him out to an old beaten up VW bus. He didn't speak English, but indicated we should get in. We looked at each other and got in.

The road was a single lane, and there were no lights, either streetlights, or city lights. The only things visible were millions of stars in the midnight sky. All of a sudden the driver stopped, and pulled over, off of the road. The passenger door of the front seat opened and a man got in. Again Lance and I looked at each other...were we going to be taken somewhere, robbed and killed? We had no idea what was going on, but we held onto each other's hand. After about forty-five minutes we pulled up to a wall, a softly lit sign said, Bali Hyatt Hotel. We breathed in a sigh of relief as the gates opened, we passed a guard and finally were in front of the lobby; an open air, green filled heaven.

We were greeted with a tropical drink and as our bags were unloaded we were taken to our room. This photo is of Lance in our room, modeling his new hat. I always kid him about looking like a smuggler.



I managed to pick up some horrible bug or flu, and as you can see I was not a happy woman to be sick as a dog in Bali.



I was in bed for four days, but did manage to get out and enjoy the last few days there.

Our last stop was Honolulu, where we would meet up with my parents and watch Mike graduate high school at the Waikiki Shell on June 1. We had a room at the Sheraton on the beach, along with my parents.

His graduation was a time of intense pride for all of us. My father took the picture of Lance, my mother, and me with my son, Mike.



Once back in LA we recuperated and got back into the swing of our life. I went back to my acting classes and even filmed a movie for the school system.

The fourth of July we had a barbeque for our friends, but on Sunday morning my mother called.

"There has been a tragedy. Brian committed suicide." My mother said.

My youngest brother had killed himself, why? I knew he had some problems, but he had moved to Florida with his daughter earlier in the year. Her mother never married Brian, and failed to go join him as planned. Brian's daughter, Brandy, had just turned five in February. They both had been living with our parents.

"I'll book a flight and be there as soon as possible." I left that night.

I called Lance after the funeral to ask him if I could bring Brandy back with me? She had attached herself to me the moment I got to Florida, and I wanted to take her back with me, perhaps we could make a family with her.
The three of us at home.



We looked into therapy for her. Having been abandoned by her mother and now her father we knew she would need help. But that was not our biggest problem. It seems as though word had gotten out to Brandy's biological mother that Brian died. In her mind it meant she should get back her daughter, one she had not seen in three years.

My parents decided they would go to court to get custody, to adopt Brandy, based on having taken care of her for three years. On my 37th birthday my mother came to California to take Brandy back to Florida for the court battle ahead. We all vowed to fight for this little girl, as the group Chicago sang, "You're The Inspiration" for all of us to make her life a better one.

The rest of the year was spent still pursuing the acting career, though I was a little preoccupied now. Lance and I were now determined to have a family of our own, and we continued to explored adoption, as well as us again assessing the risks of having a child of our own, naturally.

We left in December to go spend Christmas with my parents and Brandy in Florida. A court date for my parent's adoption request was set for January. They had already been granted temporary custody until the adoption case could be heard.

It was a somber Christmas, in some ways, but seeing Brandy thriving with my parents made us both feel good. Still the ache of no children in our lives was present, and would be for the foreseeable future.