Printed from https://www.writing.com/main/view_item/item_id/1659559-My-Cat-Tigger
| | |
| --- | --- |
| | My cat Tigger for Pet Contest for First Peoples Group. |
My cat Tigger is sixteen years of age. She is gray, black and striped Tabby cat and I named her Tigger because of her stripes. My husband found her in a corn field by the irrigation engines and bought her home to me. It was love at first sight. A little ball of fluff and she was only six weeks old. I guess she wandered away from her mother and now I was her new mother.

She only likes my husband and me.She started to like everyone until my friend's daughter put her in her hooded jacket and Tigger didn't like other humans after that. I have some funny moments about her. Like my husband didn't think we needed a Pet Carrier. HOW HARD CAN IT BE TO TAKE A CAT TO THE THE VET my husband asked me. After picking her, loading her up in the car and she growled, hissed, scratched him and wet on him, well I got my Pet Carrier the next day! We got her to the Vet that day but my husband changed clothes before we left and he carried her to the Vet wrapped in a blanket. The lights went out one night and it was storming and lightning lit up the sky and our sweet little kitty was walking around the kitchen counters! Busted! In our other house, she used to run around the house like a Nascar Driver! When she was little, she would jump sideways and it was so cute.

My husband and I had a house fire nine years ago. My husband was pouring gas in his tractor in the garage and the tractor got on fire. We had to leave the house. I grabbed my cat on this cold winters day and left my purse after grabbing my car keys and I drove the car to my father-in-law's who lived just around the corner. With my house on fire, I saved my cat. She was in our bed sleeping. No way would I leave without her! We stayed at our former principal's house for three months until out house got rebuilt. We lived in a ranch type house but my former principal's house was two stories. Tigger loved climbing stairs and hid in a room with Christmas and Easter decorations. My husband came home from work one day and thought she was outside. A cat that looked like her was walking around outside. Tigger was asleep in the bed. There were plants in the house and I had to tell her to get out of the plants. The more I yelled, the faster she chewed on the plants! We finally moved into our new house after the fire. Tigger hid but once she looked out the patio window and realized she was home, she was content again.

Tigger is friendly with me but she meows a lot and sometimes she is crabby. She can be a gabby Tabby or a crabby Tabby. She likes to lay on the couch with me while I watch GEORGE LOPEZ and THAT 70's SHOW. I am glad that I have her. She loves to look out the patio window on sunny days and she plays with her stuffed mice occassionally. She greets me when I get home from working the midnight shift. She wakes me up in time to watch YOUNG AND THE RESTLESS. She is a good cat and I am happy to have her as I love her very much. Pets. They are like family and Tigger is a big part of my family and I hope I have her for quite awhile, yet.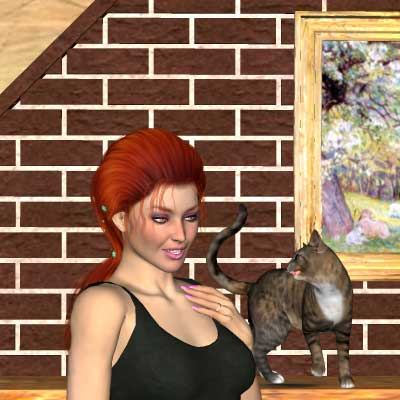 © Copyright 2010 Princess Megan Rose (tigger at Writing.Com). All rights reserved.
Writing.Com, its affiliates and syndicates have been granted non-exclusive rights to display this work.
Printed from https://www.writing.com/main/view_item/item_id/1659559-My-Cat-Tigger