Printed from https://www.writing.com/main/view_item/item_id/1663696-In-Pastures-Green
(10)

by

Brenpoet

A recent dream of mine relating to Psalm 23.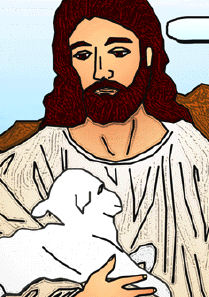 In Pastures Green

I'd left my home far, far below,
Some other people lived there now,
Between them shared their tasks somehow,
And I was free to go.

I had no duty, work or pain,
They had been taken far from me,
A haven of tranquility
Was now my new domain.

In pastures green, full length I lay,
Among some sheep with whitest fleece,
I held a lamb, and felt at peace,
My burdens eased away.

I knew the Shepherd led me there,
His love would keep me safe and well,
With joy, my soul would gladly dwell,
Forever in His care.
© Copyright 2010 Brenpoet (brenmaple at Writing.Com). All rights reserved.
Writing.Com, its affiliates and syndicates have been granted non-exclusive rights to display this work.
Printed from https://www.writing.com/main/view_item/item_id/1663696-In-Pastures-Green