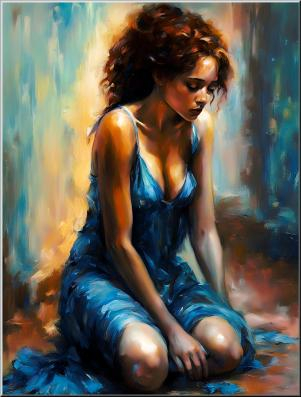 OFFENDING ANGELS!

"Practice what you preach,"
Says a still, small voice tonight that will not let me sleep.
This day, I watched a woman pleading to every stranger passing,
For food, coins, anything, that might relieve her suffering.
All passed her by, as did I, all of us doing nothing but turning
Our heads away to avoid the tears streaming down her face.

I thought, in that moment, "I am far
More wretched now than she will ever be.
One day, GOD will welcome her with
Open arms, but will he welcome me?
Me, who boldly speaks of faithfulness,
Then does something like this!"

"Practice what you preach,"
Says the still, small voice tonight which drives me to my knees.
So I begin to pray, as pride and pretense slip away,
As the revelation settles in – that GOD knows me as I really am,
And in shame I whisper back "O GOD, another chance,
Please, I can be a better man."

I recall then that I did look back this morning,
Just for a moment, but she was gone.
And just before I did, I thought I heard a sound
Which I could not place till now,
The rustling of wings I think, and a
Voice angelic, saying "practice what you preach!"

It all makes me recall
What someone told me long ago.
"Angels walk this world you know,
They go and come at will,
Watching how we treat our neighbors,
As well as how we treat a stranger."