Printed from https://www.Writing.Com/view/1734086
(6)

by

Teargen

We would love to watch the trains.

When I am ten the trains do thrill me so.
They run from east to west despite the snow
that cakes and clumps between the railroad ties.

My father drives a fifty Ford that dies
if too much gas is given in a rush.

But now we wait, and wait precedes the hush
that hangs like fog within this old sedan.

Outside the silver tracks reflect the sun
yet Dave, my bro, and I still think it fun
to lean upon the dash and feel the train
vibrate this very road on Gravel Lane.

And when the whistle blows our eyes emboss
much like the flashing light of do not cross.
Without these trains this valley would be lost.

The cars in black rush by all filled with coal
and we are grins to watch this diesel roll
on rails the fathers and grandfathers built.

On past us now, up on Glenn's grade, atilt
but fading fast along, our spirits loose
as one gray man waves from a red caboose.

My father starts the car and then we feel
the rails of steel beneath our fifties' wheel.
Then say goodbye, our heart and tender deep
and know tonight in dreams our trains still keep.

(Iambic pentameter) (24 Lines)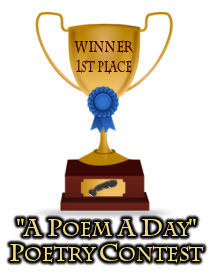 © Copyright 2010 Teargen (teargen at Writing.Com). All rights reserved.
Writing.Com, its affiliates and syndicates have been granted non-exclusive rights to display this work.
Log in to Leave Feedback
Printed from https://www.Writing.Com/view/1734086