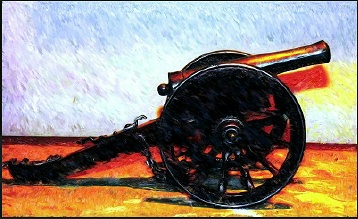 SILENT LIE THE GUNS!

Silent lie the guns now, and
Few are there still living
Who can remember how
They ruled our little world that day.

That day which came and went
Like every other has, over these many years.
Yet, we who still remain, measure everything,
By what happened on that morning.

Just ordinary soldiers moments
Before, and legends, forever after
The time we went forth
To take - the guns!

It was simply a soldier's task,
Or so it seemed to us.
But, before that task had ended,
Those guns were all that mattered.

We were so many.
A full brigade at the beginning.
Lines formed and ready,
Flags unfurled and waving.

We never could have guessed
At the horrors awaiting us,
Who were so eager to begin
As the fateful order was given.

Just across the field stood our foes,
Tending to the guns we had sworn to take, or
Die in the attempt to,
So off went we, to doom - or glory.

And how they pounded us!
From the moment we began to cross
That field, the guns thundered and
So many, many fell.

Yet we marched on, forward, ever forward.
Look not left or right, think only of the fight, it was all that mattered.
Make it to the guns and take them, we had sworn to do so.
A solemn oath that had to be fulfilled, before the day could be ours.

And yet, so many were dying all around us.
Torn by the leaded shot the foe was firing, a leaden song of death,
Singing all around our heads, and so many, many kept on falling.
Do not look to them, that was the command, only forward, ever forward.

You must not think, or look to them, or you will break.
To look upon what was happening to those whom but this morning
Had been the closest of friends, would be more than any mind could take.
Only forward, keep moving forward, to where the enemy was, with their guns!

Then, complete the task, a volley from our muskets, followed by a rush,
A rush forth with bayonets, to the guns, and vengeance.
The reckoning for what the foe was doing, as we were coming on.
If we could but live to reach the guns.

And finally, incredibly, we were there.
Past the moment's march that had lasted a hundred years.
Past the cannon and the musket blasts of our enemies.
Beyond the screams and blood and fear.

We were there at last and the guns were ours.
Vows kept, the task complete, but we were not enough
To hold them, the few still living in that moment knew it.
This prize, that has cost so many lives, was ours for but an instant.

Then our foes were back, gathered all around.
But none, not a one, was shooting now.
The Commander of the guns approached, eyes filled with tears,
And spoke words which we could scarce believe.

"That was the bravest deed that has been seen by eyes of man," he said.
"Please, friends, lower your weapons now, and go.
Return back to your lines, for we will do you no more harm.
Men such as you deserve to live, so that some good may come of this."

We were so few now!
Still, we raised up the last flag we possessed and waived it briefly, then
Lowered our muskets and turned about and walked back slowly toward our lines.
What else could we do - we were so few.

No marching, just stepping lightly, through a field filled with our dead and dying.
What could we say to these our comrades, these fellows who had given all?
What words from us, the lucky ones, who had lived to reach and "take"
The guns, but could not hold them, could matter to the fallen?

Then we heard it, the cheering; both sides of the field, cheering.
As we walked among our companions, foes and friends were calling
Us heroes; immortals; those who had done a thing impossible, and
Lived to reach and "take" the guns, if only for a moment.

And as the story was told and then retold, we who made the
March to "take" the guns were not soldiers any longer.
We had become something greater.
We were what was best in man.

We were warriors - shielded by the hand of GOD,
Who had stared into the face of death, and yet had lived,
On a day when so many others didn't.
We had fulfilled our vows - and we had "taken" the guns.

Or so, that is how the stories go!

They are silent now, those guns
That have made us famous for all time.
But once, so many, many years ago,
It was they who ruled our little world!

And those of us who survived the slaughter of that day think,
Over and again, "why was I allowed to live," and
We find little comfort in a heroes' name, knowing that the
Best of us fell upon that field to seize – the guns we "heroes" could not keep!