Printed from https://www.writing.com/main/view_item/item_id/1742998-HER-LITTLE-YELLOW-FLOWERS
by

Jaiam

Romantic poem about love and flowers (and for a very special Countrymom and her daughter)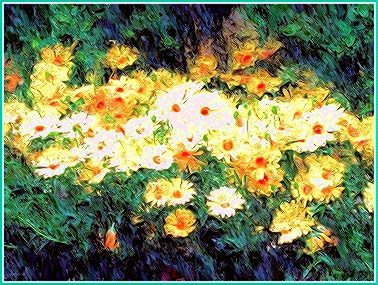 HER LITTLE YELLOW FLOWERS!

She so loved her little yellow flowers.
Their colors, she would say,
Reminded her of sunlit afternoons,
And of hope, and of love, and
Of life renewed.

Sometimes, I would just sit and smile
At the way they made her eyes shine so,
Each time I gave them to her.
And in all our years together, she never loved
Any other gift as much.

Last year, I planted her a field of them, and
They bloomed for her in all their glory.
I brought a few to her, on her last morning, and
She held them and they helped
Her to smile, one last time.

And what a smile!
It was filled with such soul stirring love and
Peace and serenity, that its memory is all I need
To keep me going on through whatever
Time I still have left to live.

I've also kept a promise I had made a hundred
Times to paint an image of her little yellow flowers.
Perhaps it will make amends for all the times she
Asked and for all the times I always meant to,
But never did do this for her.

Any way, I have finished it, and
Will place it in her favorite room,
Just above her favorite chair,
In the home we shared,
For so many, many years.

And I can finally see the beauty which
She loved so much, in those little yellow flowers.
I think for now I'll just sit and smile, and
Remember how her eyes shined so,
Each time I would bring some to her

Whom I loved so very, very much!
Whom I always have and will.
And I believe sometimes in my arrogance, that
Ours was a love which was truly blessed, and that
GOD allows few to love like this, on this side of Heaven.




© Copyright 2011 Jaiam (cath4x3 at Writing.Com). All rights reserved.
Writing.Com, its affiliates and syndicates have been granted non-exclusive rights to display this work.
Printed from https://www.writing.com/main/view_item/item_id/1742998-HER-LITTLE-YELLOW-FLOWERS