WDC is a big ocean of writing and it's easy to get lost.


To help you find your way around my port, I've put together a short surfing
lesson. Grab your suit and board and let's hit the waves!


If you learn anything from this lesson, I'd love a review so I can continue to provide the best surfing lessons possible. Thank you!
Brand New!
These pieces are brand new and seeking reviews! (newest things are at the top)
In the End (E)
It is never "The End..."
#

2251147

by Emily
The Overlook (ASR)
Is it worth it?
#

2251097

by Emily
Lazy Summer Pool Party (E)
A calm moment before the guests arrive
#

2251048

by Emily
Cloudy (E)
Cloudy days are never the same.
#

2251046

by Emily
A Year for a Tree (ASR)
The seasons seen through the eyes of a tree
#

2249567

by Emily
Storied Shelves (ASR)
A book is a portal to another world
#

2249566

by Emily
April
▼
March
▼
February
▼
January
▼
December
▼
November
▼
Award-Winning Waves
Before we get into the lesson, let's watch a short highlights reel. Someone else enjoyed these items, so maybe you will too!
Memories (13+)
How has my life been shaped by the animals I've lost? Series of vignettes.
#

2166604

by Emily
Callused Hands (ASR)
I see the years built up in layers - Includes Reading
#

2186907

by Emily
But I Only Have Eyes For Him (E)
This was one of the most beautiful and emotional moments I have ever witnessed <3
#

2209469

by Emily
Mistakes (GC)
It made me sick believing them - Includes Reading
#

2169989

by Emily
Body Memory (GC)
The memory of it makes her skin crawl
#

2186519

by Emily
The Winning Color (ASR)
A defeated Queen attempts to bring a victory to her troops
#

2179314

by Emily
Red Wing (ASR)
Finding comfort in a solitary connection with nature. - Includes Reading
#

2180434

by Emily
Home Again (E)
A love letter to the place that continues to pull me back - Includes Reading
#

2190816

by Emily
All the Things You've Given Me (13+)
"I tied my flailing body down with a cherry behind my ear..."
#

2194928

by Emily
Patches of Red - Rewrite (13+)
I wrote the original in April of 2013 - how has my writing changed since then?
#

2199637

by Emily
A Happy Home (ASR)
The true story of a shelter dog finding her way home.
#

2204066

by Emily
Float (E)
What sound does the ocean make when you really listen?
#

2212397

by Emily
We are the Interrupters (ASR)
…and this is our time.
#

2225510

by Emily
The Wolf Dog (13+)
He still remembered his wildness
#

2226215

by Emily
COVID Carnival (ASR)
The Wander Wheel observes the decline of a once great carnival
#

2229570

by Emily
Undiscovered Favs
These pieces are ones I love and hope more people will have a chance to see!
Leave Me Lying Here (13+)
When anger leaves, what is left?
#

2229519

by Emily
Wa'a (E)
Early morning on a misty lake (In Hawaiian, "wa'a" is an outrigger canoe)
#

2235717

by Emily
Uprooting (ASR)
"Nothing is so painful to the human mind as a great and sudden change." - Mary Shelley
#

2222603

by Emily
Kernel (13+)
There is something deep within clawing to get out
#

2219576

by Emily
He is a River (18+)
I embrace these feelings and let them carry me to where I'm meant to be.
#

2227544

by Emily
Of Waters and Mothers (ASR)
The language of water is one we all know, but soon forget
#

2228219

by Emily
Mini Waves
You won't need your surfboard to ride these ankle bitters. Extremely short poetry and "tweet" length writings I tend to put in my blog ("A Piece Of My Heart"
18+: A blog to house my musings, curiosities, and fascinations. ), so feel free to leave a comment or send me an email. I'd love to know what emotion you felt while reading the poems and if I was able to tell a complete story in the tweets. Thank you!

Entries in the contest: "Invalid Item"
"Wildfire"

"Halcyon cyanoventris"
"Twilight Pulse"

"Love and Lychee"

"Her Arms"

"Incoming!"

"Our Prints in the Sand"
"Homage to the Goddess Pele"

"Only in Hawaii"

"The White Mountain"

"The Looming Night of Halloween"

"Insomnia"
"The Blank Page"

"The American Great Plains"

"Nature's Brush"

"Non-Verbals"
"As a Snake Writhes"

"The Sea's Chop"
"There Are No Bad Words"
"Vote!"

"We Live As Snails"
"The Election"
Entries in the contest: "Invalid Item"
"Tweet Me a Story, Round 77"

"Tweet Me a Story, Round 78"

"Tweet Me a Story, Round 79"
"Tweet Me a Story, Round 80"

"Tweet Me a Story, Round 84"

"Tweet Me a Story, Round 103"
Diptera's Prize (ASR)
A short quest for a sweet treat
#

2199669

by Emily
Monarch (E)
What happens at the end of a long journey? - Cramp Win 9/13/18 - Includes Reading
#

2169047

by Emily
Fall in Focus (E)
The calm of a forest in fall is staggering
#

2203641

by Emily
Attention Seeker (E)
A newly engaged couple go on a SCUBA dive
#

2206374

by Emily
Phoebe (ASR)
Lustful chickadees sing for a mate announcing the arrival of spring
#

2215181

by Emily
Serenity in Blue (E)
An ode to the color (again)
#

2228929

by Emily
Poa pratensis (E)
When you're feeling alone, find a change of scenery
#

2230396

by Emily
Small Waves
Let's start off small. Grab your sand board or, like me, you can body surf if you prefer!
I'd love to know your thoughts on the imagery and emotion in the pieces. I'm starting to experiment more with form/structured poetry, so any pointers would be very helpful. Thanks!


Follow Me to the Horizon (ASR)
Follow me through the curtain, to the place where water cascades over the edge.
#

2182980

by Emily
Sanguinaria canadensis (13+)
The truth ran in rivulets down my fingers
#

2190987

by Emily
Ka Makani (E)
The memory of the winter of 2013 when I left everything behind
#

2210037

by Emily
Eulogy to the Place that Raised Me (ASR)
I thought returning to this place of magic would be a homecoming - a reunion of wonder.
#

2208816

by Emily
You'll be Fine (ASR)
What if I needed him more than he needed me?
#

2212495

by Emily
The Uncounted Cost (ASR)
How social distancing affects those most vulnerable
#

2222673

by Emily
Cocooned in Time (13+)
It would have been thrilling if I wasn't drowning.
#

2226181

by Emily
On Traditions and Tiropita (E)
Thoughts on making new traditions through food
#

2225999

by Emily
Where the Ocean meets the Sand (E)
This is the color that centers me - heals me
#

2225972

by Emily
The Man in Black (13+)
He was called Johnny Cash – the man in black
#

2230161

by Emily
Release (E)
Let your words flow freely to unburden your mind
#

2232086

by Emily
Welcome Home (E)
The Island has her way of welcoming us home
#

2231637

by Emily
These Tiny Treasures (E)
...more precious than flowers
#

2231410

by Emily
The Autumn Harvest (18+)
Tick tock
#

2234153

by Emily
The Napping Dog (E)
There is nothing so out of reach ...
#

2235538

by Emily
Femme Fatale (18+)
This graveyard of fallen men is the Maiden's domain.
#

2234652

by Emily
Porcelain Shadow (ASR)
For my sister
#

2235887

by Emily
Cold Water (E)
Snow is really just cold water on a slow journey
#

2236596

by Emily
I Must Go (18+)
The guilt of what I know rips me apart, holds me down...
#

2236578

by Emily
Medium Waves
Grab your funboard and we'll take a stab at some slightly longer pieces. Below are a selection of my longer essays and short stories for your perusal.
Haole (18+)
What it means to be a white minority in the islands
#

1968683

by Emily
Pet Me, Master (18+)
A dog demonstrates his love for his master by bringing him gifts.
#

1960819

by Emily
Halloween Happy Hour (18+)
Neighbors enjoy a Halloween potluck, but someone is mysteriously missing
#

2172488

by Emily
Harold and the Gap-Toothed Smile (13+)
He made her happy, and that is the fate of a pumpkin.
#

2170490

by Emily
Greenwillow Pass (13+)
It would have been worth waiting ... Cramp Win 8/29/18
#

2167430

by Emily
Something Beautiful (13+)
A farmer boy becomes a man at the cost of a mare and a mango tree
#

2166607

by Emily
Entrusted with Perfection (E)
Learning a family recipe.
#

2166594

by Emily
He Was Too Young (GC)
Evidence of a missing cop is lost in a blizzard - will Mel discover what happened to him?
#

2187777

by Emily
Can't Stop The Feeling (13+)
In a world where joy is a commodity, Mac and her cat Jelly try to share their happiness
#

2199931

by Emily
Climate Refugees (18+)
When Earth becomes inhospitable to the human race, where do we go?
#

2227481

by Emily
The Path to Trust (ASR)
This is the true story of how my rescue dog named Joy came to trust her new home.
#

2229757

by Emily
Midnight Fantasy (GC)
Sara is decorating for Halloween when she gets a surprise
#

2236172

by Emily
Big Waves
I see a heavy set coming in now. We may need a tow in for these suckers. The first folder contains all my writings pertaining to my character, Special Agent Ella Colson. She doesn't know how to hold her tongue, and I have a bit of fun putting her through tough situations just to see how she'll cope, so the rating is a bit higher. Enter at your own discretion.
The second folder is the current project I'm working on. It's in a very rough state still, so any comments you have are appreciated!
Agent 038 (GC)
All items pertaining to the story of Special Agent Elizabeth Colson (A-038)
#

2166616

by Emily
More than a Memory (18+)
NaNo Winner 2018! — Jon wakes up in 2353 in a body that isn't his own
#

2168853

by Emily
Thank you for stopping by and learning to surf with me! I look forward to hearing what you thought of my lesson!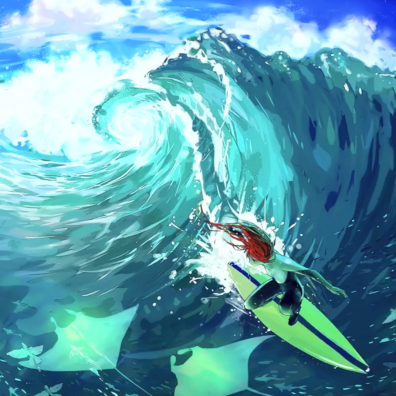 **Disclaimer: I don't really know how to surf ...
**



Image by Yuumei Art