Printed from https://www.Writing.Com/view/1848818
An ocean,
vast.
The wind whipping wetly
stings.
The boy,
toes dug in the sand,
builds.

A castle looms,
coarse and unbalanced.
Hands, soft and careful
dutifully sculpt, forging ahead
to completion.

Soft, frothy swells,
dance rythmically, creeping
toward the kingdom.

Eyes azure observe
'Oh well!'
'Yahhhhhhh!'

A castle falls;
a gargantuan tan foot,
soft but coarse
ends construction.

An ocean,
vast.
A boy swims with friends.
Laughter.

Soft, frothy swells
dance and recede;
castle no more.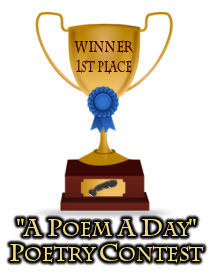 © Copyright 2012 writerpenman (writerpenman at Writing.Com). All rights reserved.
Writing.Com, its affiliates and syndicates have been granted non-exclusive rights to display this work.
Log in to Leave Feedback
Printed from https://www.Writing.Com/view/1848818