Printed from https://www.writing.com/main/view_item/item_id/1875119-That-Place
(19)

That Place ~ Where? Read and find out!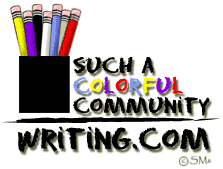 That Place

It might be a dream it's so surreal,
Confusing, exciting, the emotions I feel.
Laughing and smiling, I consume my food.
Sedated and content, I absorb the mood.

Water intoxicates like a glass of fine wine.
My soul is lifted, the experience is all mine.
I didn't see it coming, even with open eyes.
What could I expect? It was such a big surprise.

The joy we share in our most passionate kiss,
We are all in search of an infinite bliss.
With the sharpness of a well crafted knife,
Something happened that has changed my life.

I started to do things I'd never done before.
Then I couldn't wait to go back and try some more.
I hope you all see where I'm coming from.
I'm talking about my home, Writing Dot Com!

Free style rhyming poetry ~ Each stanza is a quatrain, and I follow an aabb rhyme scheme
© Copyright 2012 ~ Santa Sisco ~ (siscok at Writing.Com). All rights reserved.
Writing.Com, its affiliates and syndicates have been granted non-exclusive rights to display this work.
Printed from https://www.writing.com/main/view_item/item_id/1875119-That-Place