Printed from https://www.Writing.Com/view/1985435
(5)

The mournful tune fades with the light. An Honoring Our Veteran's Entry.
Day Is Done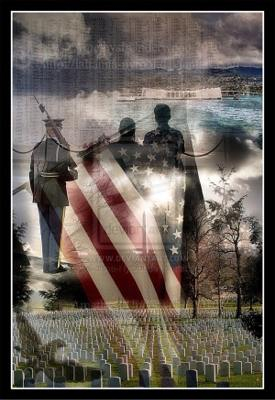 The mournful tune fades with the light.
Her final tears, which glisten bright,
roll gently down her freckled cheek.
There are no words that she can speak.

The service done, she's left alone
and still the music seems to drone.
It carries her far from this place.
A smile finds purchase on her face.

Memories that haunt her mind:
his hair is wild and unconfined,
the wind has blown away his cap.
His laughter fills the widening gap.

The look of joy that filled his eyes
when she announced, to his surprise,
her pregnancy and soon, a child.
His gentle hug, the way he smiled.

She feels his hand, its gentle touch
that comforts her and means so much.
It reassures her, he's not gone
but only for a while, withdrawn.

A movement breaks her reverie.
A butterfly, so wild and free,
has landed on the ragged ground;
it softly flutters without sound.

Its colors match the small tattoo
that was inscribed with "I Love You,"
inked in letters on his arm
"to remind me you're my lucky charm."

She knew that in some arcane way
it was a gift from him to say,
"I'm here and I will always be
by your side when you need me."

She takes the folded flag and leaves;
the ruptured earth is left to grieve.
Her heart is filled with certainty
that their love will always be.

She carries with her, deep inside,
his love of country and his pride
in protecting this great land.
Once more, she feels his gentle hand.

She hears the bugler's final note.
The words that long ago were wrote
come back. A final lullaby –
"Day is done; God is nigh."



An entry for the April round of "HONORING OUR VETERANS"

No prompt
Line Count: 44
© Copyright 2014 👻 Ghostly Moon (huntersmoon at Writing.Com). All rights reserved.
Writing.Com, its affiliates and syndicates have been granted non-exclusive rights to display this work.
Log in to Leave Feedback
Printed from https://www.Writing.Com/view/1985435